BEYOND DROUGHT TOLERANT:
A California Low-Water Gardening Guide from Sustainable Conservation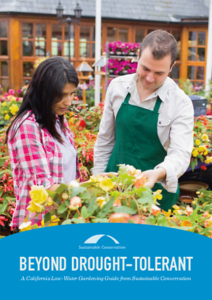 California is a semi-arid state with frequent droughts, so conservation is always a good idea. Making your California yard drought-tolerant may seem daunting. But it doesn't need to be. We have created this guide to help you create a sustainable landscape that reduces water usage and is perfect for your climate.
Learn:
How to arrange your garden to reduce water use
Which variety of plants are best suited for your climate and area
What simple tools you can use to make low-water gardening easier
Ten steps to take right now to easily improve your water use
Not sure where to begin?
Don't worry. You'll learn the fundamental steps to building a sustainable landscape.
Will I need to completely change my yard?
No—even small changes can have a big impact on your water usage!
What will I get from the guide?
You'll learn how to reduce your water use, cut down on yard maintenance and costs, and create spectacular, eye-catching displays of plants and flowers.
Sustainable Conservation California Garden Guide Download
About Sustainable Conservation
Sustainable Conservation helps California thrive by uniting people to solve the toughest challenges facing our land, air, and water. Every day, we bring together business, landowners and government to steward the resources that we all depend on in ways that make economic sense. Because we know that common ground is California's most important resource.