Climate Change Impacts Our Water. Download Our Free Water 101 Guide & Learn How.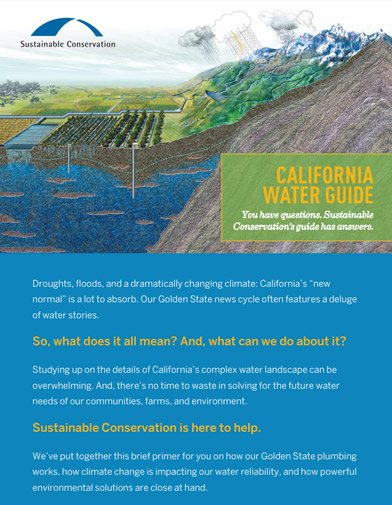 California is facing serious water whiplash. Our droughts are getting drier and our wet years are getting wetter, with no end in sight. If you've been following the news, you know that understanding how our water system works is a dizzying proposition. From the Newsom administration's water agenda to wildfire threats and everything in between, California's H20 landscape isn't simple.
So, what does it all mean? And, most importantly, what can we do to help?
Download Sustainable Conservation's free California Water Guide to learn about how our Golden State plumbing works, how climate change impacts our water reliability, and how powerful environmental solutions are close at hand.
We'll walk you through:
Where our water comes from and how it's stored
Who uses our water, and for what purposes
How our water gets to us
How climate change affects our water supplies
How we can replenish our parched stores for a bright future
What you can do now to help
Sustainable Conservation California Water Guide Download
About Sustainable Conservation
Sustainable Conservation helps California thrive by uniting people to solve the toughest challenges facing our land, air, and water. Every day, we bring together business, landowners and government to steward the resources that we all depend on in ways that make economic sense. Because we know that common ground is California's most important resource. Learn More