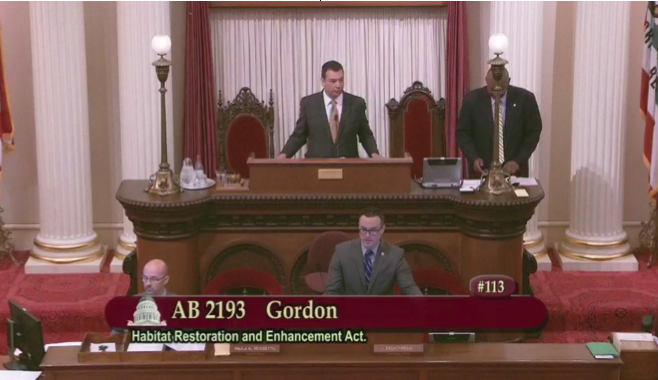 More exciting news from the AB 2193 front! On Tuesday, the California Senate advanced the Sustainable Conservation-sponsored bill to the State Assembly, with a vote of 35-0. Yesterday, the Assembly took a final action on the bill, passing it with a vote of 78-0. The bipartisan bill, authored by Assemblyman Rich Gordon (D-Menlo Park), has now officially made its way through the entire legislative process without a single "No" vote!
If signed into law, this landmark bill would establish a simplified permitting process that accelerates small-scale, voluntary habitat restoration projects across the Golden State.
Current policies on habitat restoration stand to deter many landowners and managers from restoring the natural resources under their care as a result of the difficulties faced in obtaining the necessary permits. AB 2193's proposal for a simpler, more cost-effective permitting process effectively affords landowners the opportunity to improve California's habitat for endangered species, to reduce sediment and pollution in waterways, to restore fish habitat and to increase vegetation in riparian corridors.
The bill's 47 supporters, ranging from scientific groups to environmental organizations to resource conservation districts across the state, underscores just how much progress can be made when we all unite to make California thrive.
AB 2193 is now on its way to the Governor's office. Check back in early-September to watch the final leg of the bill's journey!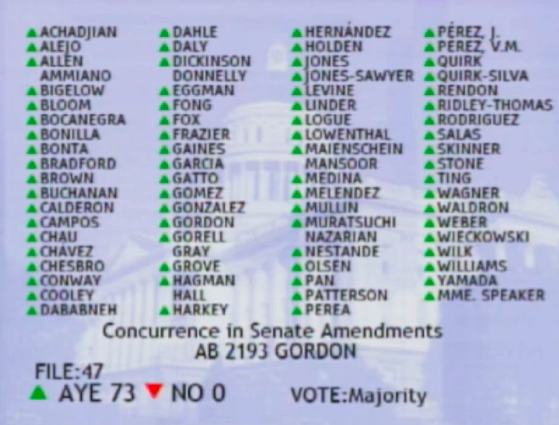 Assembly Vote, August 28 (73-0, Final 78-0)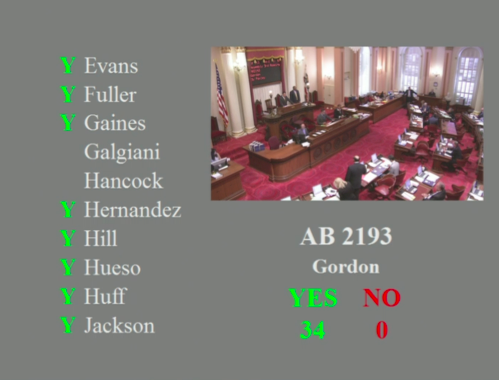 Senate Vote, August 26 (34-0, Final 35-0)