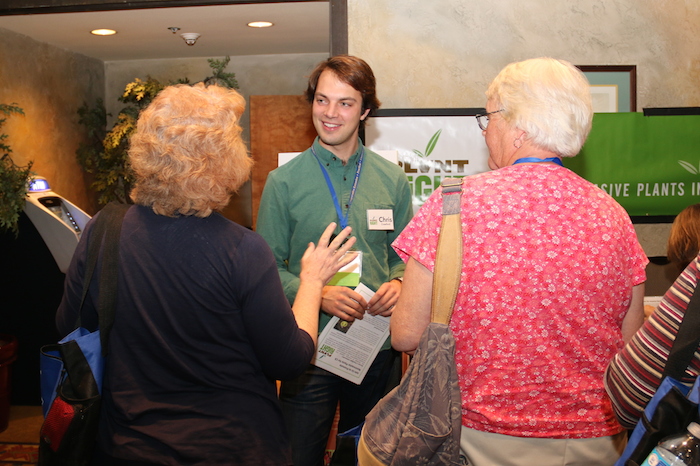 By: Christopher Crawford, Project Associate
AWARENESS: A WELCOME KIND OF INVASION

PlantRight works with plant growers, retailers, landscape professionals, and others to promote better options in place of the most commonly sold invasive plants.
Last month, I was invited to represent PlantRight at the 2014 UC Master Gardener Conference, "Growing Together." Over 650 UC Master Gardeners from around the state attended the three-day event near Yosemite National Park. In addition to hosting an informational booth, I led an educational breakout session focused on promoting noninvasive garden plants for California.
As with many of Sustainable Conservation's programs, our impact grows with the strength of our allies. Each year, we partner with the UC Master Gardener Program, made up of the local Master Gardeners that power our annual spring retail nursery survey. This survey tracks the availability of the most commonly sold invasive garden plants in the state and serves as the guiding light for much of PlantRight's program.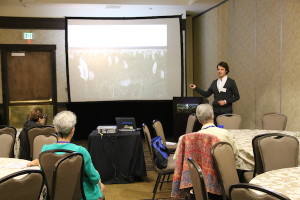 Chris delivers his presentation, entitled "Promoting Noninvasive Garden Plants For California."
While measuring our progress over time, the survey also provides vital research that informs updates to PlantRight's plant list and strategy. Last year, Master Gardeners volunteered over 200 hours of their time by participating in our survey – adding to the thousands of hours they devote to other plant-related educational projects every year.
STRENGTHENING PARTNERSHIPS
This year's conference provided an excellent opportunity to strengthen our alliance with the UC Master Gardener community. In addition to promoting solutions to California's invasive plant problem and empowering more Master Gardeners to get involved, it was rewarding to finally connect faces to the names and voices at the other end of emails and phone calls.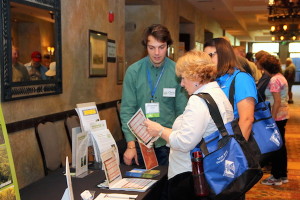 Sharing resources and building connections with Master Gardeners in between sessions.
I also had the great pleasure of visiting with longtime PlantRight Steering Committee advisor and industry influencer Nicholas Staddon, Director of New Plant Introductions and National Spokesman for Monrovia.
Ellen Zagory, the Director of Horticulture at the UC Davis Arboretum and an advisor on PlantRight's Plant List Committee, was also in attendance. She led a hands-on propagation workshop that was one of the most popular events of the week. I really enjoyed the opportunity to connect with each of them, and it was great to witness just how far and wide the influence of our closest advisors extends.
MAKING A DIFFERENCE
Participating at this conference gave PlantRight the chance to continue strengthening our relationship with one of California's most influential and respected educational gardening communities.
Our alliance is a key piece in our work to promote environmentally friendly alternatives to invasive plants in California. After all, fewer invasive plants mean that native plants and wildlife can flourish, waterways and wildlands are protected, and wildfire risks are reduced, helping California save millions of dollars a year. And these are outcomes we can all get behind.
Photo credit: Marcy Sousa