2020 Leopold Conservation Award Winner
Burroughs Family of Farms
Burroughs Family of Farms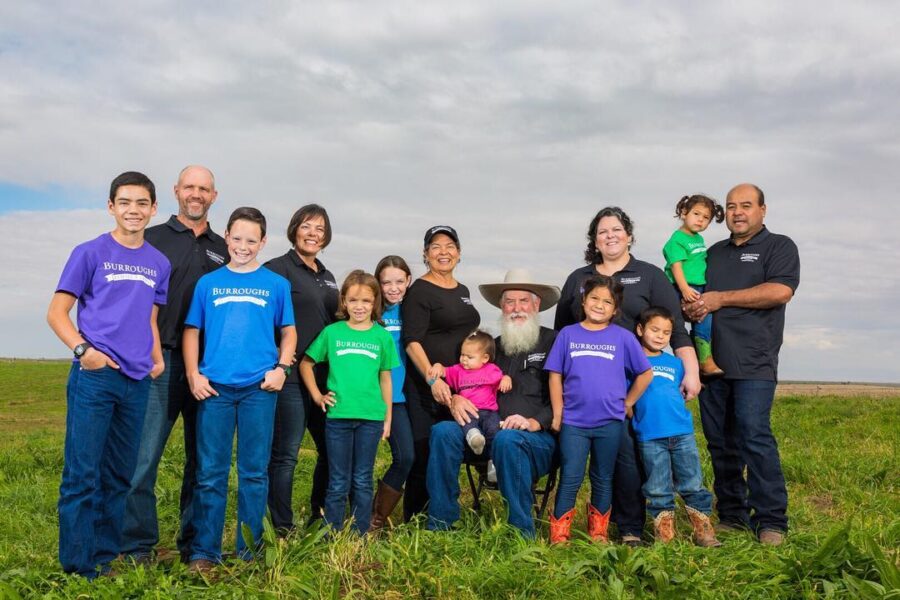 45 years ago, Ward and Rosie took over Ward's father's conventional dairy and beef farm. Today, they work with their children to run the Burroughs Family of Farms as a group of co-managed, interconnected farms. They produce and sell grass-based meats, eggs, organic olive oil, raw organic almonds and organic gouda-style cheese. Their sustainable management practices mean they've thrived despite limited natural resources in California.
Ward, Rosie and their children grow cover crops, practice rotational grazing (including on said cover crops to reduce mowing/chemical use,) create their own onion/garlic skin and manure compost, plant hedgerows, and utilize French drains and holding ponds to maximize water conservation and recycle runoff for summer irrigation. The Burroughs also work with a biologist to collect native wildflower and grass seeds and oversee restoration plantings on both their owned and leased land. They use solar energy to power their almond grove irrigation, as well.
The above is just a sample of what Rosie, Ward and their family do every day to conserve water and strengthen their farm's resilience in a changing climate. Their focus on aquifer replenishment and ecosystem health is a model for farmland stewardship, and passing on their land ethic to their children, grandchildren and customers is vital to co-creating the conservation community they envision as possible now, and in the future.
"California's environment and communities are facing some big challenges, not the least of which are a global pandemic and another year of destructive wildfires. The Burroughs family's efforts to incorporate sustainability into every level of their operation is a testament to their willingness to experiment, adapt and craft new solutions. California agriculture sustains our state, our country and the globe, and families like the Burroughs model the forward-thinking conservation and environmental ethos we need not just to survive, but to thrive." – Ashley Boren, Sustainable Conservation Chief Executive Officer
About the Leopold Conservation Award
Burroughs Family of Farms Photo Gallery
---