2006 Leopold Conservation Award Winner
Lange Twins Wine Estates
Brad and Randy Lange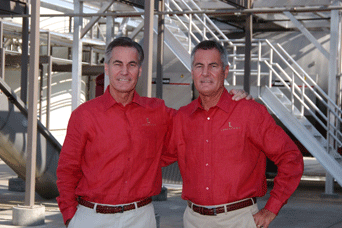 For Brad and his brother Randy, owners of the Lange Twins Wine Estates near Lodi, choosing between preservation and profits is easy. Their pick? Both.
Started by their father in the '40s, the brothers farm close to 6,500 acres of stunning vineyards along the winding Mokelumne River. More than a decade ago, the brothers realized that the old way of doing business – sacrificing a thriving environment for a thriving business – was just that, old. They have proven being good stewards of the environment can be good for the bottom line.
To minimize the use of harmful and costly pesticides, the Lange brothers pioneered new ways to combat pests with natural predators. Now, dozens of owl, bat and bird houses adorn trees and structures throughout the property, attracting a range of rodent- and insect-eating animals. French plum trees growing between the seemingly endless rows of grapevines host the Anagrus epos wasp, whose hatchlings feed on the eggs of the infamous leafhopper. The small but voracious leafhopper causes millions of dollars in damage each year to grapes across the state.
Brad and Randy planted cover crops between the rows of grapes to reduce dust, improve soil quality, keep rain from washing precious topsoil into the river and provide additional habitat for beneficial species. Three solar arrays producing up to 60 kilowatts of electricity provide cheap, clean energy to power vineyard operations, including irrigation pumps and their farmhouse.
They use specialized sprayers that reduce fungicide use by up to 50% and cut the amount of water required per application ten-fold. Less spraying also means fewer tractor passes through the vineyard, saving on fuel and labor and lowering emissions of dust and other airborne pollutants.
"The environmental stewardship frame of mind allows us to think outside the box to find creative solutions that can be mutually beneficial to our ecosystem and to our bottom line … not to mention the priceless benefit of conserving the environment for future farming generations," Brad said.
The Lange brothers' most recent endeavor was the completion of a state-of-the-art winery facility that incorporates energy-efficient lighting, safe sanitation methods that employ ozone instead of chlorine and an advanced processing system to treat wastewater generated during the winemaking process. The long-term plans for the wastewater processing system include creating marshlands as safe habitat for local and migratory birds.
For the brothers, success never tasted so sweet.