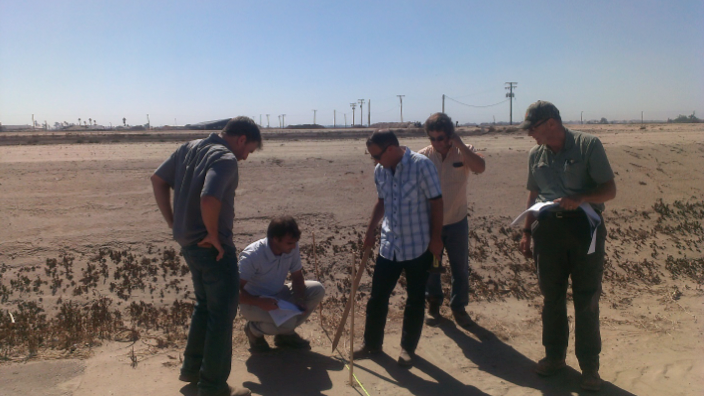 Pictured above (left to right): Joe Choperena (Sustainable Conservation), Rafael Concha (Biofiltro), Tyler Bennett (Bennett & Bennett Irrigation Systems), Alex Villagra (Biofiltro) and Dean Best (Bennett & Bennett Irrigation Systems) measure out Biofiltro's BIDA® System at the Fanelli Dairy. Construction is expected to begin October 10th, 2014.

By Eric Lee, Sustainable Conservation's Science Research Analyst
Resources
• Learn about Sustainable Conservation's biofilter work here.
• Learn about Biofiltro USA and its California pilot projects here.
Recently, I was invited to join an ongoing project to remove excess nutrients and add value to dairy manure. Sustainable Conservation is partnering with a Chilean company, Biofiltro USA, Inc., to pilot its BIDA® Systems, an innovative worm bin biofilter.
The BIDA® System utilizes redworms and colonies of microbes to harvest nitrogen from wastewater used to clean dairy facilities. This means it can be used as a high value soil amendment, while also removing excess nitrogen from the manure, which is harmful to groundwater and drinking water
Getting Down to Work
Going in, I expected a short tour of the site and a brief planning discussion on construction. Instead, I found an enthusiastic group and an open forum. By the end of the day, the project design was dramatically improved, we got approval for the changes, and, because we all felt so pumped, we even broke ground on the site. Granted, it's still bare ground with a few wooden stakes, but that's a lot of progress for one day.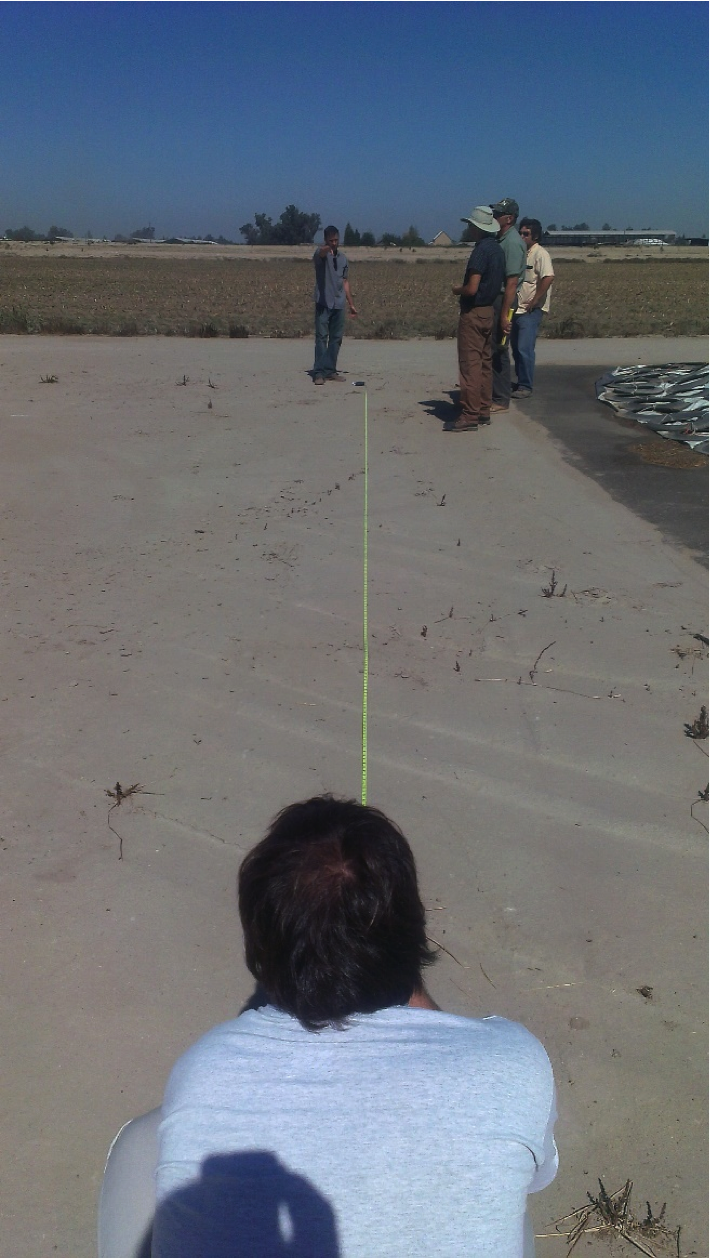 Rafael Concha (bottom, Biofiltro USA, Inc.), Joe Choperena (top-left, Sustainable Conservation), Sanjar Taromi (Biofiltro USA), Dean Best (Bennett & Bennett Irrigation Systems), and Alex Villagra (Biofiltro USA) measure out Biofiltro's BIDA® System at the Fanelli Dairy.
A Warm Welcome
Joe Choperena, a Senior Project Manager at Sustainable Conservation and this project's lead, and I arrived at the Fanelli Dairy, south of Modesto, where we were greeted warmly by two generations Fanellis. Vic Fanelli, the dairy's even offered us homemade venison jerky as we waited for the other project partners. (It was delicious. Thanks, Vic!)
Not long after, Dean Best, Senior Manager at Bennett and Bennett Irrigation arrived, and as group, we left to check out the field site. Right off the bat, I could tell the group was open to innovation and ideas, and we were all thrilled to hear Dean's ideas for how to improve the system.
Making An Innovative System Even Better
This project will be the first commercial application of the BIDA® System in the US, and there are a few barriers to be tackled.
The first step in the cleanup process is removing as many inorganic solids from the manure water prior to introducing it to the BIDA® System, which ensures maximum efficiency of the biofilter. Originally, the plan was to use a wood-shavings filter to remove excess solids that weren't removed in the dairy's existing solid separation systems. (Sort of like what the strainer in your kitchen sink does, but instead of a metal basket, the gunk is strained out with a bed of wood shavings.) While effective, the wood shavings filter would require the Biofiltro and Fanelli Dairy staff to periodically change the wood shavings, but the time to do so quickly adds up, so we devised a better solution: two alternative filters to work in conjunction.
The first filter will be a hydrocyclone filter, which removes the gunk by forcing the liquid through a vortex and passing it through to the sand filters. The process is simple and could be recreated using two one-liter soda bottles and glitter. If you spin the bottles, you create a vortex that pushes all of the glitter to the outside. If you turn the bottle upside down and, with the glitter sticking to the sides, the liquid flowing to the other side is clean.
The second filter will be a set of sand media filters.  While sand media filters work under the same principles as the wood shavings filter, both the hydrocyclone and sand media filters self-clean by automatically back flushing and returning the solids to the lagoon. Minimal maintenance is required.
Significantly lowering maintenance reduces associated costs and labor, while helping to ensure the project's success. And, (bonus!) it won't cost much more than the wood shavings filter when factoring in the labor required to clean out the wood shavings. Between the filter and other system changes discussed, the material costs could be cut by up to 50%. That might be a bit generous, but even half of that discount would be fantastic.
The conversation flowed naturally between English and Spanish, as we all bounced ideas back and forth.  True to Sustainable Conservation's values of transparency and respect, Joe made sure to keep BIDA®'s inventor, Alex Villagra, in the conversation by translating the conversation into Spanish and making sure Alex approved the proposed changes.
Gaining Approval
Setting up a large engineering project like this requires navigating a maze of approvals and regulations. Making the proposed changes to the design will also take some deft footwork; luckily, that's one of Sustainable Conservation's specialties. After the proposed design updates were sketched out, Joe reached out to EAC Engineering, the project's permit specialist and professional engineering firm, for their advice on the proposed changes.
Sanjar Taromi, Biofiltro's Chief Marketing Officer, and Tyler Bennett, President and co-owner of Bennett and Bennett, both commented on how strong the partnership was. Sanjar emphasized how excited Biofiltro has been to partner with Sustainable Conservation and seeing the project move towards fruition.
Within only a few hours, after some lively discussion, the system had a vastly improved design, the support of every project partner, and all the pieces were in place to break ground. And that's how Sustainable Conservation gets it done.