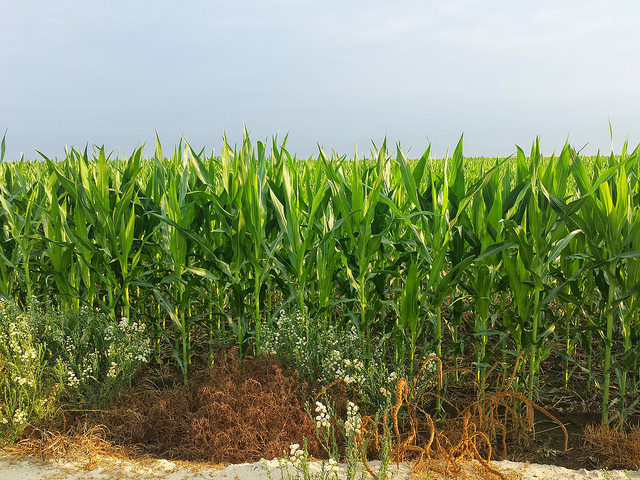 What is Conservation Tillage?
Conservation tillage is a method of low-impact farming that involves leaving crop stubble on the surface of soil (planting new crops on top) or reducing the number of total tractor passes made in cultivating fields. Crop residue protects the soil from erosion and prevents wind from blowing dirt into the air. Fewer tractor passes to prepare fields for planting dramatically reduces dust and diesel pollution.
Conventional farming techniques that cause significant soil disturbance are a major source of dust and diesel pollution in California's agricultural areas. This is especially true in the Central Valley, where residents have long endured poor air quality. At least 10% of Fresno County's population, for example, suffers respiratory problems or chronic breathing disorders – including children and the elderly.
Luckily, more and more farmers are adopting low-impact farming practices, like conservation tillage, which dramatically decrease air pollution while also saving time and money.
Sustainable Conservation, in partnership with the Conservation Agriculture Systems Innovation Center and USDA Natural Resources Conservation Service, has published results of the latest survey analyzing the use of different tillage systems across the Central Valley in 2012. The survey, conducted every two years since 2004, makes an ongoing comparison of annual row crop acreage farmed under various tillage systems.
Results of Conservation Tillage
• Farmers using conservation tillage can reduce their dust emissions by up to 70% and diesel emissions by up to 50%.
• In 2010 alone, conservation tillage helped farmers save over $16 million in fuel, labor and maintenance costs.
The biggest change between 2004 and 2012, the survey found, is in the increase of corn silage acreage utilizing a form of conservation tillage, dubbed strip-till, which involves disturbing only the portion of soil that contains the seed row. In 2004, only about 490 acres of summer silage corn in the San Joaquin Valley used strip-till. By 2012, the number of acres rose to over 181,000.
A detailed report and full survey results can be found here.
Learn more about how Sustainable Conservation is partnering with agriculture to cut air pollution, increase air quality and boost local farm economies by promoting the use of low-impact farming techniques.