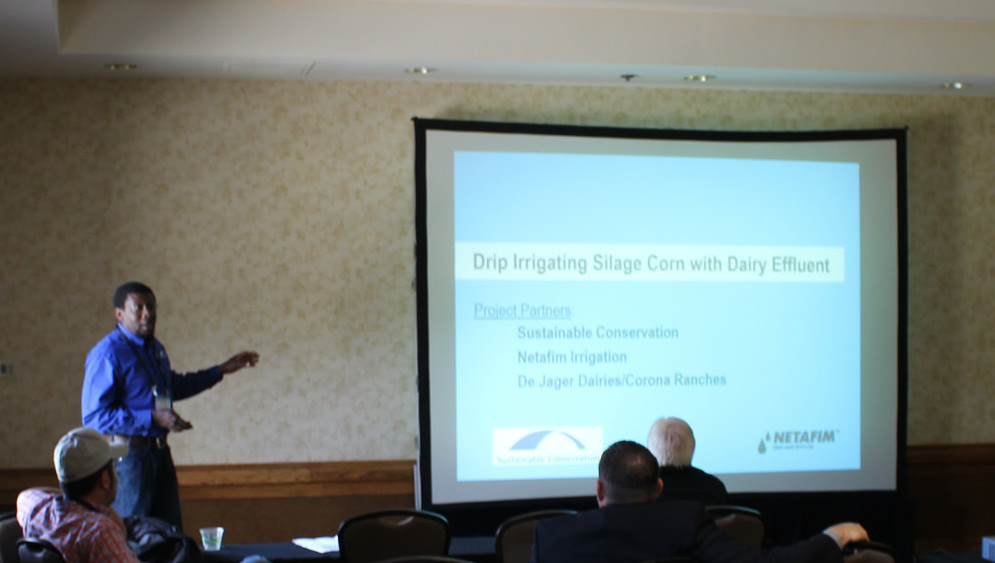 Ladi Asgill, Senior Project Manager at Sustainable Conservation, gives a presentation about the economic and environmental benefits of using liquid manure in drip irrigation systems..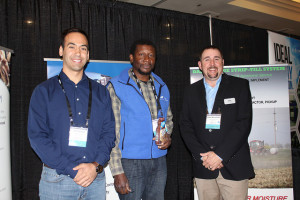 Sustainable Conservation's John Cardoza and Ladi Asgill with Mike Winemiller of California Ag Solutions.
Sustainable Conservation teamed up with Netafim USA, a leading manufacturer of drip irrigation technologies, at this year's Western United Dairymen convention to update dairy producers about efforts to utilize liquid manure in drip irrigation systems and to explain its potential economic and environmental benefits.
This year, the conference was held at Tenaya Lodge in beautiful Yosemite Valley, California. The conference brought together approximately 300 hundred participants consisting of dairy producers, industry experts, speakers, and exhibitors.  The event started March 18th and ended on March 20th.
The partnership, which included Netafim USA's irrigation experts, Nate Ray, Farm Manager for DeJager Farms, and Project Managers Ladi Asgill and John Cardoza with Sustainable Conservation, presented details of the cutting edge project that involves applying filtered liquid manure through drip irrigation lines for growing silage corn and winter forages.
The ability to utilize readily available manure nutrients instead of importing additional synthetic fertilizers helps reduce nitrate contamination of ground water while saving farmers money.
The 45 minute presentation was well received by all who attended.  In the midst of California's 4th year of a major drought the project received strong interest from dairy producers.  Adapting water efficient technologies like drip irrigation in combination with liquid manure to row crops on California dairies will not only help achieve reductions in water use, but also help precisely control fertilizer applications.
Current flood irrigation methods wastes water and results in over application of nitrogen. Once the development of this type of irrigation system is complete, Sustainable Conservation hopes to encourage wider adoption of this approach with dairy producers in the San Joaquin Valley already affected by the drought and ground water contamination.