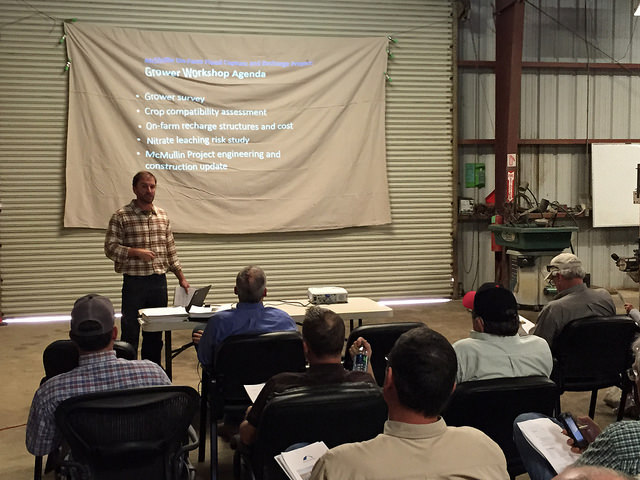 Pictured above: Joseph Choperena, Senior Project Manager at Sustainable Conservation, kicking-off the grower workshop.
In the midst of a four-year drought, Sustainable Conservation brought together a group of farmers, farm advisors and water managers last month to meet at the Terranova Ranch in Fresno County to discuss capturing and recharging the area's groundwater basins using floodwater – once the rains finally begin.
Farmers in the region rely on groundwater for all their agricultural production when surface water supplies are cut due to drought. However, groundwater levels have been dropping at alarming rates, requiring 67% of the growers in the area to drill deeper wells in the last five years.
The mix of attendees have been watching Don Cameron, manager of Terranova Ranch, capture floodwater from the Kings River for over 20 years and spread the water across 1,000 acres of cropland – an area the size of 756 football fields – to recharge the depleted groundwater basin underneath. Don successfully captured three feet of water per acre across the 1,000 acres without affecting crop yields. The amount of captured water is enough to fill 1,500 Olympic-sized swimming pools.
Don's success has generated considerable interest from numerous farmers and downstream municipalities looking for flood safety benefits. And his idea is starting to catch on, thanks to the USDA Natural Resources Conservation Service (NRCS) and the California Department of Water Resources (DWR).
The NRCS paid for a study to document the benefits of this voluntary practice, while DWR is funding development of engineering plans and permitting. DWR is also partly funding the expansion of the pilot project to an additional 6,000 acres, and ultimately to a total of 16,000 acres.
Sustainable Conservation has been involved with the Terranova Ranch groundwater recharge pilot project since 2011. We have more recently completed surveys of the neighboring growers, compiled information about effects of floodwater on different crops and estimated the costs for farmers to spread the water on their active farmlands.
The information is helping farmers and water managers, like the Kings River Conservation District, compare this dispersed recharge strategy with other approaches to replenish groundwater pumping.
Read more about our work to cultivate abundant water for California here. And make sure to check out photos from the workshop below.