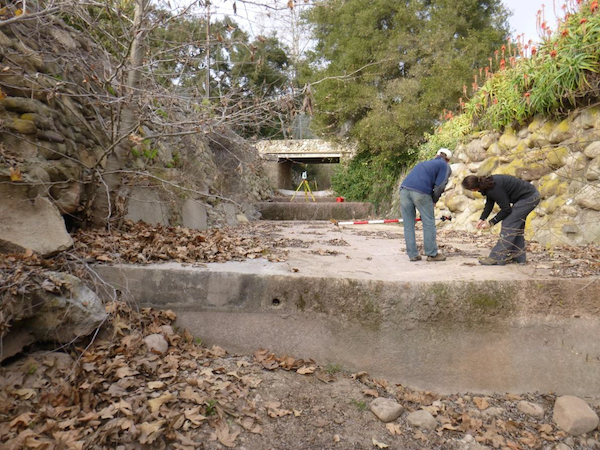 Removing barriers to fish passage. Photo credit: South Coast Habitat Restoration
Habitat Restoration and Enhancement Act (AB 2193) Speeds Project Approval for Santa Barbara County Fish Passage Project

Last September, the Sustainable Conservation-sponsored HRE Act (AB 2193) was signed into law. We're excited to announce that the California Department of Fish and Wildlife (CDFW) has implemented this new program to help accelerate permitting for voluntary habitat restoration projects.
And we have some more great news!
CDFW has approved the first AB 2193 application: a fish passage improvement project in Santa Barbara County. The project, dubbed the Circle G Ranch project, involves removing a concrete-lined section of Carpinteria Creek, an under-sized bridge, and several large concrete steps in the channel – all of which block endangered Southern California Steelhead from reaching spawning and rearing habitat in the upper watershed. The barriers will be replaced with a natural rock-and-cobble stream gradient and a new bridge not only to help protect the imperiled Steelhead population, but also to allow storm flows to pass safely and to improve landowner access to the property.
South Coast Habitat Restoration, a non-profit group that has successfully completed numerous steelhead habitat improvement projects in Santa Barbara and Ventura Counties, is responsible for proposing this $900,000 project. The effort marks the final piece in the organization's and its partners' decade-long effort to remove all the barriers to steelhead migration in this important South Coast watershed that flows from its headwaters in the Los Padres National Forest to the sea a few miles south of Santa Barbara. Scheduled for completion this fall, the project will provide these anadromous fish (meaning they migrate from the sea to spawn in freshwater) with access to more than a mile of rare, high-quality habitat.
With this groundbreaking program inaugurated, a well-deserved congratulations goes to CDFW, South Coast Habitat Restoration, and AB 2193's author, Assembly Member Rich Gordon. Check back in the coming weeks and months for updates about this exciting project – and others being considered for approval.