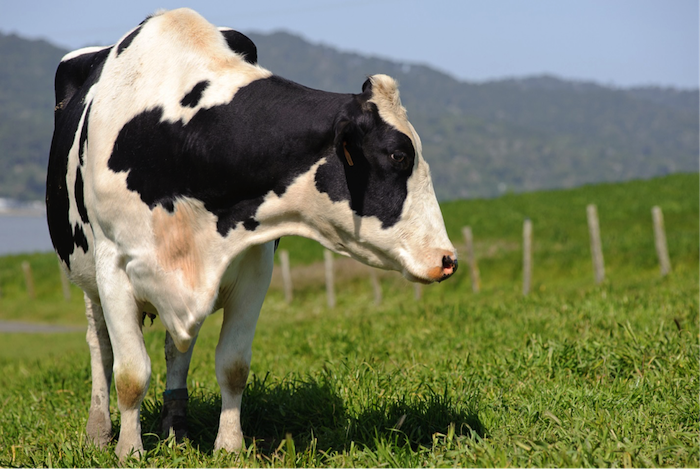 [Download report: Greenhouse Gas Mitigation Strategies for California Dairies]

[Report Summary: Greenhouse Gas Mitigation Strategies for California Dairies Summary]
When we think climate change, our minds often turn to carbon dioxide. But the reality is that there are pollutants even more powerful in the form of short-lived climate pollutants (SLCPs). These pollutants – emitted by everything from cars to cows to our air conditioning systems – remain in the atmosphere for less time than carbon dioxide, but are still responsible for about 40% of global warming.
But there's good news on the horizon. California is making enormous progress in meeting its 2020 goal of reducing greenhouse gas (GHG) emissions to 1990 levels – with the ultimate goal of reducing emissions to 80% below 1990 levels by 2050. The new interim state target of reducing GHG emissions to 40% below 1990 levels by 2030 means it's time to start thinking strategically beyond 2020.
The Impacts of Methane as an SLCP
Methane constitutes the highest percentage of California's SLCPs and is at least 25 times more potent a GHG than carbon dioxide over a 100-year timescale. The California Air Resources Board (CARB), which is currently tackling SLCPs in response to directives from the Legislature and the Governor, has set a new ambitious goal to reduce methane emissions by 40% over the next 15 years.
California's dairies, the largest single source of methane emissions in the state, will be integral in helping reduce methane emissions in the quest to meet the GHG reduction goals.
Sustainable Conservation has an extensive history of partnering with dairies to address air and water quality issues. Our efforts include over fifteen years of work with the dairy industry on methane digesters – which convert methane from cow manure into clean, renewable energy, while preventing GHGs from escaping into the atmosphere.
Recognizing our experience working with the dairy industry, CARB requested Sustainable Conservation's assistance in determining the best strategies for reducing dairy methane emissions in ways that are economically viable for both the state and the dairy industry. We've since worked with California Environmental Associates (CEA) to prepare a study, Greenhouse Gas Mitigation Strategies for California Dairies, to inform CARB 's comprehensive SLCP strategy.
Having examined a wide range of practices and technologies that could be employed to reduce methane emissions, Sustainable Conservation has identified two major initiatives needed to enable California's dairies to meet the state's 2030 SLCP goals: incentives and additional research.
Incentives & Research: Strategies to Reduce Methane Emissions
Our past experience has taught us that the economic viability of methane digesters and other methane-reduction practices is tenuous at best. Dairies are infrequently compensated for investing in sustainability practices, making it particularly important that the state provide incentives for investments in methane reduction solutions. Incentives should include both up-front grant funding and performance-based incentives – particularly when there is little or no short-term payoff.
Reducing investment risk will be key in incentivizing dairies to adopt practices to reduce their methane emissions. As it stands, it's challenging for dairies to find ways to obtain financing for methane reduction projects with revenue streams based on products other than electricity generation (e.g. vehicle fuel), because these revenue streams are less secure. Sustainable Conservation has recommended exploring programs that can alleviate risks associated with lending against these revenue streams.
Because there is no one-size-fits-all solution for reducing GHG emissions from dairies, developing and supporting a broad range of management practices and offering dairies flexibility as to how they can meet methane reduction goals will encourage increased participation and maximize GHG reduction.
In addition to incentives, both long- and short-term research is needed to better understand current manure management practices and to fully develop a toolbox of methane emission reduction practices. While many of these practices hold promise, additional analysis is needed to determine everything from their impacts on water and air quality to the economics and market potential of manure-based products.
In the long-term, it will also be imperative for the state to track and synthesize lessons learned from the performance of dairy digesters in order to adapt and adjust its incentive programs as appropriate.
Partnering for a Healthy California
Providing the incentives and research needed to fully engage dairies – a vital California industry – in reducing methane emissions will go a long way towards helping California meet its GHG reduction goals. Integrating GHG reduction with practices that protect air and water quality in an economic feasible (and even rewarding) way will also ensure that dairies can play their part in achieving the state's 2030 emission reduction targets, while also meeting other important environmental goals.
We look forward to continuing to partner with the state and our dairy industry partners to see through a strategy that keeps California's dairies economically viable, while simultaneously engaging them in a meaningful way to help the state meet its emission reduction goals into 2030 – and beyond.
---
Sources & Additional Reading
• http://www.arb.ca.gov/cc/shortlived/2030_slcp_fs.pdf
• http://www.arb.ca.gov/cc/shortlived/shortlived.htm
• http://www.arb.ca.gov/cc/ab32/ab32.htm
• http://www.arb.ca.gov/cc/cc.htm
• http://gov.ca.gov/news.php?id=18938
• http://blogs.edf.org/californiadream/2015/05/12/little-pomp-lots-of-circumstance-in-californias-new-plan-to-cut-short-lived-climate-pollutants
• http://leginfo.legislature.ca.gov/faces/billNavClient.xhtml?bill_id=201320140SB605