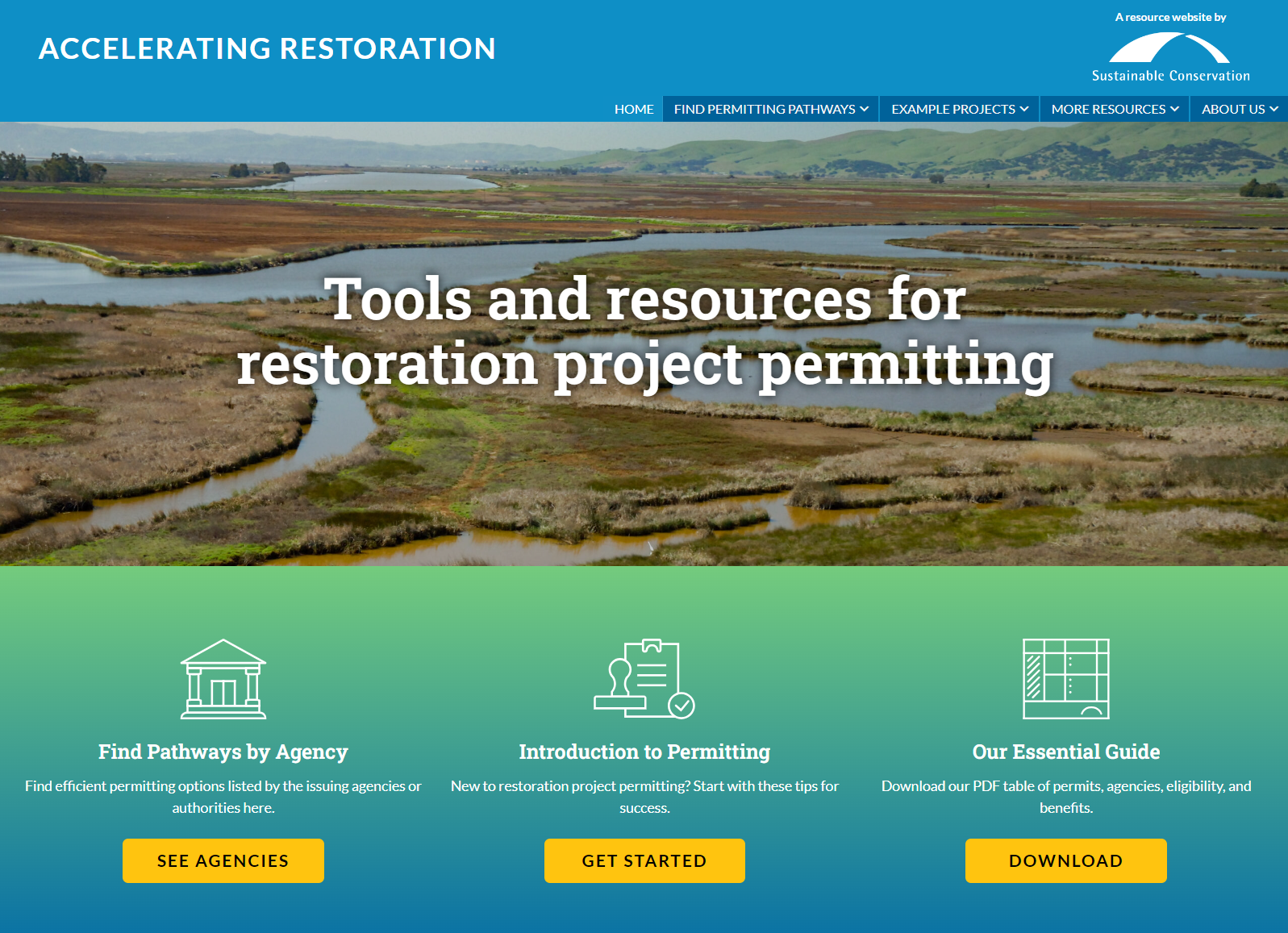 MEDIA CONTACT:
California
Christa Harader, Sustainable Conservation
(415) 977-0130 x308, [email protected]
---
San Francisco, CA — September 14, 2023 — Sustainable Conservation, a California-based non-profit, is proud to announce the launch of an innovative new website to increase the capacity and speed of restoration efforts for our waterways and imperiled species. Navigating California's rules and regulations can be just as time-consuming and expensive for environmentally beneficial projects as it is for traditional development. The new website will serve as a comprehensive resource for restorationists in California to save time and financial resources while facilitating efficient, impactful, and collaborative restoration projects that benefit ecosystems and communities alike.
Simplifying the Permitting Process
Regulatory approval of environmental restoration projects can be slow, complex, and expensive. Sustainable Conservation's Accelerating Restoration program works with state and federal agencies in California to simplify the permitting process, while maintaining strict environmental standards, so more restoration can be done now, not years from now, to help our wildlife and communities thrive.
With a 30-year legacy of uniting people across industries, agencies, nonprofits and communities to address environmental challenges, Sustainable Conservation is uniquely positioned to present a relevant and timely technical resource for restorationists and agency regulators working in aquatic habitat restoration.

Before (left) and after (right) restoration of Redwood Creek on Green Gulch Farm in Marin County. The new Accelerating Restoration website strives to simplify permitting in order to advance similar restoration at-cost throughout California.
Showcasing Success
The newly launched website will serve as a dynamic information hub to empower restoration project proponents with efficient permitting opportunities and facilitate technical assistance. This interactive platform integrates information about the many federal and state permitting pathways, showing project leaders the major permitting options available to them. By showcasing example projects that have successfully utilized efficient permitting tools, the website demonstrates how the tools work in practice and how time and resources could be saved for similar projects.
Innovative features of the website can display permitting pathways by agency, as well as show how related permits work together. Each agency and each pathway now has its own dedicated page with examples and tips that save projects time and money. Additionally, the Environmental Protection Measures Selection tool, which is slated to be published on the website by the end of 2023, will provide a menu of required environmental protection measures that best apply to different project activities and species for any given restoration project. All of the resources included on the website will help restorationists better plan for projects, meet federal and state compliance requirements, and realize the ultimate goal of getting shovels in the ground sooner while furthering Sustainable Conservation's commitment to leveraging collective knowledge to create on-the-ground solutions.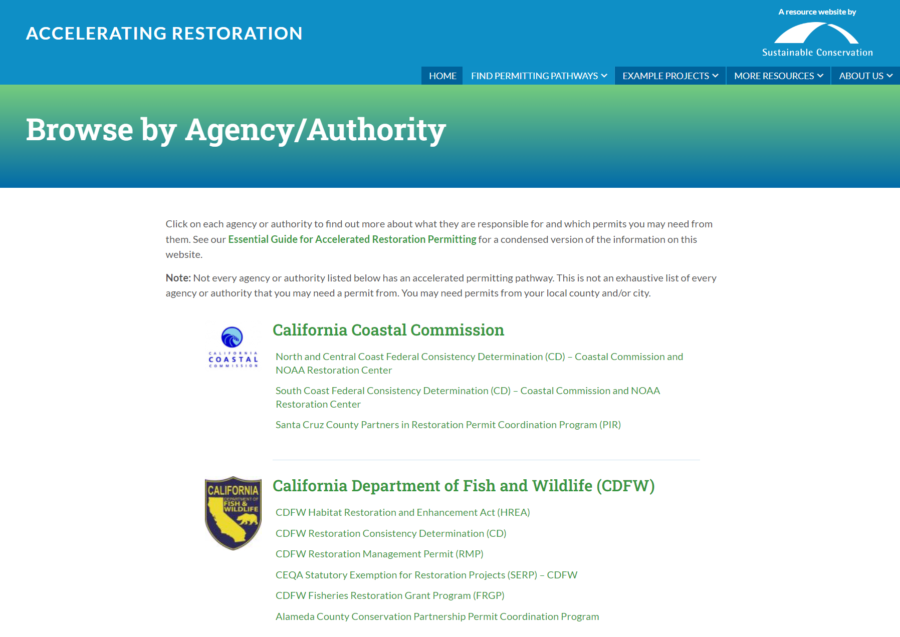 Pictured is the Browse by Agency tool on the Accelerating Restoration website
The Accelerating Restoration team acknowledges the agencies, groups, and individuals who were instrumental in bringing the website to fruition through expert review or contribution of example projects: U.S. Fish and Wildlife Service, U.S. Army Corps of Engineers, NOAA Restoration Center, California Department of Fish and Wildlife, North Coast Regional Water Quality Control Board, State Water Resources Control Board, Resource Conservation District (RCD) of Santa Cruz County, Marin RCD, Alameda County RCD, San Mateo RCD, Cachuma Operations and Maintenance Board, Trout Unlimited, California Department of Water Resources, and Scott River Watershed Council.
---
"We are thrilled to share the Accelerating Restoration website, as it represents a leap forward in amplifying the impact of our colleagues' restoration work," said Ashley Boren, Sustainable Conservation Chief Executive Officer. "We hope that the site will help restorationists protect and restore the rivers, streams, and waterways that our state's communities and ecosystems depend on so dearly."
"The people trying to restore our natural resources really put their hearts into it," said Erika Lovejoy, Program Director, Accelerating Restoration at Sustainable Conservation. "We want to provide every tool we can to help them to 'cut green tape' and get their projects implemented sooner, while we help the agencies reduce their administrative burden and build more partnerships to better our environment."
"Add Sustainable Conservation's new Accelerating Restoration website to your bookmarks now and consult it regularly," said Brad Henderson, Cutting the Green Tape Environmental Program Manager at the California Department of Fish and Wildlife. "This website demystifies the many steps needed to deliver restoration projects quickly and successfully. Whether you are a novice or a seasoned restorationist, you will learn something new by exploring the site. We look forward to continuing our collaboration with Sustainable Conservation's Accelerating Restoration team to advance our shared purpose: preserving California's incredible biodiversity for future generations."
"Sustainable Conversation has been instrumental in accelerating restoration permitting processes, moving them from an almost insurmountable barrier to achieving restoration to a collaborative process between restoration practitioners and regulatory agencies," said Betsy Stapleton, Permit and Project Development Specialist at the Scott River Watershed Council. "I look forward to the release of Sustainable Conservation's new permit pathway website. The Scott River Watershed Council has used many Sustainable Conservation technical resources in the past and anticipates using the new website to facilitate permitting our future projects."
"We are pleased to see the NOAA Restoration Center's environmental compliance efficiency efforts displayed in a one-stop-shop website developed by our long-time partners at Sustainable Conservation," said Bob Pagliuco, Marine Habitat Resource Specialist at NOAA."The website is easy to navigate, and we will be pointing our restoration colleagues to this valuable resource as we work towards ecosystem restoration with our partners in California."
"This is a helpful website that contains useful guidance that should help restoration project practitioners navigate the permitting processes, especially those that are not already familiar with the process," said Paul Hann, Manager, Watersheds and Wetlands Section in the Division of Water Quality at the State Water Resources Control Board. "The Board appreciates the partnership with Sustainable Conservation."
---
About Sustainable Conservation
Interested in learning more about efficient restoration permitting or want to find out how to contact us for a permitting consultation? Email [email protected], and make sure to sign up for our Accelerating Restoration newsletter! For more information and to connect with Sustainable Conservation, visit suscon.org. Follow us on Twitter, LinkedIn, Facebook, Instagram and YouTube.
Previous Restoration Blogs from Sustainable Conservation