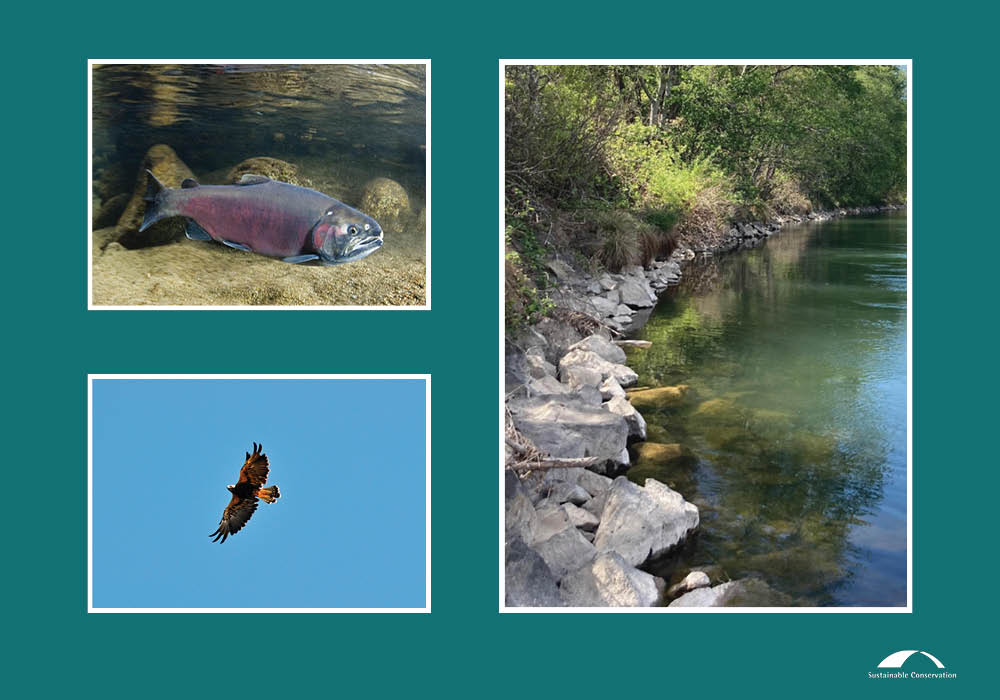 by Eric Epstein
From county-level programs to multi-agency statewide permits, our Accelerating Restoration program's impact has grown exponentially in three decades. Hundreds of organizations and landowners have used the permits we've helped put in place to restore miles of critical riparian habitat, revitalize our rivers, protect iconic species, and reconnect our surface and groundwater resources.
Sustainable Conservation and our partners celebrated dual milestones last year in securing new permitting pathways. We worked with the U.S. Fish and Wildlife Service (USFWS), the U.S. Army Corps of Engineers, the NOAA Restoration Center and the State Water Resources Control Board (SWRCB) to expedite permitting for large and small aquatic habitat restoration projects for all of California.
What does this all mean? More restoration, at scale, more quickly in California. This blog series will highlight recent and future restoration projects that utilized accelerated permitting pathways — both old and brand new!
---
Kopta Slough Multi-Benefit Project
What: Floodplain and riverbank habitat restoration
Who: California Department of Water Resources (DWR), in partnership with The Nature Conservancy, U.S. Fish and Wildlife Service, California Department of Parks and Recreation, California Department of Fish and Wildlife (CDFW,) Sacramento River Forum, Tehama County, and Tehama County Flood Control and Water Conservation District.
Where: Kopta Slough Property (river mile 219-222) on the Sacramento River in Tehama County
Accelerated Permitting pathways used: Central Valley National Marine Fisheries Service (NMFS) Programmatic Biological Opinion (PBO) and CDFW Restoration Consistency Determination (CD). Other project permits are still being acquired.
Currently, the banks of the Sacramento River along the Kopta Slough Property are lined with rock revetment — an unnatural barrier that prevents the river from meandering across the floodplain and eroding adjacent land. The U.S. Army Corps of Engineers and Central Valley Flood Protection Board installed the revetment in 1963 to protect orchards on the property, reduce erosion, stabilize the main river channel, and reduce sediment in the river.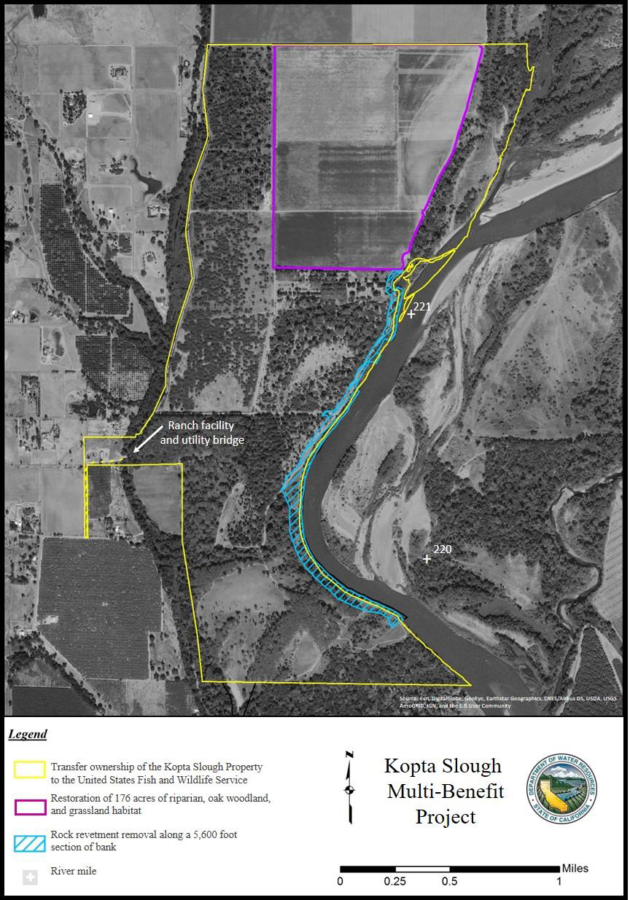 The above map shows the breakdown of property lines, the revetment barrier, and the 176 acres of land that is to be restored to native floodplain habitat as a part of the multi-benefit project. Map courtesy of DWR.
However, the orchards have since been removed and much of the adjacent land has been restored to native habitat. Removing the revetment would restore natural river processes and provide myriad benefits to the local ecosystem and the community, including restoring the river's natural flow and shape, enhancing the quality and capacity of fish and wildlife habitat, and reducing local flood maintenance responsibilities.
The Kopta Slough Multi-Benefit Project has three main elements:
Remove the 5,600 feet of revetment along the Sacramento River to restore natural fluvial and geomorphic processes.
Restore 176 acres of agricultural land on the Kopta Slough Property to native floodplain habitat.
Transfer the ownership of the Kopta Slough Property to the U.S. Fish and Wildlife Service to assure its long-term management and conservation, as well as facilitate the enhancement of public recreational opportunities.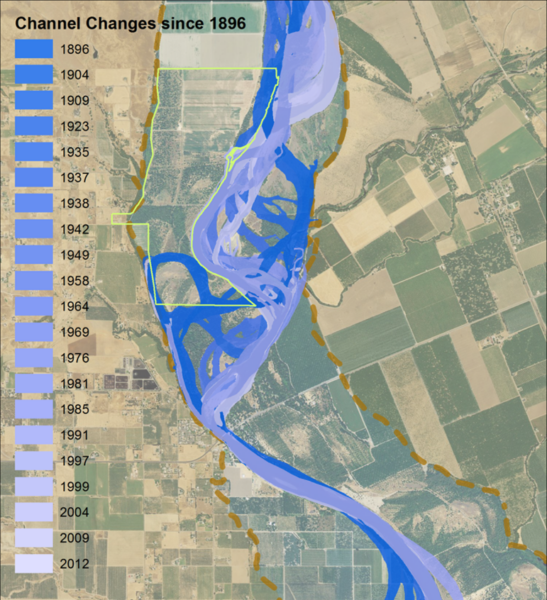 Pictured is the historic meander of the Sacramento River on the Kopta Slough Property (property is outlined in green). The revetment barrier was installed in 1963 along a 5,600-foot stretch of the highlighted riverbank. Map courtesy of DWR.
The project saved considerable time and resources with permitting approval through the NMFS PBO for the Central Valley. Sustainable Conservation assisted our agency partners with developing this pathway to complete statewide programmatic coverage with NMFS in 2018.
CDFW's Cutting Green Tape team developed a new tool that is especially helpful when a project may affect species listed under both the federal Endangered Species act and the California Endangered Species Act. The PBO was reviewed during its development to help create 'consistency' between the two agencies' processes, resulting in a companion expedited process with CDFW. This specific pathway also does not include a fee and has a 30-day approval period, further reducing financial barriers and permitting delays. State and federal listed species with the potential to occur within or adjacent to the Kopta Slough Property include spring- and winter-run Chinook salmon, Central Valley steelhead, green sturgeon, Swainson's hawk, valley elderberry longhorn beetle, and the western yellow-billed cuckoo. Protected native plants like elderberry shrubs will be transplanted from impacted areas to nearby restored habitat.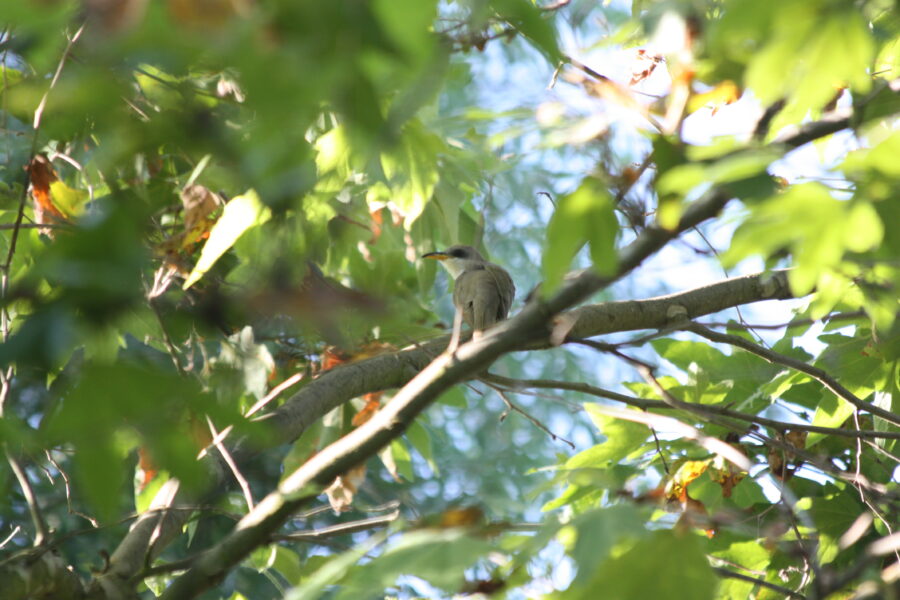 Shown is the yellow-billed cuckoo, an endangered bird in the state of California.
The DWR team greatly appreciated the cross-agency support throughout the permitting process. "Both Ruth Goodfield (NOAA Restoration Center) and Phil Cramer (CDFW) were very helpful and accommodating in providing guidance in utilizing the Central Valley NMFS PBO and CDFW Restoration CD," said Brian Humphrey, Senior Environmental Scientist (Specialist) at DWR. "They both realize the importance of restoration projects and were instrumental in expediting the project through these processes. These processes save both valuable time and money that could be spent on other restoration efforts."