Creek Restoration Invites Endangered Salmon Back Home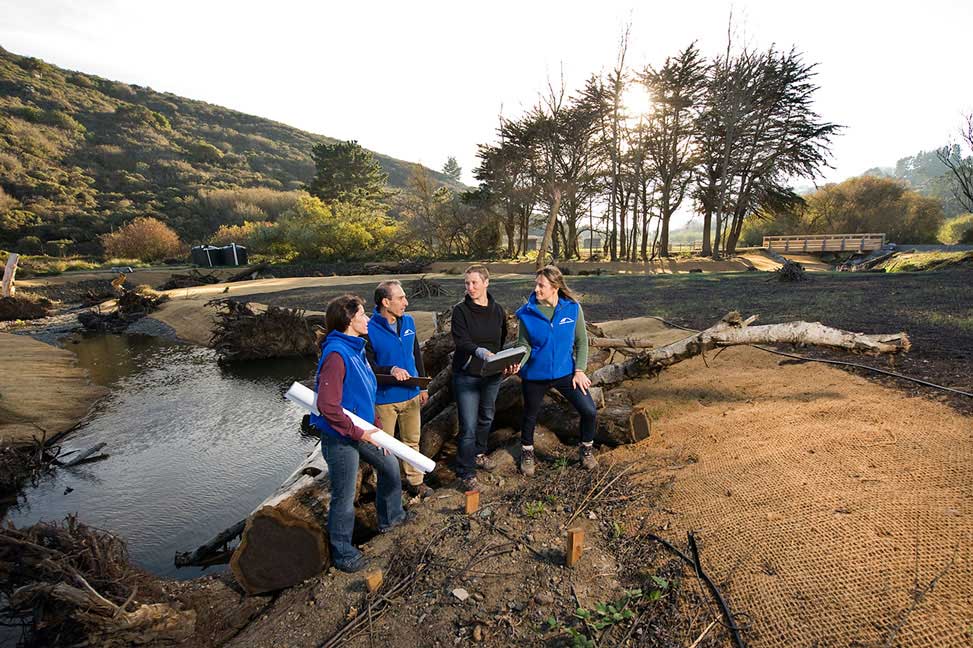 In years past, coho salmon entered the world and grew up in the cool waters of Marin County's Green Gulch Creek before traveling downstream to meet the Pacific at Muir Beach. When a local landowner straightened and channelized the creek in the 1950s to make more room for his farmland, native fish lost their pathway back home. You see, while salmon spend most of their lives in the open ocean, they require access to their freshwater birthplace to spawn anew to complete the ancient life cycle of their species.
With salmon and steelhead populations in danger of extinction across California, Sustainable Conservation focuses on helping imperiled fish reunite with their native waters and find high-quality habitat when they get there. In 2013, thanks to our urging, the California Coastal Commission approved a region-wide program to speed the implementation of voluntary habitat restoration projects in coastal areas. In 2014, Green Gulch Farm and Zen Center took advantage of that program to kick off efforts to restore and enhance their namesake creek that flows alongside fields growing organic produce.
The Marin County project involves transforming the channelized creek into a functional stream that meanders and ultimately meets the ocean. Thousands of native plants have already been introduced to stabilize and shade the streambanks, while installations of massive redwood logs and rootwads provide sheltered resting and rearing areas for juvenile fish.
Sustainable Conservation is proud to have played a role in empowering Green Gulch Farm to more easily undertake restoration efforts that will create 1.5 acres of premium habitat for fish – including the Golden State's beloved coho – and other wildlife.
Just a short distance from San Francisco and popular Muir Beach, the Green Gulch Creek project is a perfect example of how small-scale habitat restoration projects benefit local communities of fish and people alike. Farmers, Buddhist practitioners, and urban visitors share the peaceful valley below Highway 1 with this unique waterway. Soon, we hope to welcome salmon and steelhead back to their home here as well.
Learn More