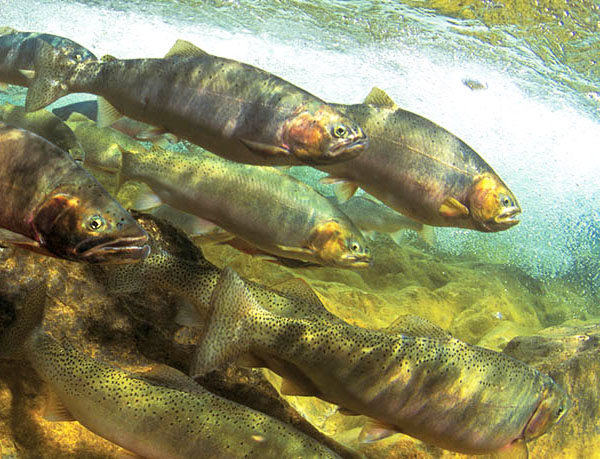 Photo credit: NOAA 
A Big Boost for Struggling Steelhead
The highly endangered Southern California steelhead got a big boost today – thanks in part to Sustainable Conservation and a new ruling from the  California Coastal Commission. The Commission, which oversees land use along California's more than 1,000-mile coastline, unanimously ruled to speed the implementation of voluntary habitat restoration projects in coastal areas. Its decision was greatly influenced by the success of our Accelerating Restoration program, and broad community support and recognition of the critical need to accelerate restoration.
Accelerates Critically Needed Restoration
The Commission's approval allows restoration projects in the coastal zone – from Santa Barbara County south to the Mexico border – to move forward with a more efficient and timely process, while ensuring strong protection of coastal resources and providing  environmental safeguards.
This decision, along with the Commission's 2013 ruling, now eliminates the need for restoration proponents to obtain individual Coastal Development Permits throughout the entire California coastal zone when working with the National Oceanic and Atmospheric Administration's (NOAA) Restoration Center to restore habitat.
Saves Time and Money 
The NOAA Restoration Center works with local partners to plan and implement critically-needed projects to restore stream, riparian and estuary habitat for endangered steelhead and other aquatic species. These projects will be more easily planned and implemented –with more of limited funding going to on-the-ground restoration rather than planning and permitting costs.
The Problem
The precipitous decline of salmon and steelhead populations that have inhabited coastal California for thousands of years is linked directly to the modification and destruction of their stream and estuary habitats and degraded water quality.
Many public and private coastal landowners and land managers want to restore their land and waterways. However, the complex and time-consuming process of obtaining permits to work in the coastal zone limits the opportunities for restoration, and can affect grant funding and disrupt project timing and tight budgets. This new ruling is an appropriate way to accelerate critical habitat restoration while ensuring the highest levels of resource protection in the coastal zone.