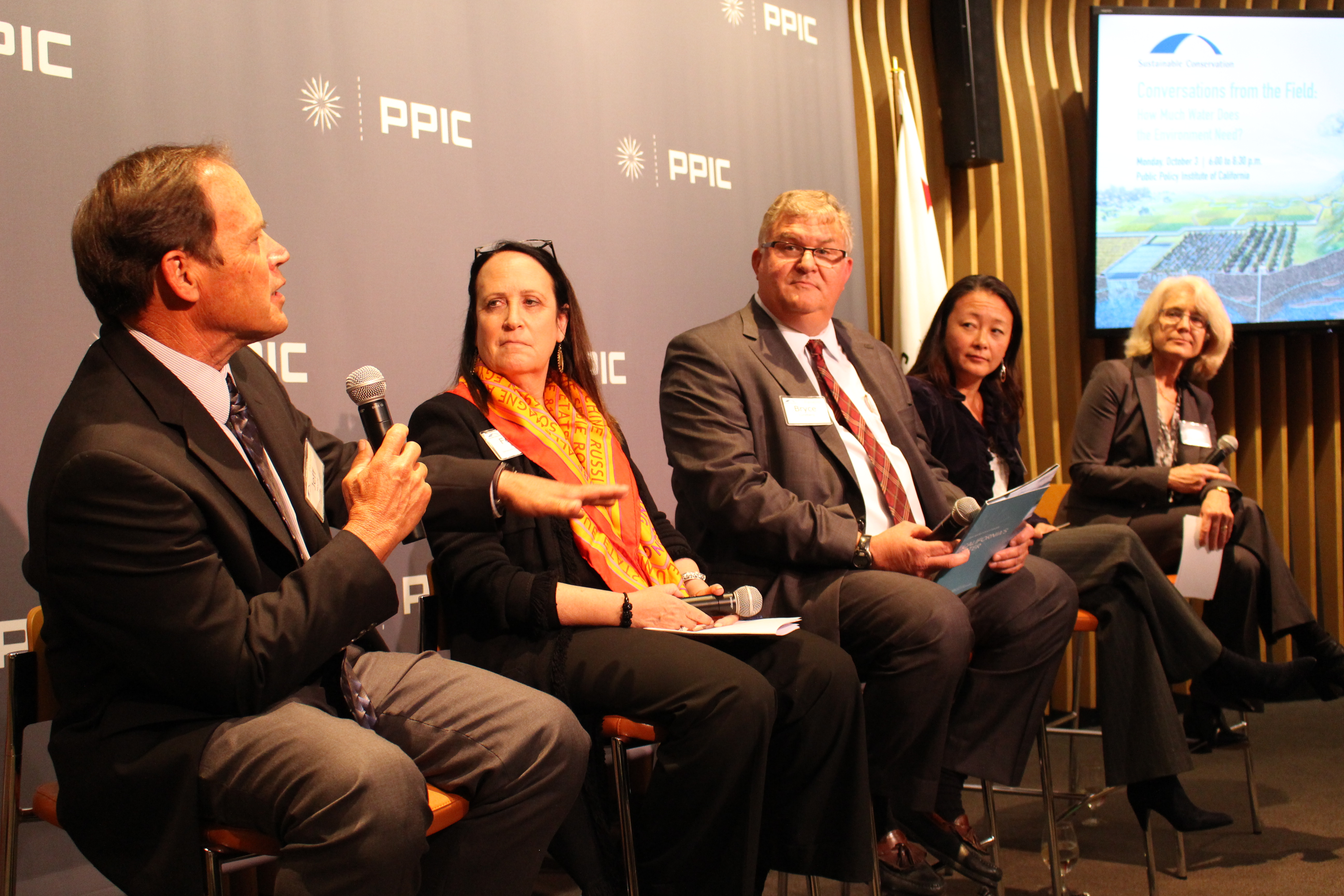 Panelists (left to right) Jeff Mount, Senior Fellow, Public Policy Institute of California's Water Policy Center; Felicia Marcus, Board Chair, State Water Resources Control Board; Bryce Lundberg, Owner/Partner of B and E Lundberg Farm; Sandi Matsumoto, Associate Director, Integrated Water Management, The Nature Conservancy; and Ashley Boren, Executive Director, Sustainable Conservation discuss the state's ongoing water crisis and its impact on the state's environment, people and farming. Check out the webcast.
Among the litany of questions on Californians' minds during our lingering, five-year drought is: How much water does the environment really need?
We're glad you asked! Check out the webcast of our event – "Conversations from the Field: How Much Water Does the Environment Need?" – that happened on October 3 at the Public Policy Institute of California.
A diverse panel of experts shared their perspectives on this and other pressing questions regarding the state's ongoing water crisis. Questions like: The water needs for farming, cities and wildlife are often pitted against each other, are there water solutions that support everyone's needs? What would the benefits to species, people and the economy be if more water went to the environment?
Panelists included: Bryce Lundberg, Owner/Partner of B and E Lundberg Farm; Felicia Marcus, Board Chair, State Water Resources Control Board; Sandi Matsumoto, Associate Director, Integrated Water Management, The Nature Conservancy; and Jeff Mount, Senior Fellow, Public Policy Institute of California's Water Policy Center. More about our panelists can be found below.
Special thanks to Latham & Watkins for sponsoring the event.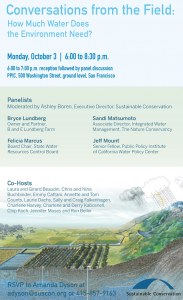 ---
Our Panelists
Bryce Lundberg
Bryce Lundberg has been owner and partner at B and E Lundberg Farm since 1985 and has held multiple positions at Lundberg Family Farms since 1985, including owner, vice president of agriculture, director of organic certification and board member. He currently serves as chair of the Northern California Water Association and is a government affairs committee member at California Certified Organic Farmers. Lundberg is also a board member of the Western Canal Water District and of the California Farm Water Coalition.
Felicia Marcus
Felicia Marcus was appointed by Governor Jerry Brown to the State Water Resources Control Board (Board) for the State of California in 2012, and designated by the Governor as Chair in April of 2013. The Board implements both federal and state laws regarding drinking water and water quality, and it implements the state's water rights laws. The Board sets statewide water quality, drinking water, and water rights policy, hears appeals of local regional board water quality decisions, decides water rights disputes, and provides financial assistance to communities to upgrade water infrastructure.
Before her appointment to the Water Board, Marcus served in positions in government, the non-profit world, and the private sector. In government, Felicia served as the Regional Administrator of the U.S EPA Region IX in the Clinton Administration where she was known for her work in bringing unlikely allies together for environmental progress and for making the agency more responsive to the communities it serves, particularly Indian Tribes, communities of color, local government, and agricultural and business interests. While at U.S. EPA, Felicia worked extensively on the range of environmental issues under EPA's jurisdiction, most heavily in air quality, Bay-Delta water, tribal, and US-Mexico border issues.
Prior to that, Felicia headed the Los Angeles' Department of Public Works at a time when the City went from garnering lawsuits to garnering national awards for environmental excellence. Felicia came to Public Works after extensive experience as a public interest lawyer and community organizer in Los Angeles, including being a co-founder and general counsel for Heal the Bay. In the non-profit world, she was the Western Director for the Natural Resources Defense Council (NRDC), a national environmental leader in bringing science, law, and policy expertise to solving our world's pressing environmental and conservation challenges. Prior to joining NRDC, Felicia was the Executive VP/COO of the Trust for Public Land (TPL), a national non-profit devoted to conserving land for people. She also was a private and non-profit sector attorney in Los Angeles.
She currently serves or has served in the past on many non-profit boards and Advisory Councils including the Public Policy Institute of California Statewide Leadership Council, Sustainable Conservation, USC-Kesten Institute for Public Finance and Infrastructure Policy, and the Center for Diversity and the Environment. She is also currently an Obama Administration appointee to the Commission on Environmental Cooperation-Joint Public Advisory Council (US, Mexico, Canada) and was a Schwarzenegger Administration appointee to the Delta Stewardship Council prior to being appointed to the Water Board.
Sandi Matsumoto
Sandi Matsumoto, Associate Director, California Water Program, The Nature Conservancy, oversees multi-disciplinary teams to advance sustainable groundwater management and integrated floodplain management, both to meet the needs of nature as it delivers water for communities, industry and agriculture. She currently leads the Conservancy's groundwater engagements, which includes developing science-based tools to enable management for the plants, animals and natural communities that depend on groundwater. Prior to this role, she worked on local and regional water management issues, focusing on providing wetlands for migratory birds in the Central Valley and on protecting floodplain for steelhead in southern California. In 2013, she led the Migratory Bird team to launch BirdReturns, an innovative program that uses precision science to identify what bird habitat is needed, when and where, and then selects participants through a reverse auction. The results demonstrate that providing annual incentive payments can be a cost-effective complement to permanent protection. During her twelve years with the Conservancy, she helped acquire almost 2,000 acres of wetlands and floodplains that serve as habitat for native species. Prior to joining the Conservancy, she developed affordable housing and interned for the Aspen Institute and United Nations. A Central Valley native, she earned her B.A. in economics from Yale University and spent a term at the University of Cape Town while earning her M.B.A. from the UCLA Anderson School of Management. Sandi enjoys camping, hiking, traveling and eating good food – all with her five-year old son.
Jeff Mount
Jeffrey Mount is a senior fellow at the PPIC Water Policy Center. He is an emeritus professor at UC Davis in the Department of Earth and Planetary Sciences and founding director of the Center for Watershed Sciences. A geomorphologist who specializes in the study of rivers, streams, and wetlands, his research focuses on integrated water resource management, flood management, and improving aquatic ecosystem health. He has served on many state and federal boards and commissions that address water resource management issues in the West. He has published more than a hundred articles, books, and other publications, including the seminal book California Rivers and Streams (UC Press). He holds a PhD and MS in earth sciences from the University of California, Santa Cruz.