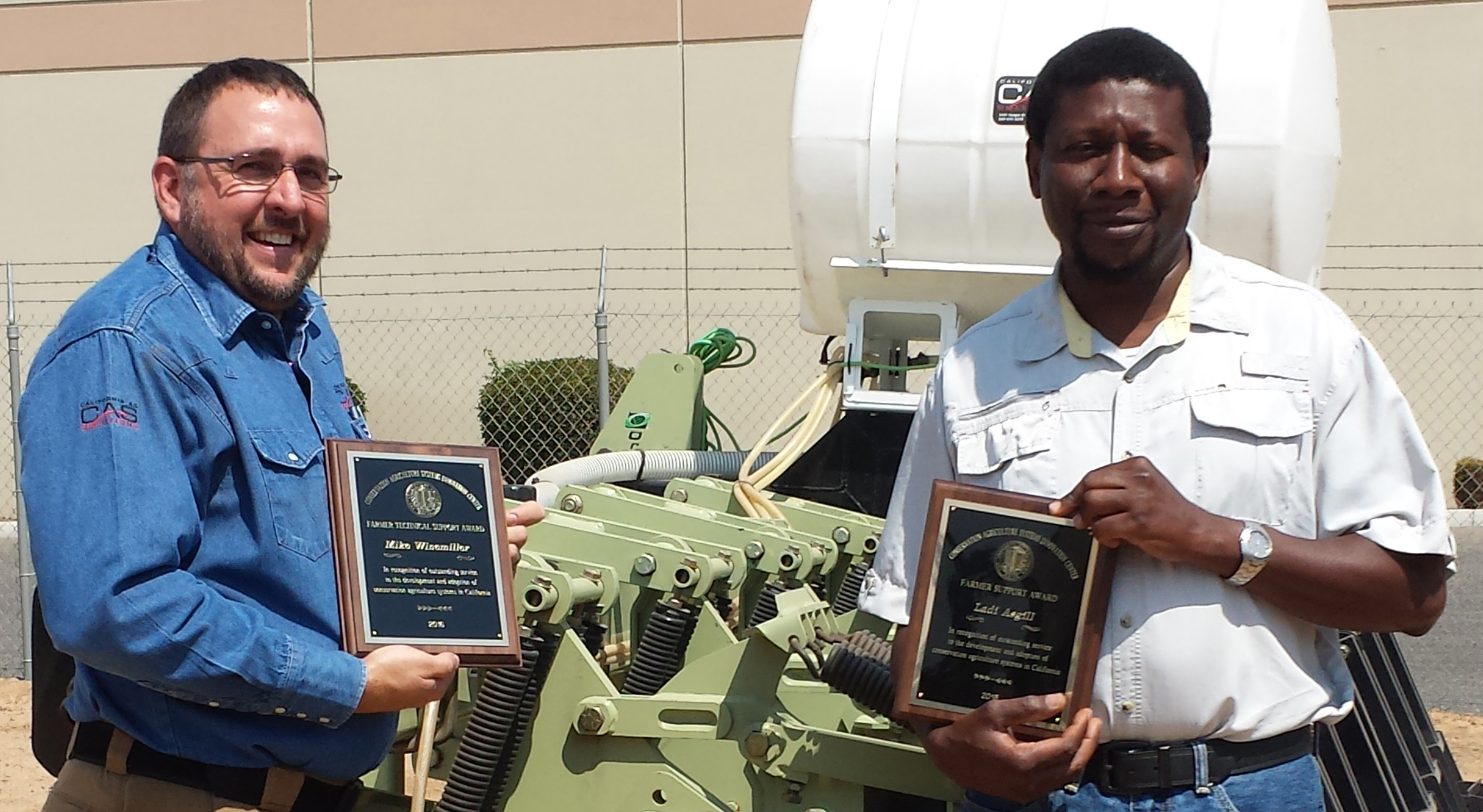 Ladi Asgill (right), Sustainable Conservation Senior Project Manager, and industry partner Mike Winemiller of California Ag Solutions receive Farmer Technical Support Innovator Awards.
Congratulations to Sustainable Conservation Senior Project Manager Ladi Asgill and industry partner Mike Winemiller of California Ag Solutions (CAS) for receiving the Farmer Technical Support Innovator Award from Conservation Agriculture Systems Innovation (CASI) last month. CASI is comprised of University of California researchers, farmers, public agencies, industry and environmental representatives who advance low-impact conservation tillage practices in California.
For more than a decade, Ladi and Mike have grown a powerful partnership to help farmers accelerate the adoption of farming systems that, among other notable benefits, improve air quality, reduce water use and boost soil health in California's farm-rich Central Valley. "Together, they were highly instrumental and successful in helping over two dozen farmers successfully convert to strip-till corn production during the past three years," CASI said of the award.
Less Is More
Strip-till, a type of conservation tillage, is a method of low-impact farming that leaves crop stubble on the surface of the soil, which protects the soil from erosion and prevents wind from blowing dirt into the air. Because crops are planted directly on top of the stubble, fewer tractor passes are needed to prepare fields for planting, dramatically reducing both dust and diesel pollution.
That's a breath of fresh air for many Central Valley communities, which suffer from chronic air pollution caused in part by farming. Central Valley residents — especially children and the elderly — suffer from a variety of respiratory problems due to pollution from farming and other sources. At least 10% of the population is afflicted with chronic breathing disorders. Fresno County, the leading farming region in the nation, has the country's highest asthma mortality rate.
Conservation tillage hasn't just helped farmers reduce their dust and diesel emissions by up to 70% and 50%, respectively. The practice has also saved farmers millions of dollars in fuel, labor and maintenance costs.
Tillage On Tour
Sustainable Conservation and CAS also lead an annual strip-till tour, which takes participants to dairy farms that have adopted conservation tillage. Participants have a chance to examine strip-till equipment and learn about Sustainable Conservation and CAS's joint equipment rental program. Sustainable Conservation and CAS also offer a first-of-its-kind equipment rental program that allows interested farmers to try out strip-tillage without the upfront costs of investing in new equipment.
In announcing the award, CASI praised Ladi and Mike for their partnership and efforts, saying: "By combining strip-till and advanced planting equipment with targeted plant nutrition, the tremendously successful relationship that Winemiller and Asgill forged has been instrumental in moving strip-tillage forward in California's dairy silage production sector."
Congratulations again to Ladi and Mike! We look forward to continuing our partnership with CAS and farmers across California to share new farming approaches to enhance the state's natural resources and ensure communities all across California can breathe easier.