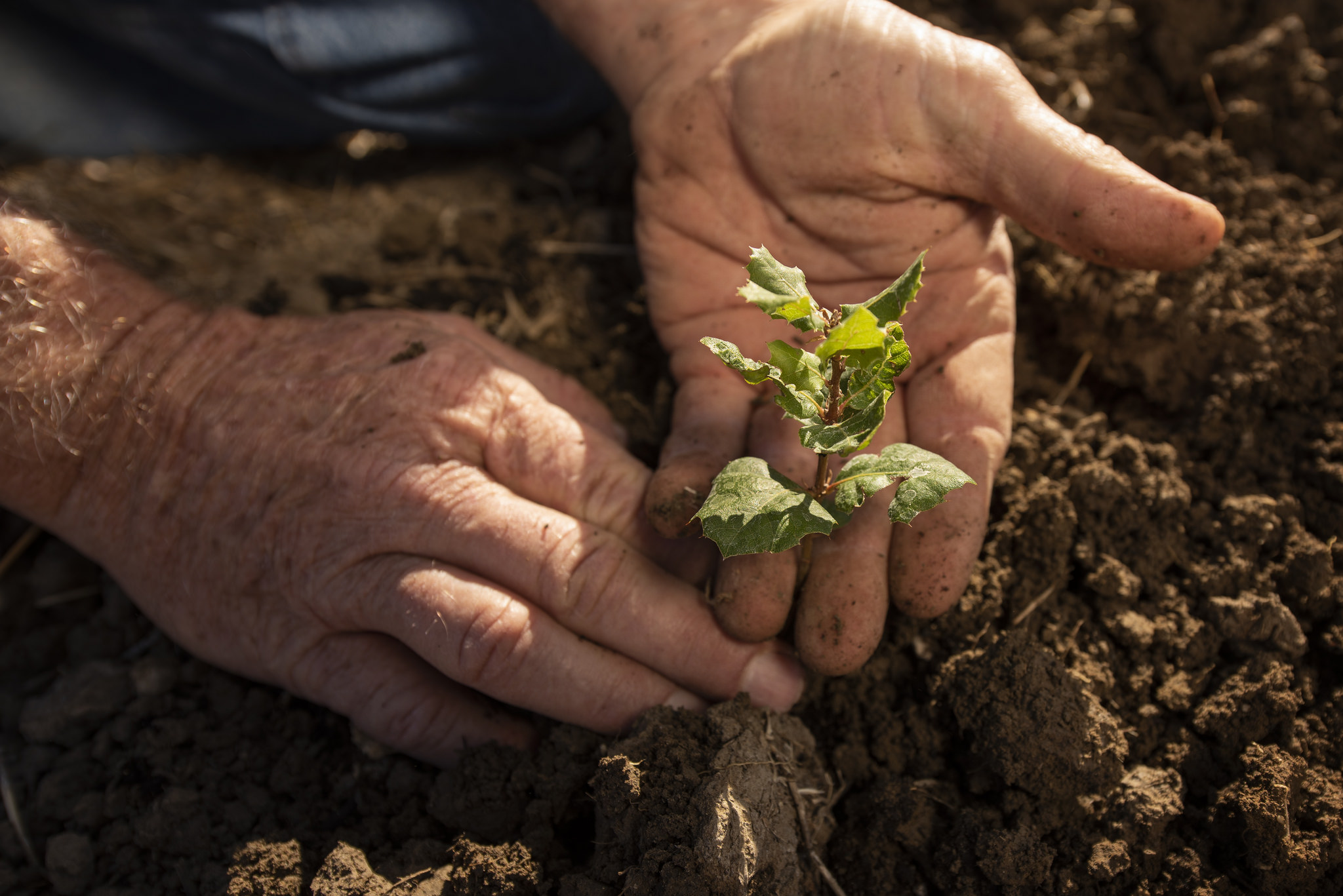 From 1970 to now, Earth Day's been a time to reflect, replenish, reconnect and restore our relationship with nature. This year, Earth Day turns 50. As we recognize the monumental nature of this milestone, we must also adjust to our new collective reality, find ways to stay connected and celebrate #EarthDayAtHome.
Read on for a few notes from our staff about how they're acknowledging this milestone and cultivating resilience  in this time of limited access. We also included a few snapshots of some of our favorite outdoor places to remind ourselves of California's daily beauty.
How are you celebrating #EarthDayAtHome?
"To celebrate Earth Day this year, I will be pulling weeds from the garden at the church on the corner of my block. They can't have volunteer workdays in the garden right now and the weeds have to be pulled before they go to seed. They converted it from a lawn to a climate-appropriate garden a few years ago, and I love looking at it every day when I walk my dog." – Stephanie Falzone, Project Manager, Accelerating Restoration
"I've been watching a lot of documentaries lately (yes, that includes "Tiger King") and one that is on my list is "The Biggest Little Farm." I plan to watch it this week. I've also been pushing at home for my family to use our compost and recycling bins more. We're producing a lot more waste all being at home. We just went through a "tutorial" this morning with my husband, and used the pictures on the bins as visual aids. We'll get there!" – Gina Pacheu, Director of Finance
"I don't think I'll be able to do much physical work on the land on the actual Earth Day, though I just looked at the official site and saw there are a lot of ways to express my voice digitally.  I will find time for that. I did spend time last weekend out in the garden cutting down the cover crop and incorporating it into the soil in preparation for summer vegetable planting. I also built another compost bin, mowed my orchard, and weeded and fertilized the olallieberry and raspberry patches. In other words, I spent the day playing with and caring for my partner: the earth. I love working hard in the garden while listening to birdsong." – Dr. Daniel Mountjoy, Director of Resource Stewardship
"Celebrating Earth
with a haiku conference call.
Spinning gratitudes." – Jan Merryweather, Director of Individual Giving
"Cooking all meals at home right now has me thinking more about food waste. I've been trying to limit what goes in the compost bin – through fridge lists that remind me of produce that needs to get used, saving vegetable scraps in the freezer for stock, candying citrus peel, etc. Small things I hope to keep doing once the external pace of life picks up again." – Robyn Carliss, Creative and Communications Director
"I have a little indoor herb garden that I've been wanting to get going. No better time than Earth Day spent inside!" – Susan Sheeran, Director of Annual Giving & Stewardship
"My daughter's sharing a project that she's been doing at work for Earth Day. It's about growing things like leeks and lettuce scraps without soil. I thought it was pretty cool, and will be trying it, too!" – Jane Lew, Staff Accountant
"I haven't yet heard anything about needing to social distance from trees, so I thought I'd go to my favorite area deep in Golden Gate Park and hug as many trees as I can get my arms around!! Plus sniff flowers along the way…" – Pamela Sergio, Director of Human Resources and Administration
"I'm going to build some more picture frames with some leftover, up-cycled pallet wood on Earth Day. I have a few photos of my dog I've been meaning to frame." – Eric Lee, Science and Analytics Manager
"Spring has sprung, and the dazzling force of everyone's blooms in my neighborhood has struck me particularly deeply this year.  There's something extra special about the ferocious color and beauty, and a reminder that we're part of a larger, natural whole is nourishing right now. I plan to lengthen my daily, socially distant walk around my area, and to dig up my balcony garden box to replant some veggies and get my fingers in the soil. I may not have a full garden to tend, but even that small connection is meaningful." – Christa Harader, Digital Content Producer
"This year for Earth Day, I plan to start my day with a long walk through the Presidio. I love getting out to enjoy the spring blooms, and the smell of the Eucalyptus trees has become one of my favorite things about living here. I'll also be watching nature/outdoor sports films, and I'm enjoying them now especially as a source of inspiration for when I can go on outdoor adventures again. It's also just fun to watch some of these professional athletes do some super wild stuff! Obviously, anything David Attenborough is always great in terms of nature documentaries, and a few of my favorite outdoor sports films are: The Dawn Wall (rock climbing), Art of Flight (snowboarding), Under the Arctic Sky (cold water surfing – I've never surfed in my life and still thought this film was SO COOL!)" – Hannah Nowakowski, Development Associate and Events Coordinator
"For #EarthDayAtHome, my daughter and I are going to take some time to be thankful for the cleaner air this planet is experiencing right now. When the world opens for business again, we will do our best to remember that there are ways we can work together as a species to improve the health of the planet. We'll also bike to Ocean Beach and pick up trash for essential exercise. I urge everyone to support legislation that reduces plastic production and increases recycling options!" – Katie Haldeman, Senior Project Manager, Accelerating Restoration
"I'm going to listen to my top 5 favorite environment-related interviews on Krista Tippett's podcast, On Being. I find comfort and celebration in listening to these thought leaders' wisdom and poetry:
– Kelli McCune, Project Director, Conservation Incentives
"I have been noticing more bird calls lately with the reduction in traffic around my neighborhood. For Earth Day, I plan on writing an Instagram/Twitter post to explore the potential benefits of reduced anthropogenic noise during this time, with a special focus on bird communities in urban areas and human connection to nature." – Taylor Broadhead, Program Associate, Water and Dairy Programs
"We will be planting a few more native plants in our garden and will go on a native flower scavenger hunt around the neighborhood with Gus (our son.) It is a great time to view the flowers." – Michael Behrens, Chief Development Officer
"I plan to do some weeding in a public space sometime this week, as well as get in a good bike ride out to Heron's Head. I might be spending Earth Day working, but I'll make sure to take a walk, look out my windows and appreciate the nature that's in front of me every day." – Ashley Boren, Chief Executive Officer
From all of us at Sustainable Conservation, Happy Earth Day!
We believe in the power of relationships to reveal creative strategies that protect the natural resources on which we all depend. Let's explore new ways to stick together in support of a healthy California. Connect with us!