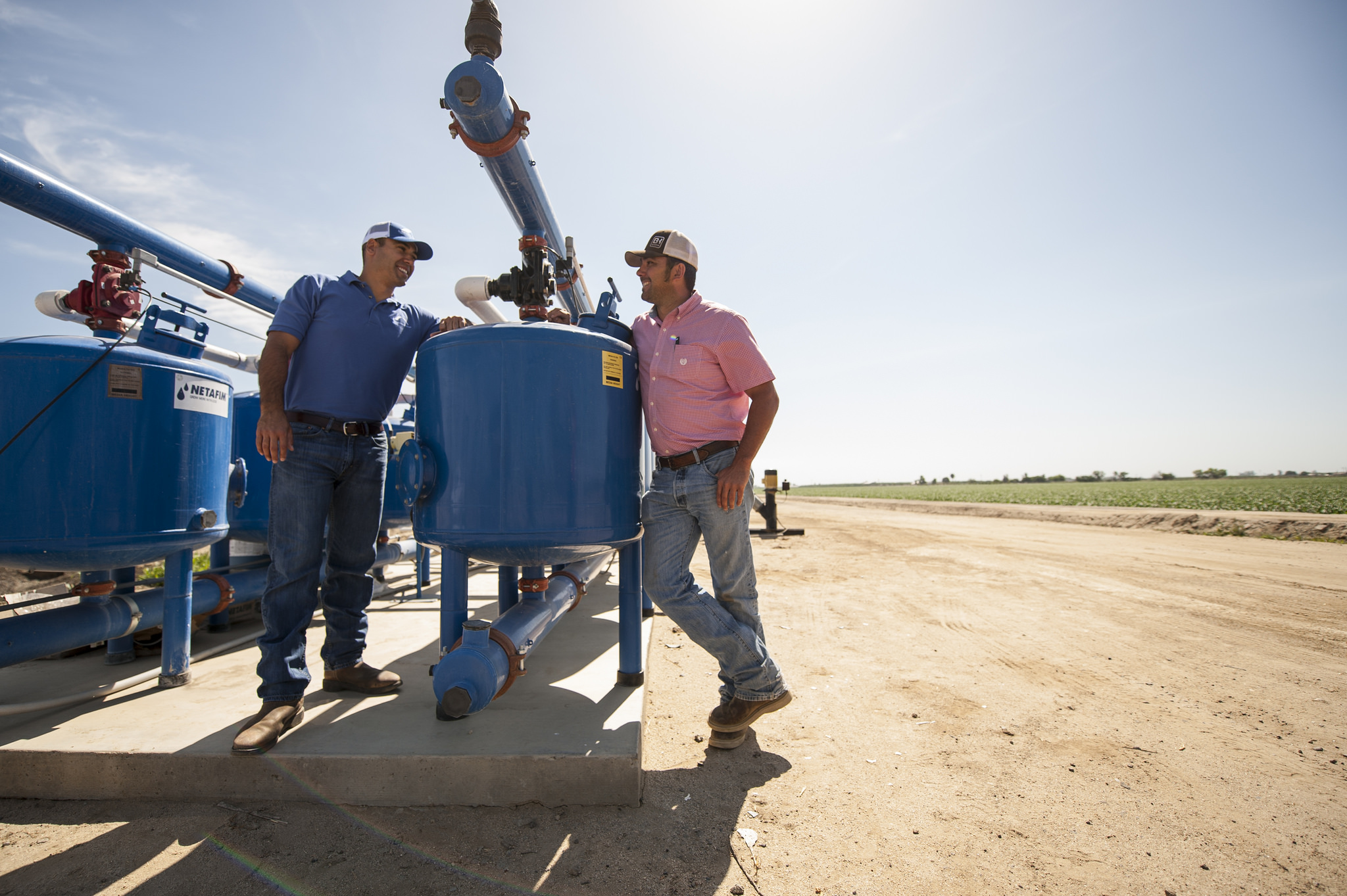 This Earth Day, we celebrated 50 years of conservation consciousness at home – and today we're celebrating all our work in the field! We're pleased to announce that Sustainable Conservation, Netafim USA, Western United Dairies, De Jager Dairy and Michael McRee Dairy were honored with the 2020 U.S. Dairy Sustainability Award for Outstanding Community Contribution for our subsurface drip irrigation system that uses manure instead of synthetic fertilizers.
This first-of-its-kind irrigation system helps dairy producers use the manure their cows produce to hydrate their feed crops in ways that protect water quality and help the industry move the needle on environmental gains.
Economically Viable and Socially Responsible
The award, given by the Innovation Center for U.S. Dairy, celebrates partnerships between businesses and dairy farms whose impacts balance economically viable, socially responsible, and environmentally sound stewardship practices. We were nominated by the California Milk Advisory Board, and the award was announced on Wednesday, April 22 at the Innovation Center for U.S. Dairy's Spring Dairy Sustainability Alliance Webinar, in lieu of the planned in-person meeting in Chicago, IL. The in-person awards ceremony is scheduled for November 17, 2020 at the Dairy Sustainability Alliance Fall Meeting in Phoenix, AZ. Registration information will be available in the near future.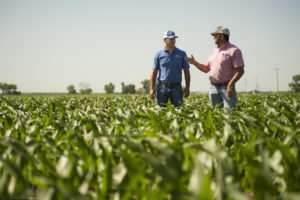 Our Theory of Change
For over 25 years, Sustainable Conservation has built a theory of change on the bedrock of inclusive partnerships and collective innovation. Our focus on a sustainable, clean and plentiful water supply means we're building transformative, science-based solutions with California agriculture. Together, and only together, we can successfully steward our most precious natural resources for all Californians.
Our agricultural economy feeds and leads the nation, and our community water security is critical. We believe that environmental solutions can also make economic sense, and working on the ground first means we're privy to great ideas and practices that need our support. Engaging dairy producers whose daily work requires nimble thinking can lead to significant water quality and emissions wins that benefit all our communities.
"This advancement is a prime example of how our proven track record of forging on-the-ground partnerships, testing and proving innovative technologies, and scaling economically viable solutions lead to substantial, lasting environmental wins. California is a drought-prone state, and technologies that help our dairies be more water efficient while protecting critical groundwater quality are vital, especially as the state plans for long-term groundwater sustainability." – Ashley Boren, Sustainable Conservation Chief Executive Officer

"Lasting change really only comes from listening to the people who work every day, on the ground, to hear about the challenges they face and their innovative approaches to meeting them. We're deeply grateful to our partners at De Jager Dairy and Michael McRee Dairy for their perseverance and willingness to take the time to develop new technologies with their extensive knowledge. We've also been extremely fortunate to work with Netafim USA and for their expertise and equipment to develop the solution, and we look forward to scaling it together." – John Cardoza, Sustainable Conservation Senior Project Manager 
Built from the Ground Up
In 2014, California was in the midst of a severe drought, and the Sustainable Groundwater Management Act became law. Sustainable Conservation was already partnering with De Jager Dairy on several projects, and De Jager was transitioning to drip irrigation. Dairies traditionally flood irrigate their cow feed crops from their dairy lagoons – a mixture of manure and water –  and Nate Ray knew that the dairy would have a manure management issue going forward.
Why? Drip systems aren't built to handle organic effluent, so dairy producers have to purchase synthetic fertilizers to reach their crops. That's a significant cost, and with manure nutrients readily available at the dairy, Nate knew that De Jager needed another solution.
Enter Sustainable Conservation. Nate approached Ladi Asgill, Senior Agronomist, and John Cardoza, Senior Project Manager, as trusted partners. Nate also brought on Netafim USA, as they'd already built a relationship. From there, our coalition built and tested the "Frankenstein" prototype over the next two years.
"Using our dairy manure to fertilize our feed crops isn't a new idea, but we needed a way to do it that was different from flood irrigating as we switched to drip during California's last drought. We contacted Sustainable Conservation because we'd worked with them to implement on-farm solutions before. They're a trusted partner, and together with Netafim USA and all our collaborators, we're pleased to have an innovative piece of tech that works in our daily operations." – Nate Ray, De Jager Farms Chief Executive Officer

"Every day, dairy farmers meet major challenges – not the least of which is working with limited water resources as sustainably as possible. We teamed up with Sustainable Conservation to demonstrate and promote a new, environmentally-smart technology to help farmers close the loop on nutrient use and water efficiency. We're thrilled with the progress our partnership has made, and honored to receive this recognition." – Domonic Rossini, Netafim USA Agronomic Relationship Manager.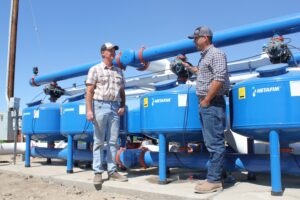 Reducing Nitrate Leaching and Greenhouse Gas Emissions
Based on our promising pilot results and the system's potential to reduce nitrate leaching to groundwater and greenhouse gas emissions, the team knew we had a breakthrough manure management solution in the works. We convened a larger group of dairies, lab, university and industry partners, including Michael McRee Dairy, Western United Dairies, Dellavalle Labs and University of California Cooperative Extension (UCCE) to apply for a competitive National Resources Conservation Service Conservation Innovation Grant (CIG).
In 2016, with CIG support in hand, we got to work scaling the system to three San Joaquin Valley dairies of varying sizes and management practices. We're deeply grateful for the support of all our partners, including NRCS and the Morgan Family Foundation, and California Water Action Collaborative members Bonneville Environmental Foundation, General Mills, and Nestle USA.
"As we move our sustainability efforts from sustaining resources to regenerating them, innovations like Sustainable Conservation and Netafim USA's subsurface drip irrigation management tool have been critical as we seek to manage water resources and food production. It is imperative that we identify solutions for those who can make some of the biggest regenerative impacts: the farmer." – Mary Jane Melendez, General Mills Chief Sustainability & Social Impact Officer
Scaling Innovation
 In 2020, Sustainable Conservation and Netafim USA are ramping up our outreach to the California dairy industry, with eight dairies working to install the system this year. We have a lot of work to do to scale adoption and achieve the substantial environmental co-benefits the system offers. Netafim USA is exploring national scaling, including moving the technology beyond dairies to hog farms and food processing operations. We're also working on refining the system's nutrient management capabilities for further ease of use.
"Despite facing many pressures, California farmers are resilient and always look for ways to lead in environmental stewardship. Sustainable Conservation crafts practical technology and solutions in lockstep with farmers and industry partners that lead to enduring environmental solutions. This new drip system helps California dairies produce healthy milk while reducing their water and greenhouse gas impacts, and serves as a model for dairy producers across the U.S." – Karen Ross, California Secretary of Agriculture

"This cutting-edge irrigation system helps dairy producers utilize their on-farm nutrients efficiently. It's an important new tool for dairies to consider in light of groundwater and water quality regulations. Sustainable Conservation's leadership role in evolving this system from an idea to a real, scalable practice is remarkable." – Paul Sousa, Western United Dairies Director of Environmental Services and Regulatory Affairs
At Sustainable Conservation, we're grateful for this moment to reflect on our collective journey from concept to industry innovation. Piloted and proven in California, the technology's potential for national use, even beyond the dairy industry, is significant, with measured impacts to water quality and efficiency.
Join us in celebrating our theory of change and how a practical partnership, born of mutual trust and innovation, can benefit our farms, communities and the environment.
We believe in the power of relationships to reveal creative strategies that protect the natural resources on which we all depend. Let's explore new ways to stick together in support of a healthy California. Connect with us!