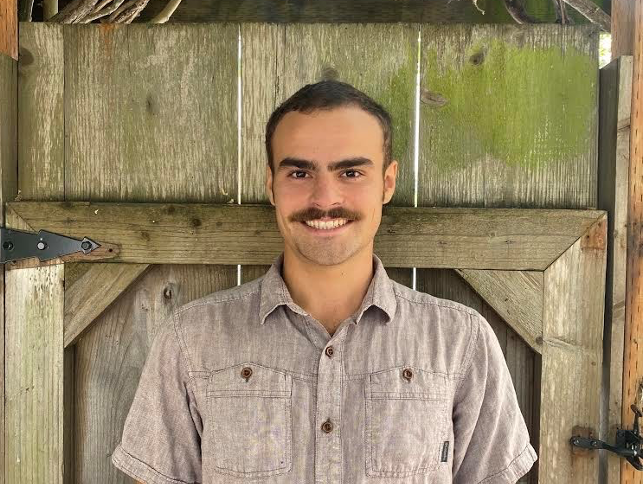 This week, we're celebrating our GrizzlyCorps fellow Elliot Grant for his great contributions to our soil health research at Sustainable Conservation. Elliot joined us to research soil health practices that might benefit water resources in the San Joaquin Valley and on the Central Coast, and he's doing a fantastic job! Read on for a bit more about Elliot, and what our staffers have to say about his excellent work so far.
Meet Elliot Grant
Elliot recently graduated from the University of California, Santa Cruz with a double major in Economics and Environmental Studies, concentrating in Agroecology. At U.C. Santa Cruz he worked for the Center for Agroecology and Sustainable Food Systems (CASFS) as a student assistant at the Chadwick Garden. Before that, he was a farm hand for Route One Farms, a 40-acre organic vegetable farm in Santa Cruz County. Elliot was raised in Marin County and currently resides in Santa Cruz where he enjoys surfing, fishing, and growing flowers.
Staff Praise for Elliot's Work
"Elliot has made such critical contributions to our Central Coast program area! He reviewed a large body of published research and synthesized the quantified results of soil health practices, in particular, planting cover crops, for their impact on water quality. We utilized his work in our comment letter to inform a policy update that the Regional Water Quality Control Board is currently doing that includes a provision that counts a couple soil health practices toward a grower's actions that they can take to prevent nitrogen from leaching to groundwater. In true Sustainable Conservation fashion, Elliot used best available science and provided an analysis that is meaningful to effect change in how growers can be recognized for their management actions that protect drinking water quality." – Kelli McCune, Project Director, Conservation Incentives

"Thank you, Elliot, for the great work that you've been doing to unpack both the science and in-field experiences on water-related soil health outcomes. You bring to your work a unique combination of expertise and curiosity that is highly valued by Sustainable Conservation and our partners. You've been a fantastic colleague, and we're looking forward to seeing how your final analysis and recommendations will inform our future work." – Ryan Flaherty, Director of Business Partnerships

"Elliot has approached his work with enthusiasm and charisma, resulting in every partner/stakeholder I have introduced him to enjoying sitting down to talk with him. The hard work Elliot has done around soil health is appreciated, and has moved the organization's effort forward." – John Cardoza, Senior Project Manager
More to Come!
We're so pleased to be able to work with Elliot, and we look forward to sharing the great results he's achieved with our team this year. Bonus: he's got a great sense of humor, and fits right in. Thank you, Elliot!
We believe in the power of relationships to reveal creative strategies that protect the natural resources on which we all depend. Let's explore new ways to stick together in support of a healthy California. Connect with us!