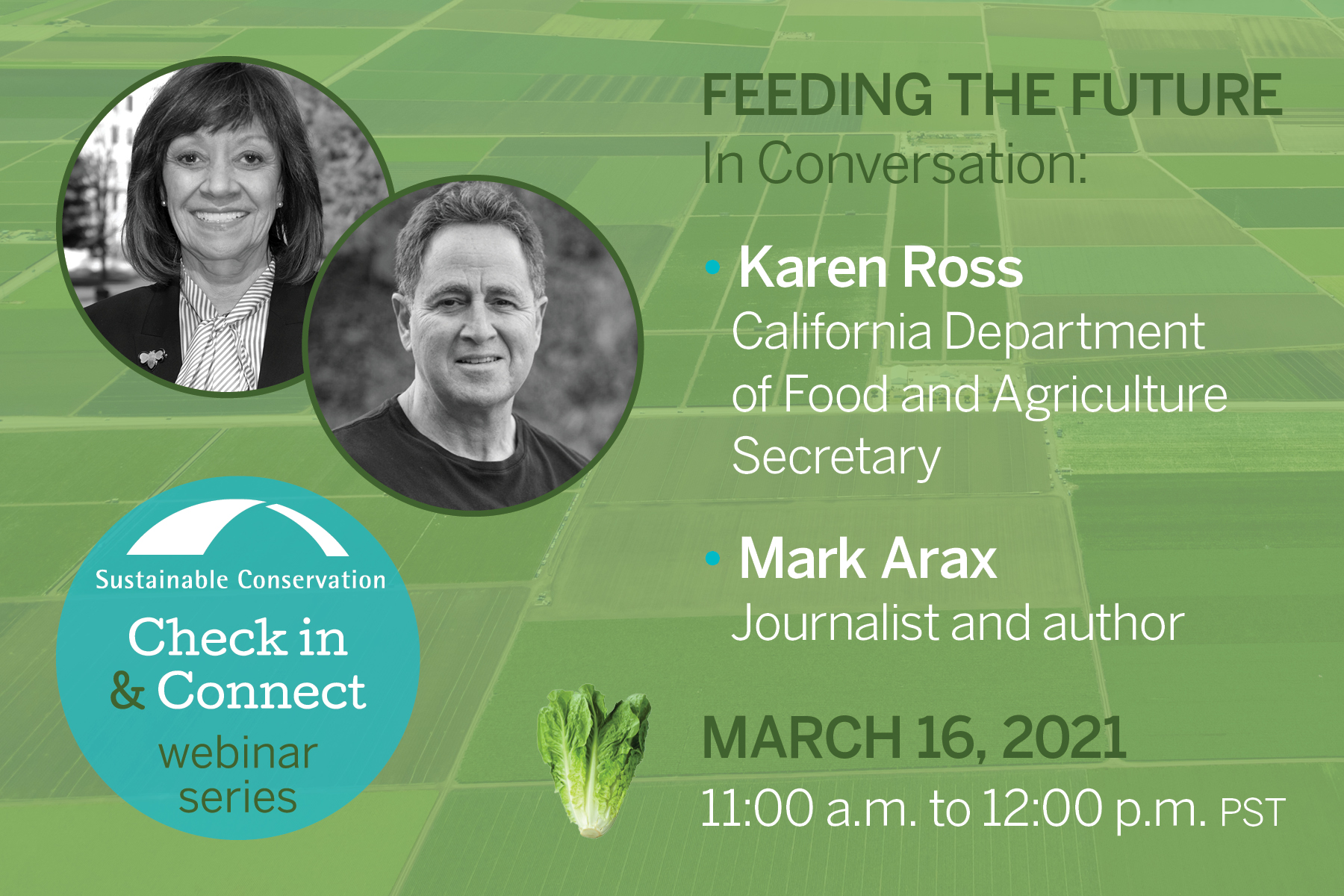 Missed the latest webinar in our new Feeding the Future series? We've got you covered with highlights and a full recording of the event.
Sustainable Conservation CEO Ashley Boren moderated a conversation between Secretary of the California Department of Food and Agriculture Karen Ross and The Dreamt Land author Mark Arax. Ashley offered questions, including several sourced from folks who tuned in live, to cue up Karen and Mark's discussion of water, agriculture, and climate change in California.
Secretary Ross has served for 10 years in both the Brown and Newsom administrations. Drawing from deep agricultural expertise and industry experience, she works every day to help California manage its natural resources and build a sustainable food system for all. Mark Arax is a distinguished journalist and author from a Central Valley farming family whose coverage of California water complexities has inspired lots of dialogue across the state.
Feeding the Nation
California agriculture is a quintessential part of our state's history, and a key component of our environmental stewardship. Secretary Ross talked a bit about what makes our farms and farmers unique. With a diverse group of farmers growing over 400 commodity crops, we produce almost 50% of the nation's vegetables – and our water efficiency in doing so continues to grow. 
"California agriculture is a pretty remarkable part of our state's history […] We're what's nutritious and delicious, and we do it at a larger scale than anyone else thanks to our research and agriculture community" – Secretary Ross
Understanding the Full Picture
California water is complex, and Secretary Ross and Arax talked about how efficiency does not necessarily equal conservation when our agricultural footprint starts expanding. That growth is what inspired Arax to understand how farming was changing during extreme periods of drought. Arax described how dwindling groundwater and irrigation savings, especially an industry switch from flood irrigation to drip irrigation, made expansion into different kinds of terrain and soils possible.
In a post-SGMA (Sustainable Groundwater Management Act) landscape, the need to farm sustainably – considering environmental gains, community co-benefits, and what's best for the crop – becomes ever more critical. If land does come out of agricultural production, we need to think about how to best use that land in ways that benefit farms and communities at the same time.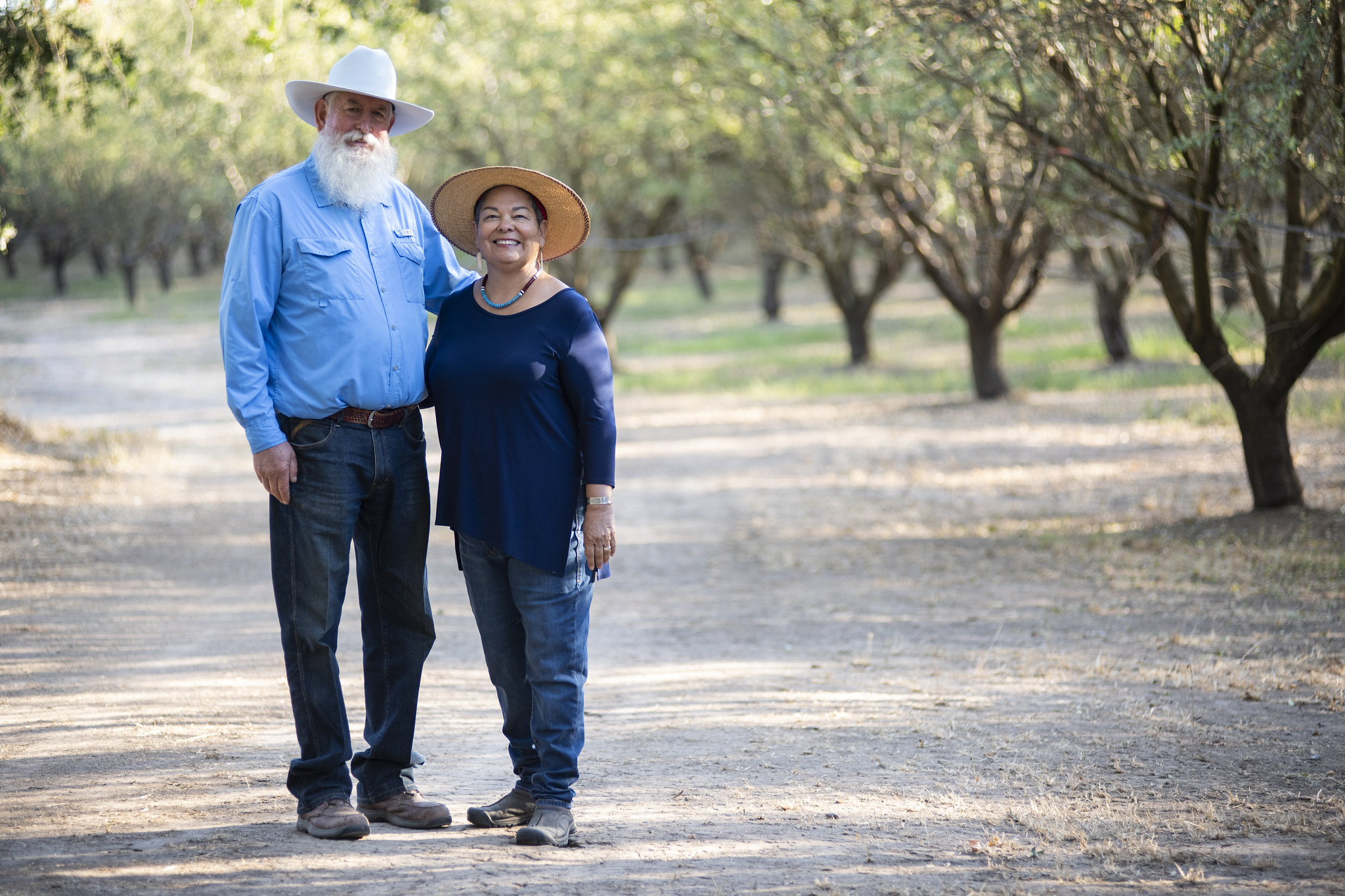 The Burroughs are just one of many California families whose sophisticated, time-tested and holistic farming practices care for our most precious natural resources. Get to know the people who grow the food you love!
Protecting Our Resources
Secretary Ross noted that it's easy to make assumptions about what farmers do in California. Farming is much more than the crop yield – it's the soil, the runoff, the equipment, the water quality, and the wildlife habitat, for starters. Arax also made it clear that we cannot paint the Central Valley with a broad brush in any context, especially geographically. Farmers' water and land access, and connections, vary drastically depending on where – and what – they grow.
California farmers can (and do!) lead on greenhouse-gas-reducing solutions, drawn down carbon, increase organic soil matter, and help meet our climate goals. Furthermore, our collective consumer interest in food means we should connect with the people grow it and learn more about what they do. Fostering these connections will help investigate our own assumptions about what sustainable farming can look like, and we can celebrate and lift up the diverse community of farmers that grows the food that nourishes us all.
What's Next?
Stick with us! Bringing people together is what we do, and we encourage you to stay tuned for our next webinar on Earth Day (Thursday, April 22nd.) Registration info will be posted soon.
You can also check out our Twitter coverage of the event for a deeper dive, and stay tuned for more answers to your great questions.
We believe in the power of relationships to reveal creative strategies that protect the natural resources on which we all depend. Let's explore new ways to stick together in support of a healthy California. Connect with us!