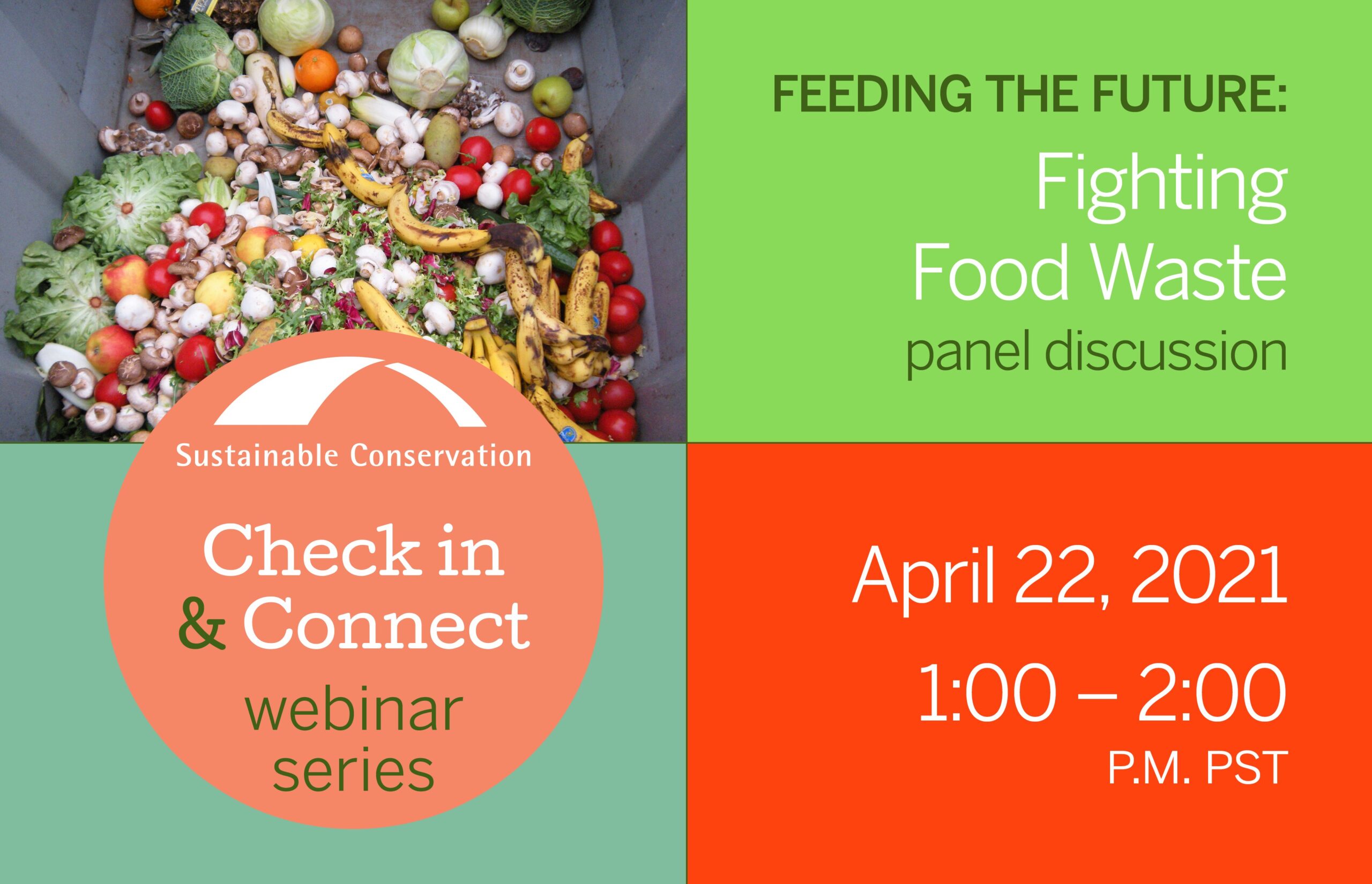 Missed the latest webinar in our new Feeding the Future series? We've got you covered with highlights and a full recording of the event.
Sustainable Conservation Advisory Board member and Co-Founder and Chair of the Center for Good Food Purchasing Paula Daniels moderated a panel of experts to discuss food waste, sustainable diets, and a circular economy approach to reduce food waste and boost climate-friendly food choices. We chatted with Dana Gunders, ReFED Executive Director, and Tyler Isaac of Seafood Watch on what it'll take to shift to a more sustainable food system.
Understanding How We Eat
So, how do we get to sustainability? We talked a bit about food waste in our previous webinars, but Daniels, Gunders, and Isaac are all working to uncover our main sources of food waste, what to do with it and how to prevent it in the first place.
Gunders and ReFed dig into how much surplus food there is – left on farms, thrown away by consumers, used in restaurants – and the economic and climate impacts. ReFed's Insights Engine is a cool tool that allows us to sort food waste data to understand why food waste is an issue, learn where it comes from and even take steps to mitigate it in our own life.  We can do better, and Daniels' and Gunders' organizations are here to help.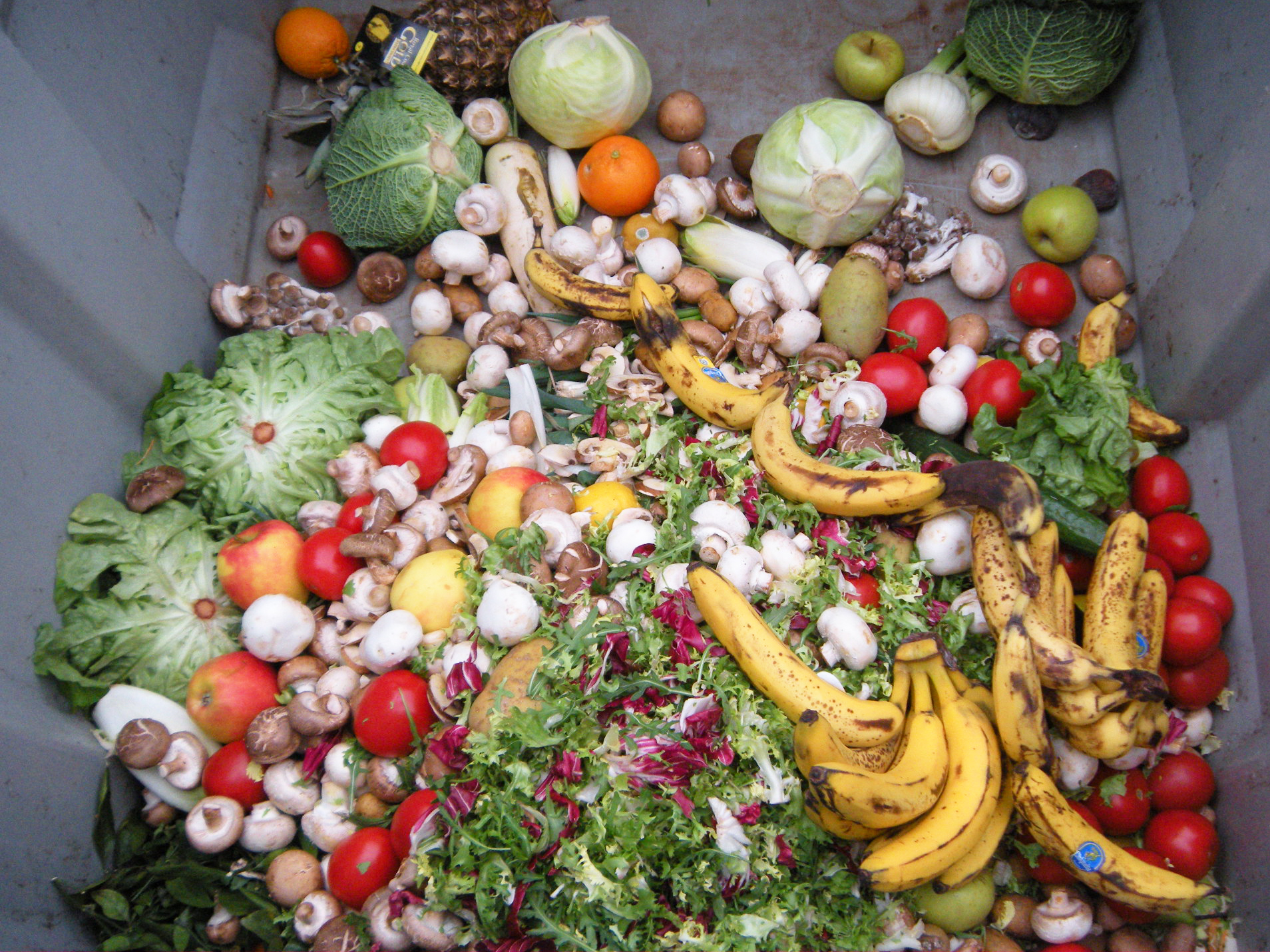 Diverting food waste from landfills, off farms and out of restaurants is something we can all do to help save money, reduce greenhouse gas emissions and combat climate change! Photo: Wikimedia.
Feeding Fish in a Circular Economy
Isaac works with Seafood Watch to help consumers make informed decisions about the fish they buy. Isaacs also digs into food waste's potential as aquaculture feed – that is, food for insects that, in turn, feed fish! Insect feed can replace other ingredients like soybean or fish meal. Broadly, this is better for our environment and can reduce our overall food-waste footprint. Isaac noted that fish production, like any animal production, requires inputs like power for climate and pathogen control, but insect meal can increase the industry's overall sustainability.
Fighting Food Waste
If done mindfully, offsetting other protein consumption (soybeans, etc.) and diverting food waste from landfills is a big bonus and something we can support as consumers. Aquaculture is a big umbrella, and no two fish production areas or operations are alike. Seafood Watch helps us make better choices based on what's available to us, and that sliding scale is so helpful when we look to make change with how we buy and eat, but don't always have access to everything the market has to offer.
Thanks to our panelists, Daniels and everyone who attended! For more info and Q&A highlights, check out the recording now.
What's Next?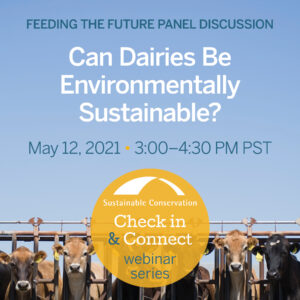 Stick with us! Bringing people together is what we do, and we encourage you to join us next week, May 12th, for Feeding the Future: Can Dairies be Environmentally Sustainable? Our expert panel will give us a balanced, critical look at dairying in California. What can dairies do to improve their water, greenhouse gas, and overall climate impacts – and what are they already doing to help meet California's climate goals?
You can also check out our Twitter coverage of the event, and stay tuned for more answers to your great questions!
We believe in the power of relationships to reveal creative strategies that protect the natural resources on which we all depend. Let's explore new ways to stick together in support of a healthy California. Connect with us!