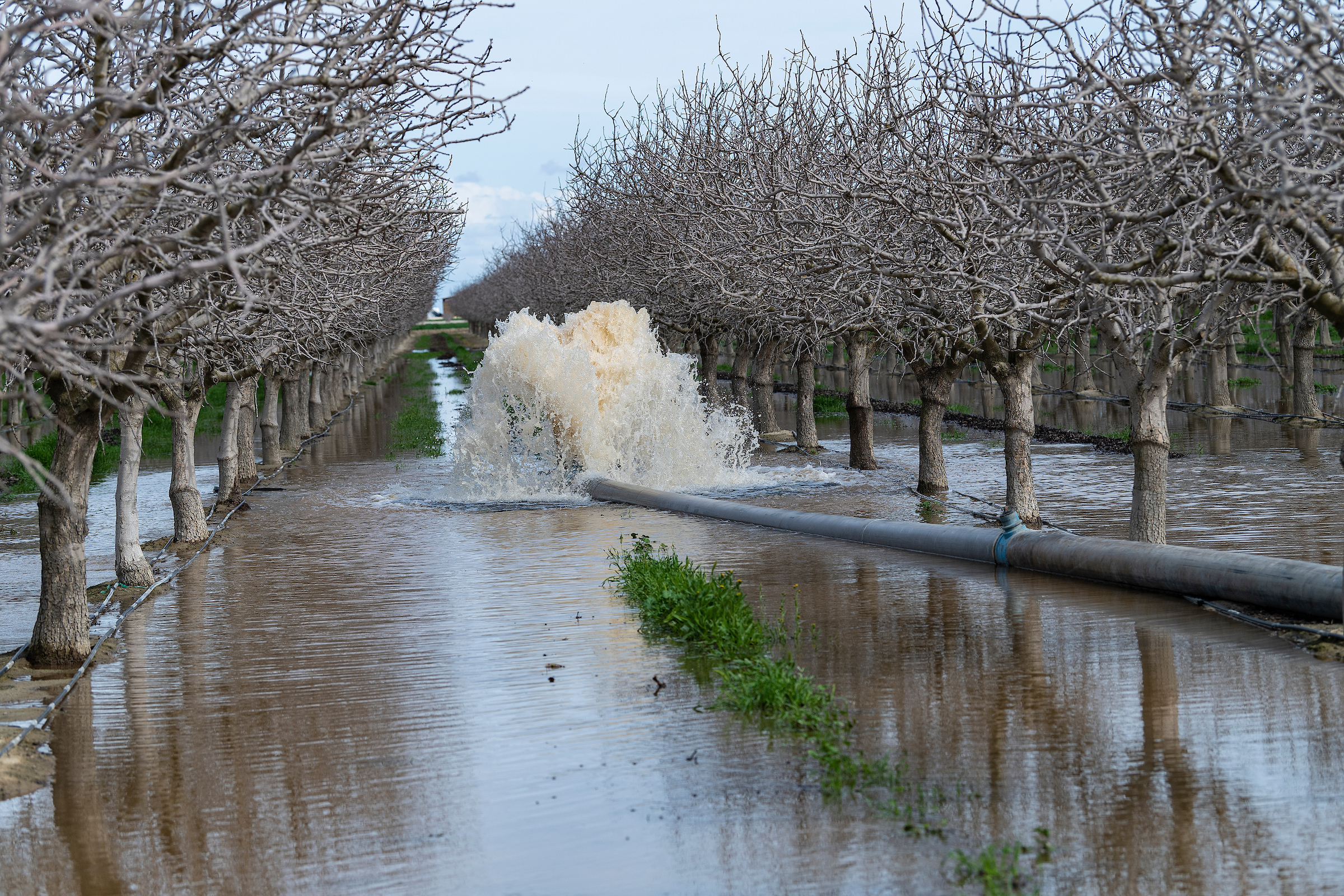 Recharge water flows through a pipe into a planted field at Terranova Ranch as part of a system designed to divert floodwater from the Kings River for groundwater storage in Fresno County. Photo taken March 13, 2023 by Andrew Innerarity for the California Department of Water Resources.
Sustainable Conservation commends Governor Newsom's Executive Order, issued March 10th, to use floodwater to recharge and store groundwater.
With the recent atmospheric rivers, flooding has wreaked havoc on communities throughout California. Our hearts go out to all those who have lost so much in the wake of these extreme weather events. Given the tremendous amount of snow that the Central and Southern Sierra have received, and the possibility of rapid spring snow melt, Californians need to prepare for what could be more flooding in the coming months.
The Executive Order facilitates use of flood water to help mitigate flood risk and recharge aquifers. Although this action alone won't solve the flooding issue entirely, it will help reduce the amount and duration of flooding by shaving off peak flows from rivers and streams. Groundwater replenishment will aid regional compliance with the state's Sustainable Groundwater Management Act (SGMA) and drought preparedness – particularly in the San Joaquin Valley, one of the most agriculturally productive yet economically disadvantaged parts of California.
Actions such as the Executive Order will help the state's water supply system adapt to the realities of climate change, which will continue to bring heightened storm events, as well as more frequent and intense dry periods.
Providing clarity to local government agencies that they have the authority to declare when they are at flood stage is very helpful to utilizing these flows and carrying out real-time monitoring. We also applaud the Order's time frame through June 1, 2023 as it will support preparations for and handling of spring snow melt.
As California works to balance water supply, drinking water, and ecosystem health, Sustainable Conservation appreciates the criteria included in Executive Order N-4-23 to protect water quality. While it is imperative to mitigate flood risk, it is also critical to protect water quality.
Sustainable Conservation recommends timely review of existing irrigation and nutrient application data from annual reports and referencing our water quality considerations for recharge (en español) that we developed with the input of scientific, agriculture, water agency, and environmental justice partners.
We also strongly encourage taking full advantage of our existing floodplains as a flood risk mitigation strategy.
The coming months offer an important learning opportunity as we navigate the experience of managing water through this extraordinary year. We recommend close monitoring of water diverted and recharged, including identifying key areas to track any changes to groundwater quality and in-stream flows. We can apply these lessons to inform long-term policy that clarifies the threshold and process for diverting flood flows while protecting needed ecological flows and groundwater quality for anticipated future flood years.