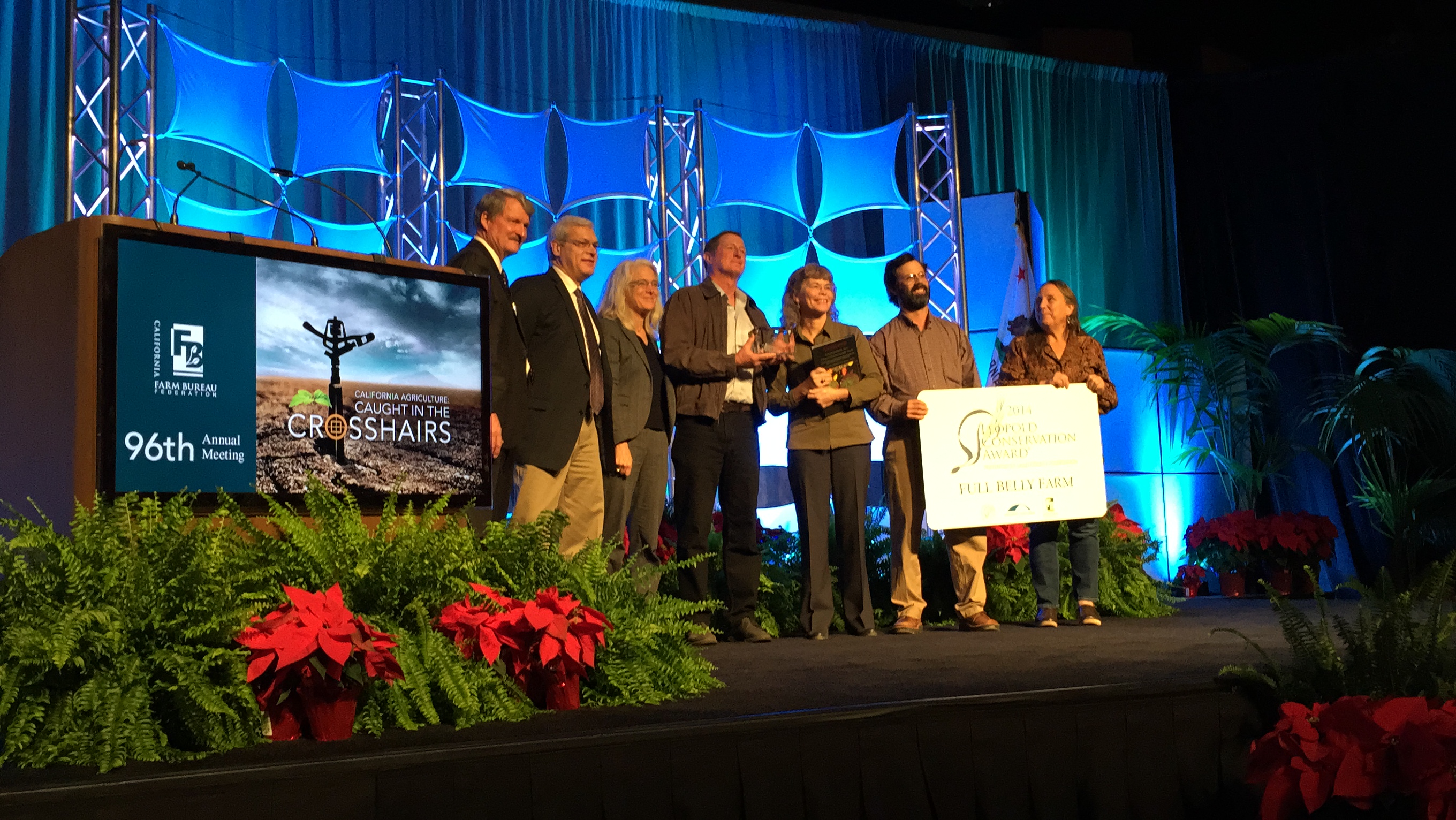 This past week marked the California Farm Bureau Federation's 96th Annual Meeting – a forum for farmers and ranchers to connect and explore the issues affecting farming in California. The 2014 California Leopold Conservation Award recipient, Full Belly Farm, was honored at the event.
The award, sponsored by Sustainable Conservation, Sand County Foundation and the California Farm Bureau Federation, celebrates the extraordinary efforts of California farmers and ranchers working to protect and restore the natural resources they preside over. The award recognizes the key role farmers and ranchers can play in protecting the quality of our air and water, landscapes that protect people and wildlife alike, and ensuring a healthy climate for California.
Full Belly Farm does all this, and more.
Award co-sponsors presented Full Belly Farm with a check for $10,000 and a crystal engraved with a picture of world-renowned conservationist, Aldo Leopold.
Full Belly Farm and its owners encompass the very conservation spirit promoted by Aldo Leopold. And, when it comes to farming in ways that promote the long-term health of California's land, water, wildlife and food economy, there's no better example. Full Belly Farm has pioneered a truly sustainable approach to growing food that prioritizes soil health, riparian management, water efficiency, and wildlife-friendly practices.
Their community outreach via their children's and internship programs that help train the next generation of sustainable farmers. They also hold the annual Hoes Down Festival – a two-day celebration of the harvest season that offers a unique opportunity for the public to enjoy rural life on a farm – with educational tours, workshops, food and music.
Watch their inspiring acceptance speech (below) and learn more about this conservation hero here.
Gallery: California Farm Bureau Federation's 96th Annual Meeting