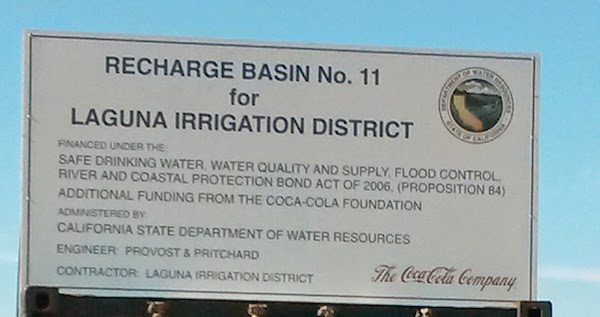 Drop in the Bucket
California is lucky to have seen a couple solid weeks of rain, with the U.S. Drought Monitor even sharing its "cautious optimism" yesterday. The monitoring group noted that the percentage of the state remaining in the exceptional drought category dropped from 55% to 32%.
Unfortunately, the area still holding this undesirable distinction is the place that needs water the most – the Central Valley. And the fact remains that to return to just a "normal" condition, California needs to find itself another 11 trillion gallons of water.
Water in the Bank
"The state's prolonged drought and subsequent stress on our natural resources require everyone to work collaboratively on solutions that benefit all. While the project won't single-handedly solve California's groundwater problem, expanding the power of public-private partnerships like ours will help drive a more sustainable water future for California."
– Ashley Boren
Executive Director, Sustainable Conservation
Sustainable Conservation has been working across California to put water in the proverbial bank as way of ensuring a sustainable water future for California. One of this year's major efforts comes in the form of a unique public-private partnership with The Coca-Cola Company, California Department of Water Resources, Laguna Irrigation District, and Kings Basin Water Authority, aimed at using floodwater to recharge dwindling groundwater reserves in the San Joaquin Valley.
The project involves turning 52 acres of former farmland into a giant dirt bathtub, called a recharge basin, which will then capture floodwater from the nearby Kings River and raise water levels in the aquifer below. The basin is anticipated to recharge the aquifer with about 2,600 acre-feet of water each year on average – enough water to irrigate around 1,300 acres of such crops as grapes or tomatoes.
Partnering for a Sustainable Water Future

While true that water remains in short supply in California, Sustainable Conservation knows that by working side-by-side with farmers, water agencies and business to evaluate and promote new approaches to manage water use, our communities will have the water they need for years to come.
Our partners are integral – and so are all of you. Your continued support this holiday season is vital in helping ensure a sustainable water future for the Golden State. A donation today aids in stewarding the resources we all depend on today – and will continue to depend on for generations to come. Donate between now and Monday, December 22nd and our third-party donation platform will even match 3% of your donation.
Make sure to also join Sustainable Conservation on Facebook, Twitter and LinkedIn – and encourage your friends to do the same! Link up with us to stay updated on our collective efforts to see California thrive.