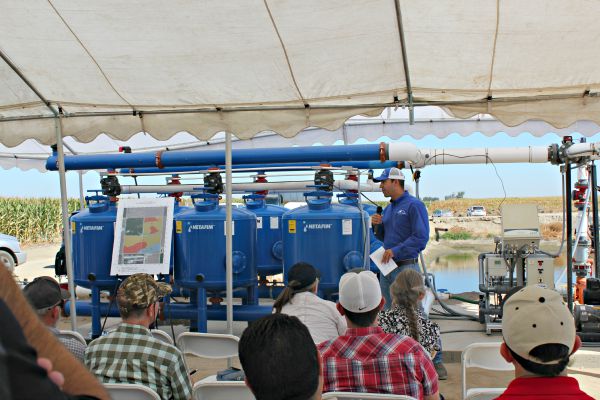 John Cardoza, Project Manager for Sustainable Conservation, presents at the August 26th drip irrigation field tour co-hosted by Sustainable Conservation, Netafim USA and DeJager Farms

[tribulant_slideshow gallery_id="4″]
Taking Full Advantage of On-Farm Nutrients

With over 1,300 dairy farms, California accounts for more than 20% of the United States milk production, which means there are plenty of cows producing plenty of nutrients in the form of manure. California dairy producers are continuing to look for ways to utilize these on-farm nutrients most effectively.
Dairy producers use water to keep their dairy facilities and their cows clean, resulting in a lot of nutrient-rich water. Applying these nutrients to feed crops as organic fertilizer has been practiced for a long time. The nutrient-rich water needs to be applied agronomically to reduce the risk of nitrate leaching into groundwater, and with California being in its fourth year of drought dairy producers are also looking for ways to improve water efficiency.
Piloting an Innovative Manure Drip Irrigation System Improves On-Farm Efficiencies
Drip irrigation is demonstrating promise as one way to improve water efficiency and apply on-farm nutrients to crops at the same time. Sustainable Conservation teamed up with Netafim USA, an irrigation supplies manufacturer, and DeJager Farms to pilot a drip irrigation system within a dairy forage crop rotation utilizing dairy nutrient water. The partnership hosted a bus tour field day August 26th at DeJager Farms to promote the benefits of the system to other dairy producers. The event was well attended with about 65 participants who were curious and asked a lot of great questions.
Water Savings, Fewer Synthetic Fertilizers, & Cleaner Groundwater Equal Wins All Around
The manure drip system irrigated last year's and this year's silage corn crop, which usually takes about 40 inches of water over the course of a growing season. The drip system reduced the farm's water use to 28 inches last year. The yield per acre improved by about 20%, and the time its takes to irrigate a field has been reduced.
The system also allows DeJager Farms to utilize its nutrients more effectively by allowing it to spoon-feed its crops the nutrients they need. The farm is also able to save money normally spent purchasing and applying expensive synthetic fertilizers, which reduces fertilizer leaching into groundwater.
Sustainable Conservation, NetafimUSA and DeJager Farms hope to have the system "bulletproof" by 2016 and ready for adoption by other dairies.
With or without drought conditions, the partnership anticipates that this type of system will continue to be a solution sought after by dairy producers interested in saving water, time and money.