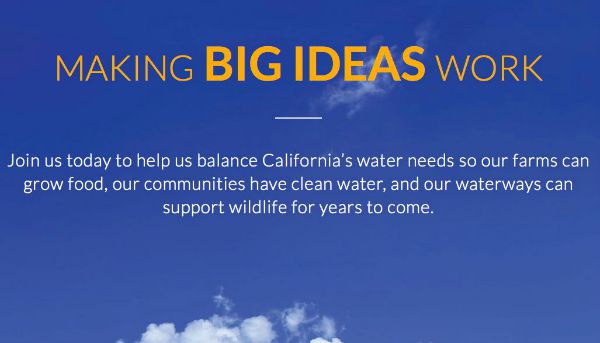 Join me and Sustainable Conservation in making big ideas work for a thriving California »
A Big Moment of Opportunity
As Sustainable Conservation's new Board Chair, I'm honored to write to you to ask you to join us in one of the most transformational moments in Sustainable Conservation's 22-year history, a capital campaign to scale up our programs and magnify our impact.
The name of our campaign – Making Big Ideas Work – perfectly reflects the essence of Sustainable Conservation's guiding principles: think big; be bold in taking on the toughest challenges facing California's air, land, and water; and build trust with a wide variety of partners. We are doing this and achieving meaningful results using practical solutions.
I'm so excited by our success to date, and am really proud to tell you that we have early commitments of $12.7 million toward our goal of raising $14 million by the end of this year. Funds contributed through the Making Big Ideas campaign will help us address a number of urgent and important opportunities to:
• Restore groundwater supplies
• Accelerate habitat restoration that supports resurgence of endangered species
• Support dairies in reducing climate-harming methane emissions
• Promote clean-air farming to cut air pollution in one of the most asthma-stricken regions in our state
• Secure new garden industry commitments not to sell invasive plants
A lot of really big ideas, right? Sustainable Conservation has developed some equally big solutions, along with our many partners, that are practical, scalable, and economically sound.
Our partners are ready to move ahead, so I hope you will join us too, with a gift to the Making Big Ideas Work campaign. Help California thrive by supporting one of the most effective, solutions-oriented groups in the state.
Thank you so much!
Chris Buchbinder
Chair, Sustainable Conservation
Help fund solutions to the toughest challenges facing California's air, land and water »