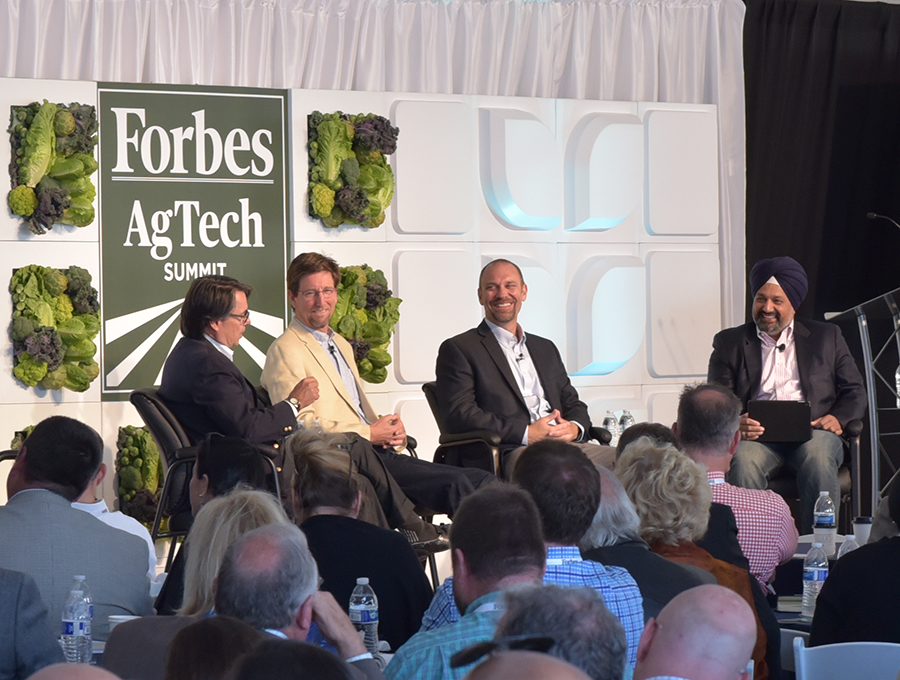 Sustainable Conservation Advisory Board Member, Stuart Woolf (left), and Director of Resource Stewardship, Dr. Daniel Mountjoy (second from the left), participating in a Forbes' AgTech Summit panel discussion.
---
Forbes recently hosted its second-annual AgTech Summit in Salinas, which brought together over 500 leaders from the farming and tech industries to explore solutions to the most critical challenges facing agriculture today. In addition to a number of lively panels, the summit showcased the latest innovations available to growers, investors, and Silicon Valley start-ups.
Sustainable Conservation's Director of Resource Stewardship, Dr. Daniel Mountjoy, was invited to join a panel discussion that explored how California's farming industry is adapting to a "new normal" of water scarcity. The panel also included Central Valley farmer and Sustainable Conservation Board Member Stuart Woolf.
Underground Savings Account
During the panel, Daniel emphasized the importance of capturing floodwaters to recharge California's depleted groundwater basins, which could potentially replenish up to one-third of the annual overdraft occurring across the San Joaquin Valley alone. Since 2013, Sustainable Conservation has been working with public, corporate, nonprofit and farming leaders to explore the feasibility of this type of groundwater recharge. An example of the exciting impact we've made includes partnering with the California Department of Water Resources, Laguna Irrigation District, Kings Basin Water Authority and Coca-Cola to build a groundwater recharge basin in the heart of the San Joaquin Valley, the nation's most productive farming region.
Stuart further elaborated on the innovative groundwater recharge practice by underscoring the importance of transporting excess water during flood years from northern California to the south – but without causing environmental harm.
Moving Beyond "Cities Vs. Farms"
The panel also discussed the role the media and public perception play in framing California's water issues. Daniel emphasized that California must move beyond the zero-sum idea that water either benefits cities or farming, or that any water decisions could only benefit the environment OR people.
The other panelists also highlighted the need to involve multiple stakeholders in meeting the goals of the landmark 2014 Sustainable Groundwater Management Act, which requires local agencies to manage their groundwater supplies for all uses/users sustainably over the long term – even if it means changes to land use. Technology, the panel also conceded, could play a role in enhancing water conservation, particularly in the realm of measuring water availability, use, and transfers – but that in and of itself, technology could not solve California's water scarcity issues.
Despite each panelist bringing his own unique perspective to the table, the trio unanimously agreed on one key issue: California must move into a new era of water management – one that prepares just as adequately for flood years as for drought years.