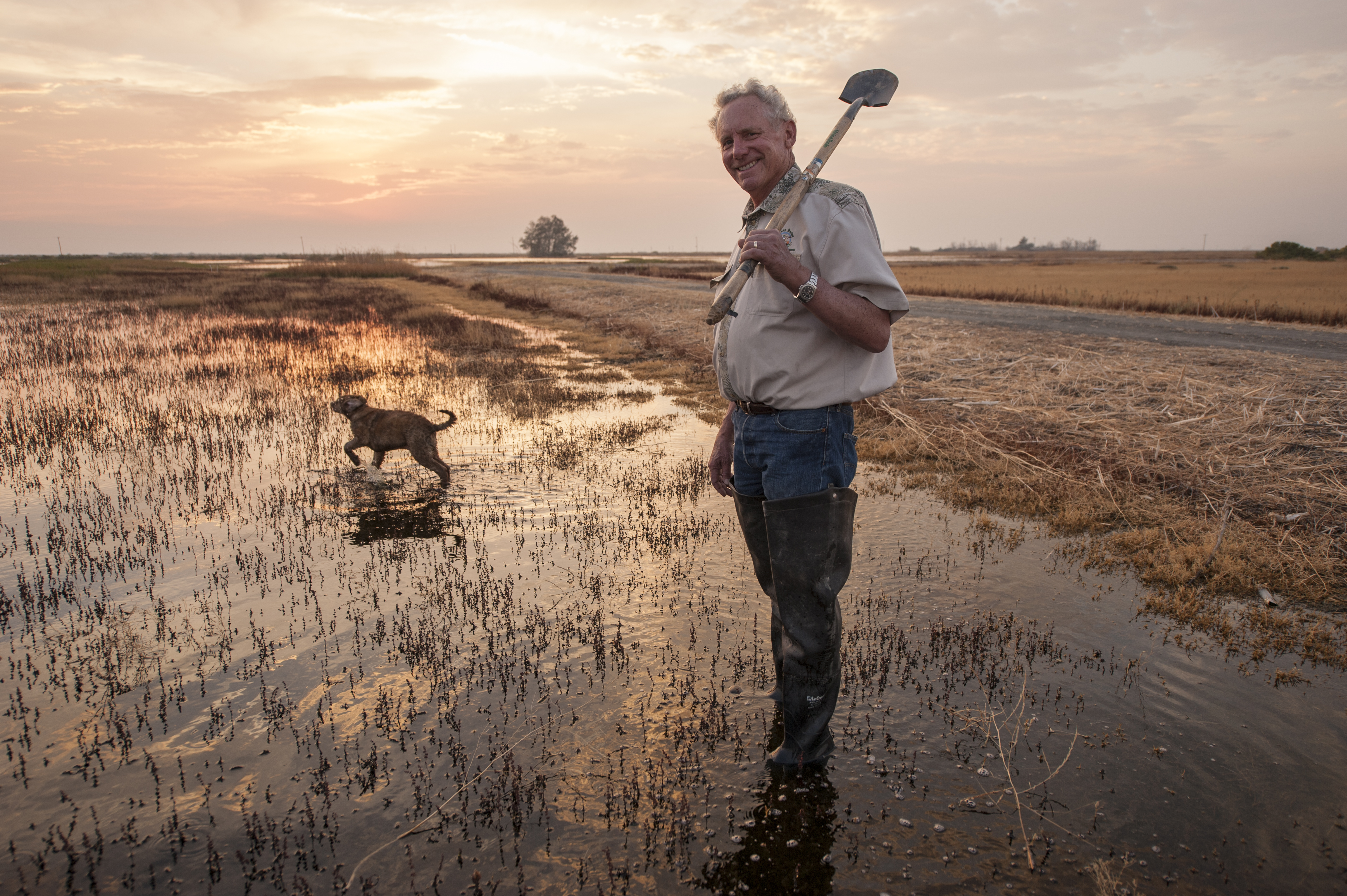 Co-sponsored by Sand County Foundation, the California Farm Bureau Federation and Sustainable Conservation, the Leopold Conservation Award honors extraordinary landowner achievement in the voluntary stewardship and management of natural resources.
---
We're proud to announce C. Jeff Thomson International as the 2017 recipient of the prestigious California Leopold Conservation Award®. The award was presented posthumously to Mr. Thomson's family on December 4 at the California Farm Bureau Federation's Annual Meeting in Orange County.
Mr. Thomson is the Leopold Conservation Award's 100th recipient, which began in 2003 and is now active in 14 states. Given in honor of renowned conservationist Aldo Leopold, the Leopold Conservation Award recognizes extraordinary achievement in voluntary conservation on private, working lands.
Mr. Thomson, who passed away suddenly in October, oversaw a fifth-generation farming operation in Bakersfield that produces a variety of annual vegetable crops, including watermelons, onions, potatoes and carrots. With the lifelong mission "to enhance the soil and the land we farm," Mr. Thomson perfected a suite of notable conservation approaches to better steward the soil, water and wildlife both on and off his land.
Caring for the Land and Wildlife
Mr. Thomson's early use of drip irrigation and soil-moisture sensors reduced water use on a number of his crops by up to 60%. The farm started using Integrated Pest Management, a suite of practices involving natural methods for controlling pests, as far back as the 1940s.
For more than 25 years, Mr. Thomson led partnerships with the Central Valley Joint Venture, U.S. Fish and Wildlife Service, California Department of Fish and Wildlife, Tulare Basin Wetlands Association and many others to protect, enhance and maintain important wetlands in Kern County to benefit a variety of waterfowl, including imperiled birds in the Tulare Lake Basin.
The basin covers roughly 10% of California and Tulare Lake itself was once the largest freshwater lake west of the Great Lakes, measuring 60 miles long and more than 30 miles wide. Today, the former lake and basin remains mostly dry.
Among Mr. Thomson's many achievements benefitting wetlands and wildlife was establishing an 850-acre wetland on his own property in partnership with the U.S. Fish and Wildlife Service and California Department of Fish and Wildlife, a model Mr. Thomson's neighbors followed.
2017 Finalists
Lundberg Family Farms
Lundberg Family Farms is a multi-generational organic rice farm and rice-products company whose origins date back to the 1930s. The Lundbergs' long list of conservation achievements includes growing rice following national organic standards utilizing natural methods of pest control, receiving platinum-level certification from the U.S. Zero Waste Business Council for diverting a vast majority of their agricultural and processing waste from landfills (nearly 800 tons in 2016) and generating a significant portion of their energy needs from renewable sources.
Starting in the 1980s, the Lundbergs developed a program to collect duck eggs ahead of harvest and release the offspring back into the wild, saving more than 30,000 ducks to date. The family never adopted the common practice of burning rice stubble to combat pests and disease. Instead, they use methods of turning the straw into the ground to increase the organic matter in the soil, planting cover crops, and flooding. Combined, this provides habitat for millions of migrating waterfowl along the Pacific Flyway, and improved air quality and human health.
Sweet Haven Dairy/Rollin Valley Farms
Sweet Haven Dairy is a 2,000-cow dairy originally started in Southern California in the 1920s and relocated to Riverdale in 1975. Brothers Donny and Andy Rollins' conservation commitment led them to test and scale a water-wise underground drip irrigation system to grow cow feed in lieu of the standard technique of field flooding. Soil-moisture sensors enable them to irrigate with great precision and apply water only when and where their crops require it. These and other water-saving practices helped reduce their water use by 50%, saving tens of millions of gallons of water each year.
The brothers are also pioneers in the use of conservation tillage on their cow-feed crops, which involves reducing tractor passes to cultivate fields and planting new crops on top of old ones. The result is significantly improved air quality for their region in addition to healthier soil.
Read more about C. Jeff Thomson International and the 2017 California Leopold Conservation Award.