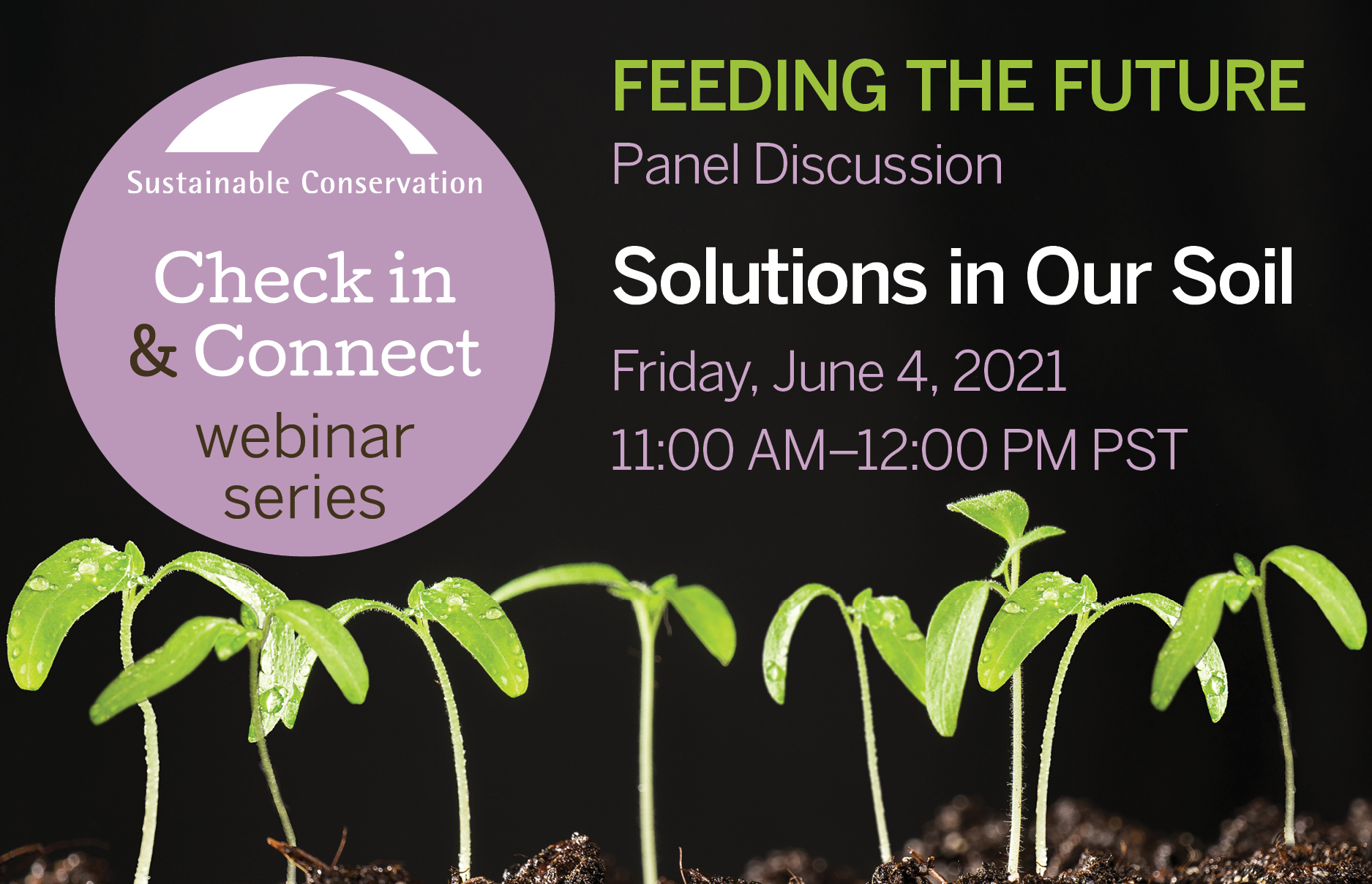 Missed the latest webinar in our new Feeding the Future series? We've got you covered with highlights and a full recording of the event.
Sustainable Conservation's Project Director of Conservation Incentives Kelli McCune moderated a fantastic panel of experts who discussed soil-health systems thinking, beneficial practices, and our interconnected health. Our panel included Dr. Timothy Bowles, Assistant Professor at U.C. Berkeley's Department of Environmental Science, Policy and Management, Sara Tiffany, Director of Ecological Farming at the Community Alliance with Family Farms, and Rose Marie Burroughs, co-owner of Burroughs Family of Farms and recipient of the 2020 California Leopold Conservation Award.
What Is Soil Health?
Did you know that in just one teaspoon of healthy soil, there are more microbes than people on the planet?
This incredible fact starts to get at what we mean when we talk about "soil health" as a concept and a set of practices. Tiffany noted that it's important to begin with a holistic frame of mind. Our soil is a living ecosystem, or the "last terrestrial frontier," according to Dr. Bowles. Burroughs put it artfully: "Soil is life." If the microbes, fungi and organisms in our soil can flourish, so can the food we grow – and so can we. Soil has parents (think about the rocks it comes from,) and is unique to its place – just like we are!

Our panelists represent diverse academic and farming perspectives when it comes to soil health. L to R: Dr. Timothy Bowles, Rose Marie Burroughs, Sara Tiffany and moderator Kelli McCune.
What Do Healthy Soils Do?
These little critters and creatures do all sorts of cool stuff, like chowing down on plant mass from cover crops, and even dead microbial mass. They can hold or break down nutrients so farmers need to use less fertilizer, which protects our critical groundwater resources from pollution. Certain microbes can even help plants manage water stress by helping them retain water in their roots!
Spongy soils help retain water in general, and as we head into an intense drought season in California and all over the western United States, this retention matters more than ever. And, this same soil can even sequester carbon to help us meet our overall greenhouse gas reduction and climate goals.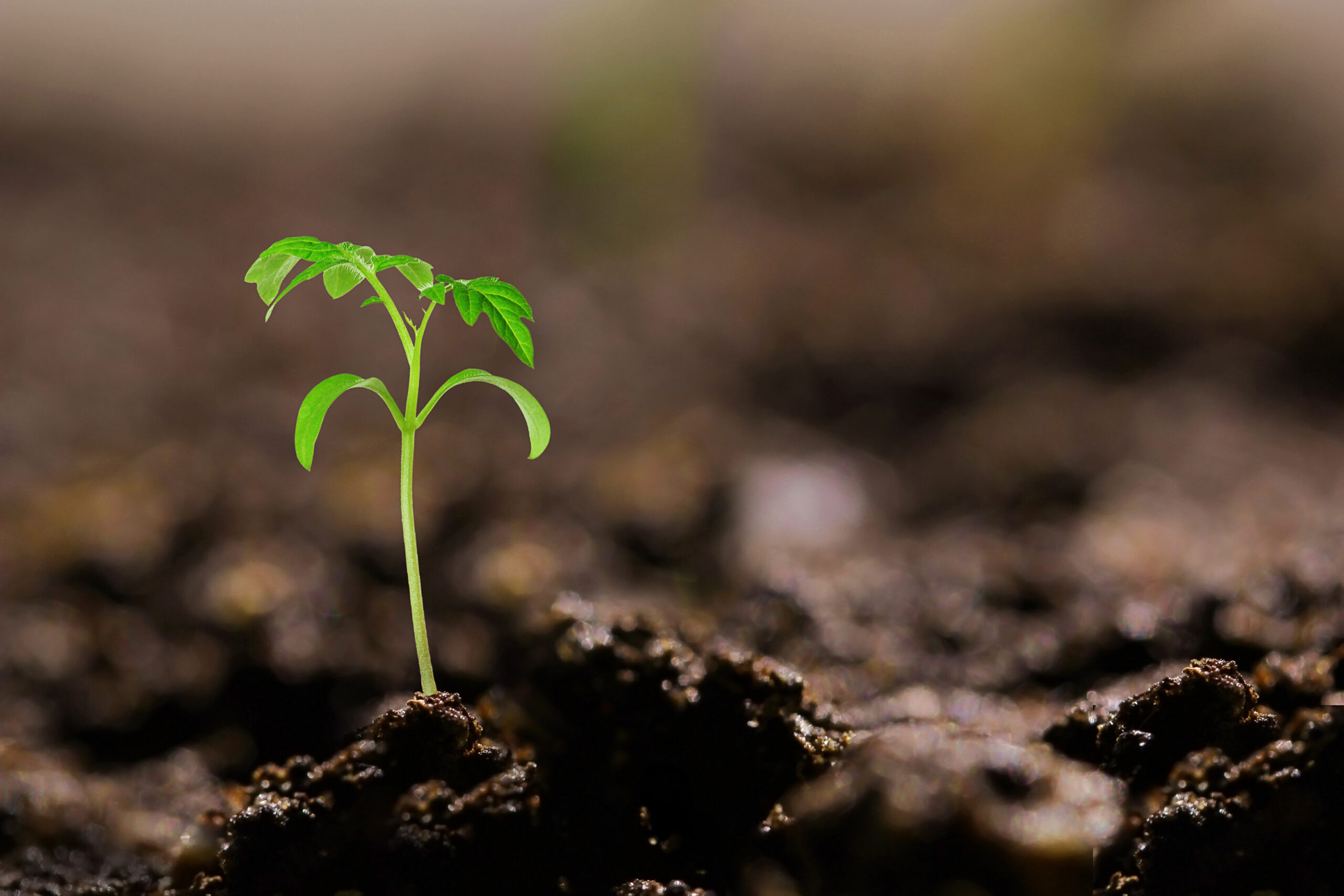 We can't grow healthy food without soils that help our crops boost their water retention, nutrient profiles, and drought and climate-change resilience.
How Can We Build Soil Health?
Soil health practices start on the ground, in what Tiffany calls "the original laboratory" – on the farm, and there's no single solution or practice that will meet every farmer's goals or our environmental needs. How people farm and what they farm influences management practices. Farmers understand how important soil health is, but it takes time to try new things.
Dialing in something like low-till or no-till, cover cropping, or even certain crop rotations can take years, or even decades. We need this on-the-ground knowledge, though, otherwise we won't know which practices are scalable. Farmers are often the best folks to reach their own peers, too, and sharing experiences directly can be a great way to get a farmer to take a chance on something new if it might fit their operation.
Burroughs has decades of trial-and-error expertise, innovative thinking, and holistic farming ethos to her name. She, husband Ward, and their family work daily with their animals and on their crops to rejuvenate the soil that sustains us all. From cover cropping that feeds the organic microbes in their soils to pasture rotation, hedgerow and native plantings, and on-site compost production, the Burroughs embrace an evolving stewardship ethos to keep their farm and their crops thriving.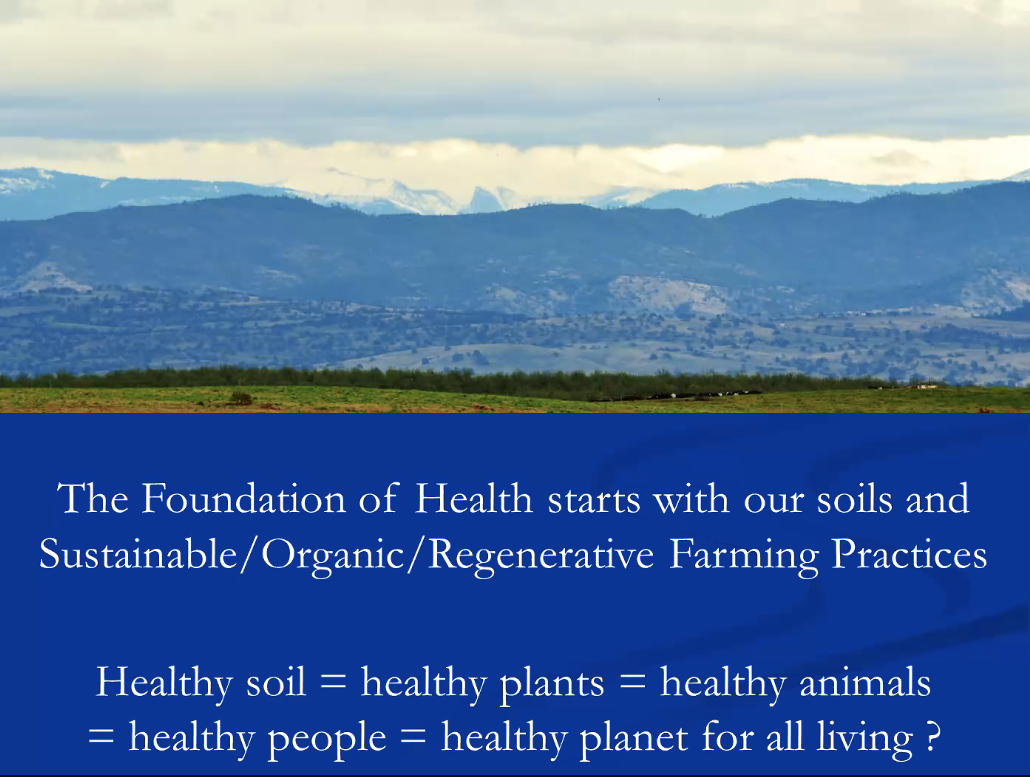 Burroughs shared her family's basic ethos during a great presentation detailing all the practices they've tried over the years – some they've kept, and some have needed some work! Slide: Rose Marie Burroughs/Burroughs Family of Farms.
How Can We Scale These Solutions?
Tiffany, Burroughs, and Dr. Bowles all spoke to the potential of soil health when we shift our thinking to a systems approach, but there are barriers, too. Land tenure is a big consideration, and folks who rent land might not have the capital to implement these practices – especially when they might not reap the benefits in their time on that land.
Tiffany and Burroughs also cited the general cost of conservation practices, and noted that farmers need assistance and incentives to try new things on their land, even when they own it. Building soil health means absorbing significant short-term costs, and those long-term benefits can be hard to see.
This all means we need to think about land differently. What might it look like for each of us to contribute to these practices as a society, as consumers and, ultimately, as beneficiaries of the vast, complex, and powerful ecosystems beneath our feet?
What's Next?
Stick with us! Bringing people together is what we do, and we encourage you to visit our Check In & Connect page for access to all of our event recordings, so you can catch up on any Feeding the Future webinars you've missed. You can also check out our Twitter coverage of this event. We'll be back with another awesome events series this fall (and a pretty cool BONUS addition to one of our Feeding the Future events!)
Thank you so much to everyone who spent time with us this spring! Become a California Conservationist today to receive our awesome community benefits, and your gift will go twice as far this year to help make our events and critical California water work possible!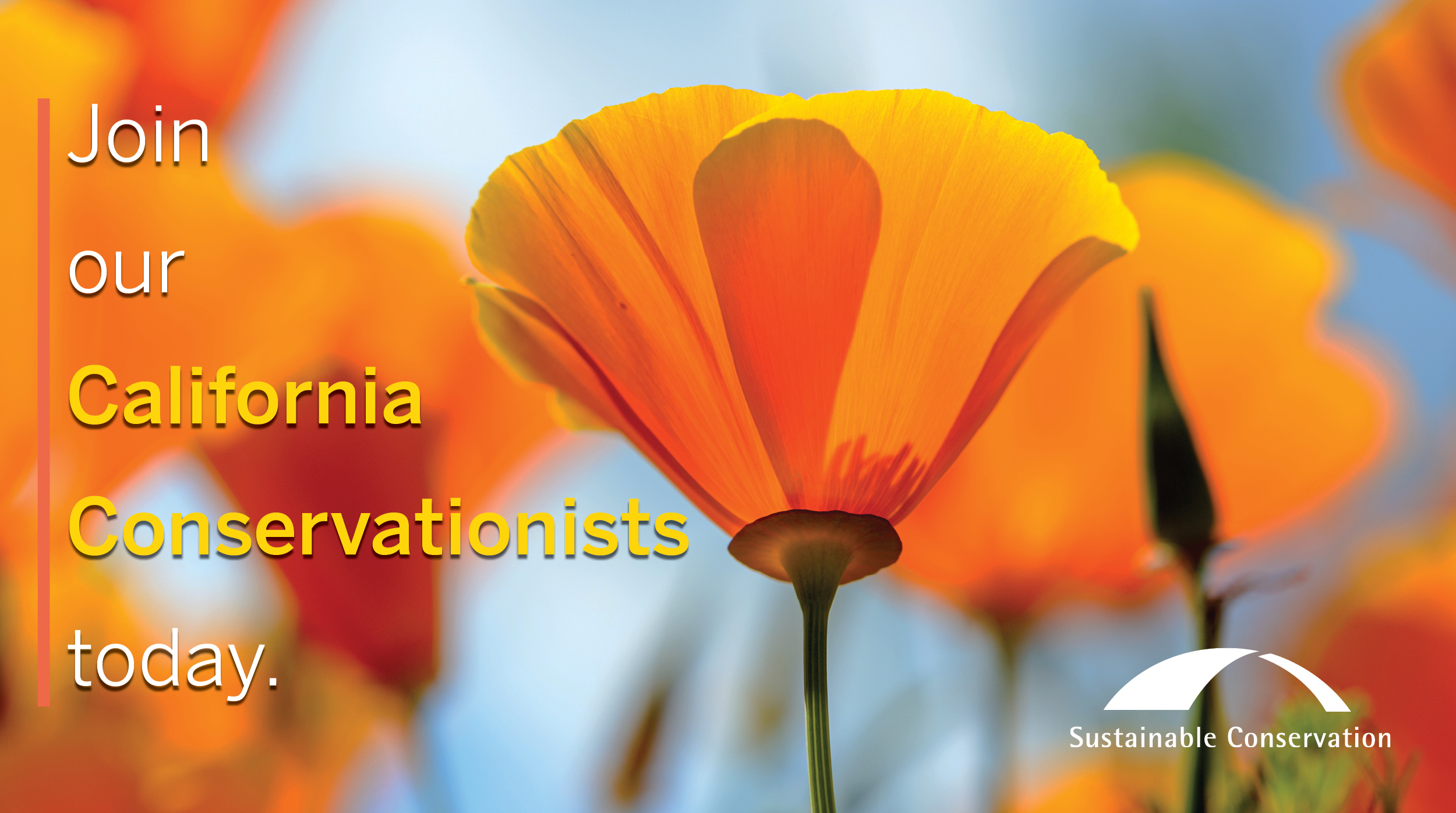 We believe in the power of relationships to reveal creative strategies that protect the natural resources on which we all depend. Let's explore new ways to stick together in support of a healthy California. Connect with us!