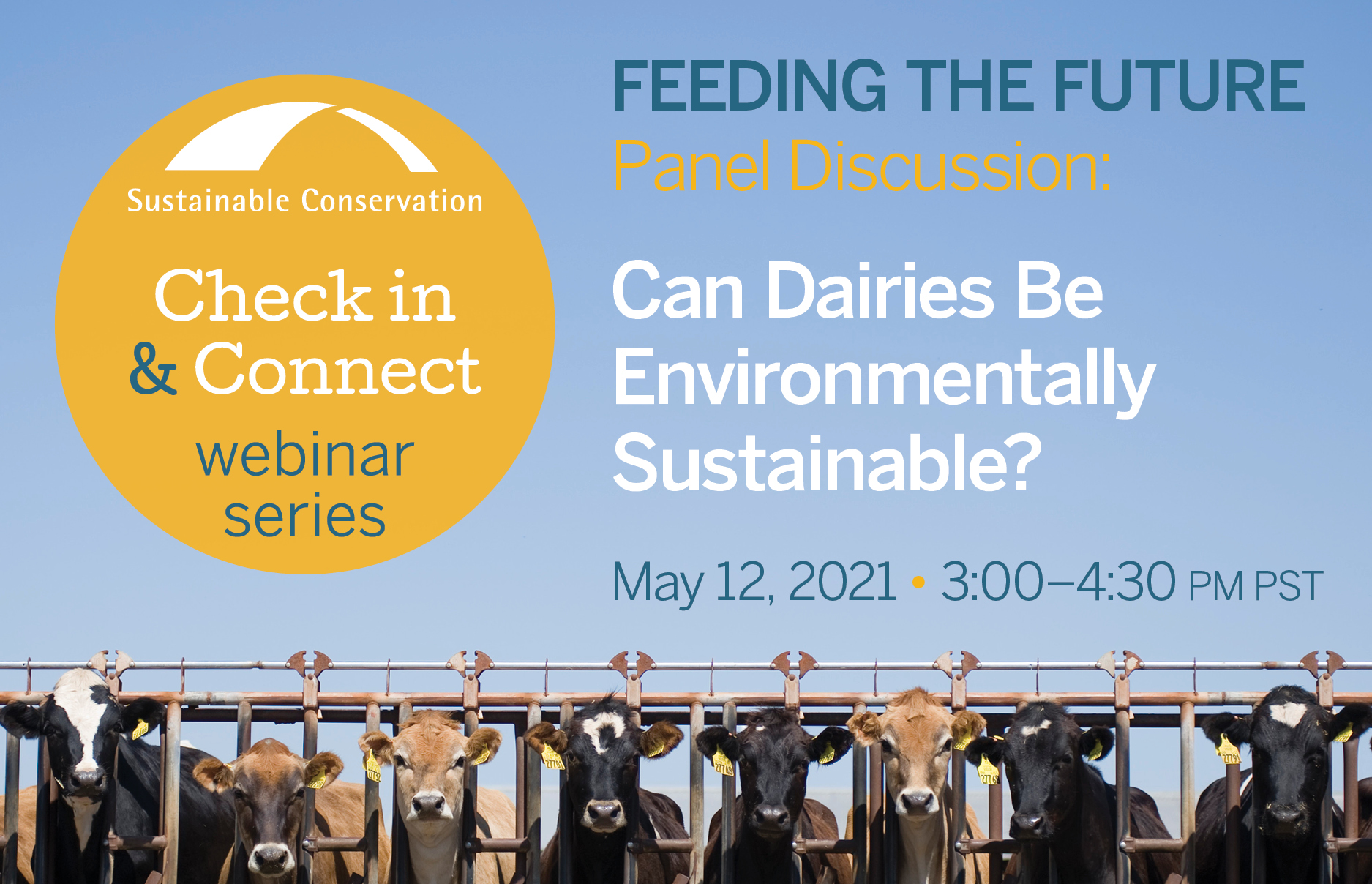 Missed the latest webinar in our new Feeding the Future series? We've got you covered with highlights and a full recording of the event.
Sustainable Conservation's Director of Business Partnerships Ryan Flaherty moderated a fantastic panel of experts who discussed daily dairy operations, greenhouse gas (GHG) emissions, water quality concerns, and sustainable practices. Our panel included Aaron Wickstrom, a 4th-generation dairy farmer of Valsigna Farms & Wickstrom Dairies, and Diana Giacomini Hagan, a 3rd-generation dairy farmer of Point Reyes Farmstead Cheese Company. We also welcomed Dr. Frank Mitloehner of U.C. Davis as our climate and emissions expert, and Laurel Firestone of the California State Water Boards and co-founder of Community Water Center to dig deep into water equity and nitrate contamination issues.
What Does it Take to Run a California Dairy?
Dairying is, in a word, complicated. Giacomini Hagan and Wickstrom run diverse dairy operations – Wickstrom's located in the San Joaquin Valley, while Giacomini Hagan and her sisters run a vertically integrated dairy and cheese production business near scenic Tomales Bay. Both Wickstrom and Giacomini Hagan have decades of wisdom, curiosity, and good practices that inform their business operations.
Wickstrom noted that he wears many hats every day – HR manager, cow-nutrition specialist, and agronomist, to name just a few – and manages 27 employees on his family's 81-year-old dairy. Wickstrom is an early adopter of conservation tillage to protect air quality, save on fuel costs, and preserve critical soil health. His operations employ a sophisticated solid waste separation system so manure solids can be composted for re-use, and the liquid nutrients can be used to grow feed crops for his cows. He's also invested in efficient irrigation technology and is looking into pelletizing composted manure for use in almond orchards.

Our panelists represent diverse dairying, sophisticated emissions research, community advocacy, and state agency perspectives. L to R: Laurel Firestone, Diana Giacomini Hagan, Dr. Frank Mitloehner, Aaron Wickstrom. Photos: Laurel Firestone, Pt. Reyes Farmstead Cheese Company, UC Davis, Aaron Wickstrom.
Giacomini Hagan's family had the great idea to expand into cheese production, so she and her sisters transitioned their careers to grow the business. Today, Point Reyes Farmstead Cheese Company produces nearly two million pounds of award-winning cheese per year in their two production facilities. The Giacominis pay close attention to land stewardship every day, with a conservation easement on their property, partnerships with local organization Marin Agricultural Land Trust, an on-site anaerobic digester, recycled water, robotic milking equipment, and feed experimentation with byproducts like whey, almond hulls, and even cotton seeds.
Can Dairies Protect Water Quality?
Dr. Mitloehner and Firestone weighed in next on our current climate and water quality realities in California. Dairies apply the manure their cows generate to grow their feed crops – a practice that, when done in monitored doses, nourishes plants with accessible nitrogen, improves soil health, and reduces the need for synthetic fertilizers.
Using on-site waste to fertilize crops in a closed-loop system is a good practice, but it can harm local drinking-water sources if the manure nutrients are over-applied. Decades of manure over-application has led to dairies being a large contributor to nitrate in groundwater in certain parts of California, especially from dairies that produce more manure than their feed crops need. This is increasingly common as dairies consolidate and convert feed acreage to other crops, as well. Firestone detailed how nitrates interfere with the body's ability to absorb oxygen in the blood and shared that over 300 California communities – primarily low-income, Latinx families – rely on contaminated groundwater supplies for their drinking water. There are industry-led programs in place so dairies and other agriculture operations can take action, and the State Water Resources Control Board is helping communities access solutions through the SAFER program, as well.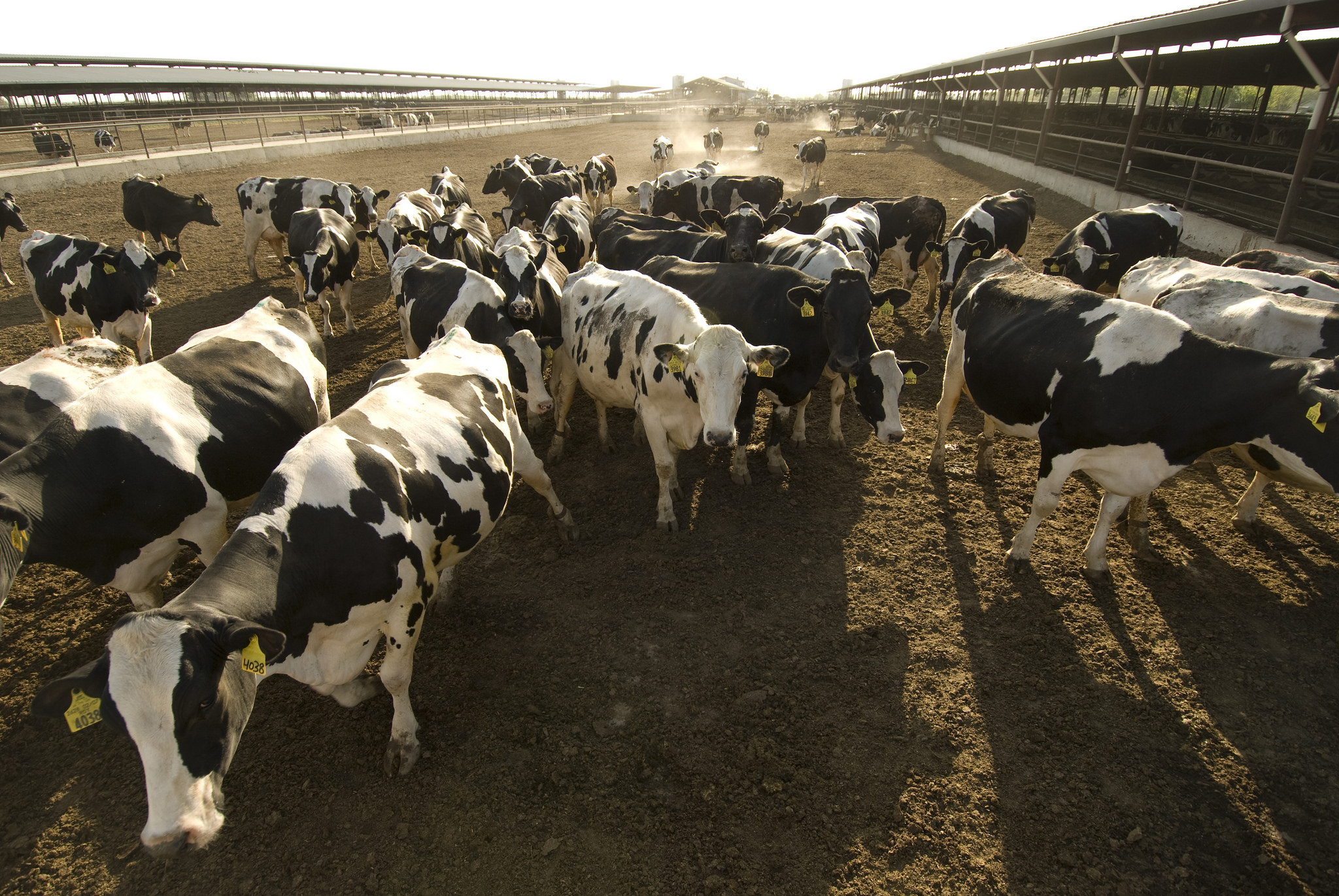 Dairy operations make up 5% of California's total greenhouse gas emissions, compared to the 40-50% emitted by the transportation sector. That may not seem like a lot in comparison, but it's significant enough in terms of dairy methane emissions that California has set ambitious 40% methane reduction targets (below our 1990 levels) by 2030.
Dr. Mitloehner's research on agricultural emissions is key to understanding how we can reduce GHGs. Dairies primarily produce methane, a "short-lived climate pollutant," from manure lagoons and cow emissions. Methane is more potent over a shorter timescale than carbon dioxide, but Dr. Mitloehner noted that there's hope. If we don't add additional cows, and focus on methane reductions on existing herds, we could potentially pull carbon out of the atmosphere – a phenomenon Dr. Mitloehner referred to as "negative warming." Coupled with practices like digesters, which help capture methane to be used as fuel, and "alternative manure management practices" that reduce methane production in the first place, there's hope.
Science time! According to Dr. Mitloehner, California's not increasing its dairy herd size anymore. If anything, we're reducing it, so that stability allows us to predict roughly how much methane we produce. Methane breaks down into carbon dioxide and water over time in the atmosphere (around ten years.) That carbon dioxide is then used by plants during photosynthesis to become plant carbohydrates, like cellulose or starch. The cows eat these plant carbs, convert some of them into methane that goes back up into the atmosphere, and the cycle continues.
So, CAN Dairies Be Environmentally Sustainable?
Short answer: YES, but it's complicated! Wickstrom and Giacomini Hagan cited their dedication to their farmworkers, animals, and stewardship ethic as critical to ensuring their businesses stay viable and hitting their sustainability goals. Dairies need help, be it new technologies aimed at their particular operations or funding to see those technologies implemented and maintained successfully. Creating export pathways for composted manure, using other by-products on the farm, and partnering with community organizations to protect drinking water are all part of the solution.
It's also critical to look at dairying from a landscape view – that is, if we prioritize one GHG or contaminant at the expense of others, there could be unintended consequences. If we reduce water use on a dairy by switching from flush to scrape for manure management, for example, we could build up ammonia while reducing methane. Water scarcity can impact feed crop irrigation and the nutrient concentrations of manure fertilizers. Exporting compost requires stringent management to ensure total pathogen kill. Making sure solutions target as many on-farm challenges as possible, or work together in harmony, is the way forward.
What's Next?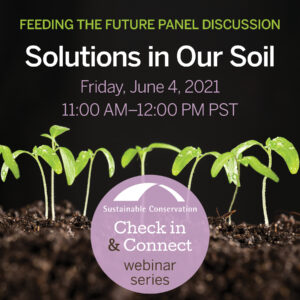 Stick with us! Bringing people together is what we do, and we encourage you to join us on June 4th for an intriguing look at soil health from another great panel of expert farmers and researchers. Register now!
Our Check In & Connect page gives you access to all of our event recordings, so you can catch up on any Feeding the Future webinars you've missed. You can also check out our Twitter coverage of this event, and stay tuned for more answers to your great questions!
We believe in the power of relationships to reveal creative strategies that protect the natural resources on which we all depend. Let's explore new ways to stick together in support of a healthy California. Connect with us!