Fruits and vegetables: don't you feel virtuous just reading that duo of healthy diet staples?

Nutrient-packed and immunity-boosting produce aisle options like salad greens and berries help give us the oomph we need to meet life's daily joys and challenges. Healthy food is fuel for raising our families, taking on new projects, and showing up as friends and neighbors in our communities. Thanks to our Golden State's extensive farmland, we Californians are privileged to have access to fresh, plentiful produce – and to be able to share that bounty with the rest of the nation.

If you shop for lettuce and strawberries in particular, there's a good chance they come from acreage along California's Central Coast, an area that relies almost entirely on water pumped from aquifers to hydrate people and crops. For years, these underground basins have been over-tapped with too little replenishment. They've also been tainted by excess fertilizer, and saltwater from Monterey Bay that flows inland to fill spaces left empty by repeated withdrawals. If Central Coast water were a bank account, it would be in the red.

Many communities in the region already lack safe drinking water. The region's compromised aquifers mean even more of our Central Coast neighbors may soon be without water for drinking and bathing, and our grocery stores bereft of the fruits and vegetables we love.

Your support of Sustainable Conservation applies local water solutions to preserve our national food security. We unite farmers, the produce companies they supply, regional conservation groups, and agricultural lenders to make it easier to grow berries and greens in ways that protect aquifers, community health, and the farming economy.

It all starts with following the Goldilocks principle: giving crops just the right amounts of water and nutrients. Farmers use measurements we've developed in the field to dose plants accurately to maximize yields, and save water and nutrients. Furthermore, we offer them the support they need to make the change. These simple actions leave more water in the ground, stem the tides of pollution threatening coastal aquifers, and help ensure California remains a farming powerhouse.
2018 progress your support made possible
You helped expand the use of our water-smart metric in the industry supply chain. Sustainable Conservation helps coordinate the Stewardship Index of Specialty Crops (SISC), a coalition of produce growers, buyers, shippers, and environmental NGOs devoted to pairing optimal crop production with strong environmental protections. In 2018, SISC approved our irrigation efficiency metric for their suite of sustainability measures. These methods are helpful to any grower or crop shipper who needs to meet sustainability reporting requirements in supply chains. Our metric calculator and user guide for conserving water is now available on the SISC website, which is a go-to information source for agricultural communities throughout the state.
---
You helped us roll out a loan program to support farmers in cutting back on their water and fertilizer use. California FarmLink connects first-time, immigrant, and other underserved farmers with tools for business and conservation success. Together with the Resource Conservation District of Santa Cruz County and Resource Conservation District of Monterey County, our coalition created the loan program that California FarmLink now administers. FarmLink provides a rebate at the end of the growing season if enrolled growers follow the savings protocol. Demonstrating financial reward for farmers' environmental performance sets a precedent for other lenders and companies.
---
You supported a growing group of strawberry farmers in showcasing water-saving methods for their industry. Growers who have adopted our "just right" protocols for tending their fields have seen great results. Since 2013, our partners at the Resource Conservation District of Santa Cruz County have been collecting data on a growing cohort of strawberry farms. Our 2018 collection across nearly 350 acres averaged a remarkable 91% for water-use efficiency. 100% is the optimal ratio for efficiency – meaning plants are getting no more than exactly what they need – and we're thrilled that crop yields on these demonstration sites have remained healthy with even less.
Strawberry Fields Forever?
Sustainable Conservation's partnerships with Driscoll's, whose fruit populates many a produce aisle; strawberry growers like Miguel Ramos; and YOU give Central Coast communities a chance at reviving and protecting their water lifeline. Learn more about conservation solutions that add up to safe and abundant water for families and farming alike in the Spring 2018 issue of our newsletter, Thrive California.
Meet the Central Coast Farmers Building a Better Water Future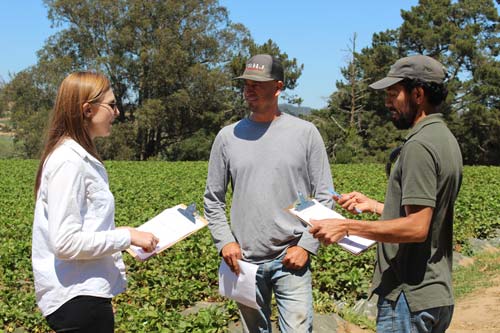 Growing the fruits and vegetables that nourish Americans takes time, skill, adaptability, capital – and, of course, water. Hear from Rafael, Ruben, and Juan, three Central Coast strawberry growers on why they're participating in a new loan program Sustainable Conservation and our partners developed to spur water savings. Together with California FarmLink, the Resource Conservation District of Santa Cruz County, and Resource Conservation District of Monterey County, we're helping these growers maximize their "crop per drop" to boost local water supplies.