California rain took last year off. Sure, we saw a sprinkle here, a squall there – but 2018's dry spell stood in stark relief against the sandwiching deluges of 2017 and 2019.

In years like 2018, California relies more on a hidden source for our water needs: groundwater. Summoned by pumps through subterranean strata to the earth's surface, this buried resource is one of nature's great magic tricks. What we can't see – aquifer networks lodged deep within soil and rock pores – rescues our Golden State during droughts, hydrating our communities, farms, and wildlife when winter precipitation is scant.

Caring for this "invisible" stash is our most promising strategy for adapting to a changing climate that will reduce Sierra Nevada snowmelt as one of our primary water sources, while increasing intervals of explosive downpours and prolonged droughts.

Your support of Sustainable Conservation makes that care possible in a unique way. Thanks to your generosity, we help water agencies and farmers replenish California's aquifers by applying high water flows during wet years to cropland. Storm water, diverted onto fields from local rivers and reservoirs via irrigation canals, spreads out over land with good sandy soil and then percolates down to give our underground H2O savings account a healthy refill. That way, we have stores in waiting when dry times return – and return they will.

Think of it as "saving for a rainy day" turned on its head. Capturing water in this fashion could address up to 1/3 of groundwater overdraft (where pumping exceeds replenishment) in the San Joaquin Valley – ground zero for this issue, and producer of the bounty that feeds our nation.
2018 progress your support made possible
You helped us broaden the most powerful outreach network there is in the farming community: neighbors trading information. The Sustainable Groundwater Management Act (SGMA) requires the San Joaquin Valley, and other over-pumped areas of the state, to balance aquifer withdrawals and deposits. Getting more water in the ground is crucial to meeting that goal, but farmers new to the practice can be worried about crop yields. Will all that water harm their harvest? For certain crop types, the answer is not at all – and hearing hard data and positive testimonials from friends and the folks who farm next door can tip the scales from skeptical to willing.

In 2018, San Joaquin County wine grape grower Al Costa offered up his Zinfandel vineyard for research for the second year in a row, and for a field tour to showcase on-farm recharge for growers, wine industry organizations, and water districts. Costa and our other partners are part of an important cycle of trust-building to increase adoption. By showing their fellow farmers that the practice poses little risk and offers great benefits, they're leading the way.

Sustainable Conservation is proud to convene learning opportunities that position California farmers at the forefront of water solutions for California.
"I'd like to put all the water we can in the water table. We need it. We sure do."
---
You helped us create a web-based tool that guides water agencies in replenishing aquifers below farmland. Our Groundwater Recharge Assessment Tool (GRAT™), developed in partnership with the Earth Genome and with guidance from the Tulare and Madera irrigation districts, identifies optimum recharge sites based on factors like soil and crop type, and timing of water deliveries. GRAT™ subscribers currently service nearly a quarter million agricultural acres in the San Joaquin Valley, with more users slated to come on board soon. When it comes to prioritizing the health of California's groundwater, GRAT™ is an ace in the deck.
---
You helped us promote groundwater recharge to – and drive collaboration between – California farmers, water managers, industry leaders, and policy makers. In 2018, we traveled throughout the San Joaquin and Sacramento valleys, hosting workshops and participating in public forums that reached multitudes. Our message to these diverse audiences, the one your support enabled us to broadcast far and wide: our Golden State needs as many farmers as possible to focus on topping off our aquifers, and local support to make it easier for those folks to do just that. Every darn drop, seeping between soil particles to restock our water savings account, matters.

Our efforts led to significant media coverage, where we were able to share this solution with wide-ranging audiences through the Los Angeles Times, San Francisco Chronicle, Fresno Bee, Western Farm Press, and CBS.

Recognizing our advocacy and expertise, the California Department of Water Resources tapped Sustainable Conservation in 2018 to co-coordinate a statewide committee to identify gaps in information, guidance, and incentives that farmers, land managers, and water agencies need to implement more groundwater replenishment projects. From leading the testing of on-farm recharge, to informing official state policy, we're thrilled to help guide adoption of this technique to secure a reliable water supply for California.
Workshop Showcases Promise of Groundwater Recharge in Wine Country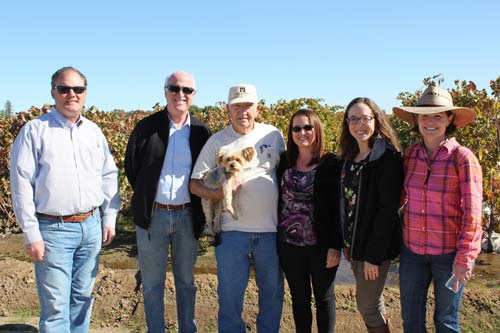 Together with a stellar list of partners, Sustainable Conservation hosted a November 2018 workshop and field tour of Costa Vineyards' groundwater recharge project for winegrape growers in the Lodi region. Farmers learned more about replenishing California's aquifers through the application of seasonal floodwater on land that hosts grape vines – a hearty crop well-suited for the practice. We had a great turnout, including several representatives from Bank of America, whose support helps us promote and scale on-farm groundwater recharge across the Golden State.
Conversations from the Field: Adapting to Extremes
In March 2018, Sustainable Conservation convened a panel of California water experts for a discussion about strategies for managing California's rivers and runoff to protect human health and safety, and a sustainable water supply for people, wildlife, and our economy. Listen to speaker highlights.
The Best Place for California's Water Is Underground

"During wet seasons when precipitation is exceptionally high, some of the high flows from reservoirs into aqueducts and canals can be diverted to designated farms where land is fallow or crops can withstand flooding. To demonstrate the concept, Sustainable Conservation, a San Francisco-based nonprofit, has tracked 200 San Joaquin Valley farmers who agreed to allow flooding on their land in return for water delivered at reduced cost."
Where Water Is Scarce, Communities Turn to Reusing Wastewater

"The volume of unused aquifer storage in California is three times the volume of the state's surface reservoirs and lakes. 'It's sitting there waiting to be recharged,' said Daniel Mountjoy, resource stewardship director at Sustainable Conservation, a San Francisco-based nonprofit that promotes an aquifer storage process called 'on-farm recharge' in California's San Joaquin Valley. 'It's free storage, and if we don't fill it, we're going to lose it.'"