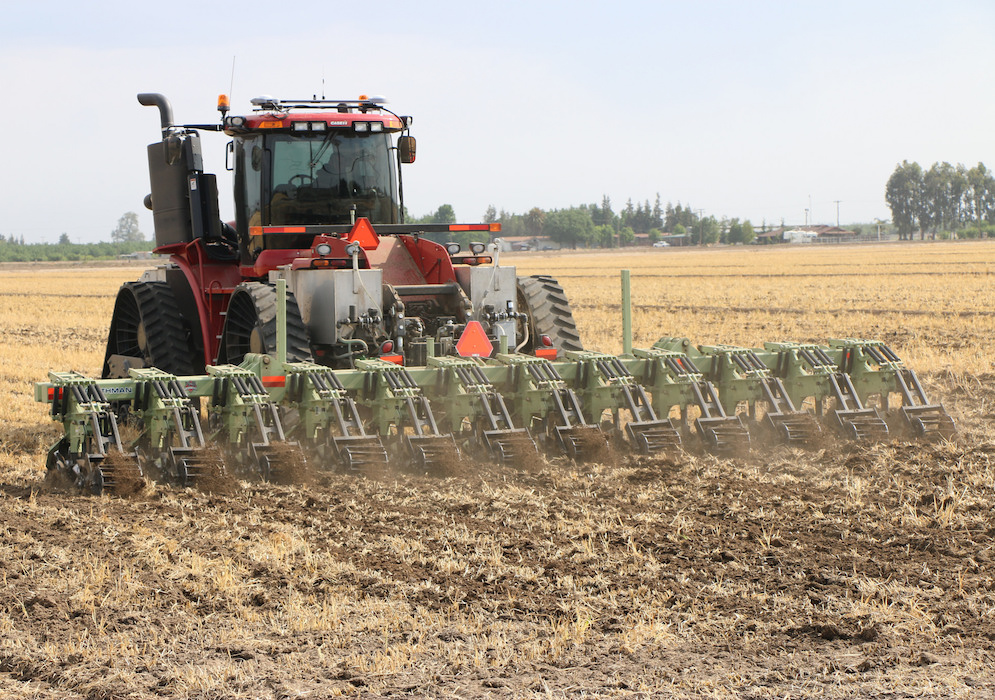 Pictured Above: Strip tillage in progress using newly purchased implements on a field in Hilmar, CA.
What is Conservation Tillage?
Conservation tillage, also known as strip-till, is a method of low-impact farming that leaves crop stubble on the surface of the soil, which protects the soil from erosion and prevents wind from blowing dirt into the air.
Because crops are planted directly on top of the stubble, fewer tractor passes are needed to prepare fields for planting, dramatically reducing dust and diesel pollution.
Benefits
Conservation tillage can
• Decrease dust emissions by up to 70% and diesel emissions by up to 50%
• Reduce the water needed for crop production by planting earlier
• Shorten the time needed for planting by reducing the number of tillage operations and equipment required to successfully grow dairy forages
• Ensure less soil disturbance and increased moisture retention
• Benefit farmers' bottom lines. In 2010 alone, conservation tillage helped farmers save over $16 million in fuel, labor and maintenance costs.
Rental Equipment Program
Sustainable Conservation, in partnership with California Ag Solutions, offers a strip-till equipment rental program that allows interested farmers to try out conservation tillage without the upfront costs of investing in all-new equipment.
Third Annual Strip-Till Coach Tour
Sustainable Conservation and California Ag Solutions' third annual strip-till dairy coach tour will take place on Wednesday, July 15, 2015.
The half-day tour, which begins at the Hilmar Cheese Visitor Center, will include stops at multiple Merced County dairy farms that have adopted conservation and water efficiency practices.
Tour participants will be able to see technologies and practices first-hand, including strip-till, drip irrigation, center pivot irrigation technologies, in addition to dairies utilizing liquid manure instead of synthetic fertilizers to grow forage crops.
The tour will give participants a chance to have one-on-one discussions with dairy producers, agronomists, and irrigation specialists. Participants will also have a chance to examine strip-till equipment on display and learn about a strip-till equipment rental program.
If you're interested in attending the coach tour, please RSVP by July 13, 2015 by contacting Ladi Asgill at lasgill@suscon.org or at (209) 604-6554.
---
Watch strip-till in action in this short video. You can also watch it on YouTube here.
Check out the video above of Sustainable Conservation Senior Project Manager Ladi Asgill speaking to World Ag Expo TV about the need for conservation tillage, particularly in California's Central Valley. Click here to watch the interview on YouTube. (Begins at 4:11:55)
---
Additional Reading & Information

• A Breath of Fresh Air for California 

• Central Valley Farmers Learn about Clean-Air Farming

• Conservation Tillage in the Central Valley

• Helping California Breathe Easier

• Sustainable Conservation Takes on 2015 World Ag Expo

• Latest Survey Results Indicate Increase in Clean-Air Farming Practices

• Video: Overview of Conservation Tillage by 2012 California Leopold Conservation Award Recipient, Dino Giacomazzi

Pictured on the right: Standard cultivation produces significant dust and diesel pollution. Low-impact conservation tillage cuts pollution dramatically while lowering fuel and labor costs.