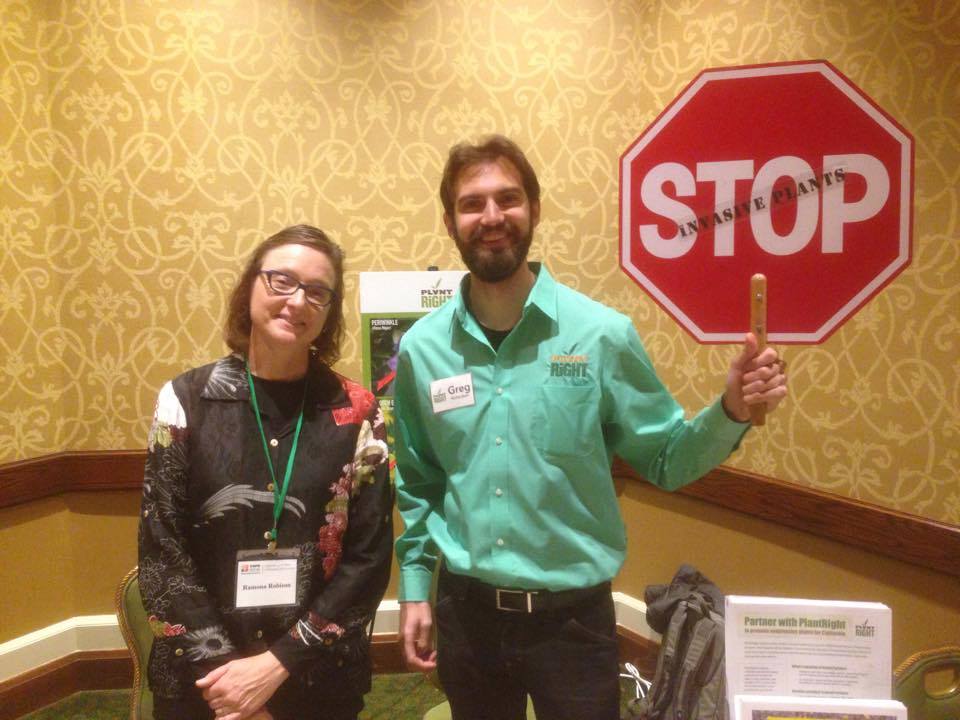 Pictured: PlantRight Project Manager Greg Richardson and Mona Robison, a PlantRight advisor and Staff Environmental Scientist at California State Parks.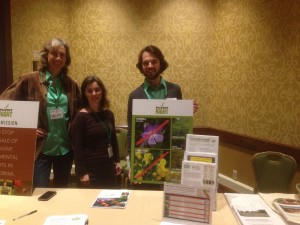 PlantRight's Senior Project Manager Jan Merryweather (left) and Project Associate Chris Crawford (right) with Elizabeth Brusati, a Senior Scientist at California Invasive Plant Council and long time and valued advisor to PlantRight.
Talk about time well spent! The PlantRight team had an excellent experience at the California Native Plant Society's (CNPS) recent Conservation Conference in San Jose. It was fabulous to put faces to names, and make a myriad of new connections with the chapter leaders, members and educators that make up the influential organization.
Many attendees were jazzed to find another way to promote non-invasive plants in California, and we were so inspired that we've decided to create a new educational resource on how to engage with local nurseries about invasive plants in a positive, constructive fashion. Special thanks goes to CNPS Chapter Council Vice-Chair Larry Levine and Director of Horticulture Susan Krzywicki for their ideas.
PlantRight was proud to participate in this triennial conference and 50th celebration of CNPS' 10,000 person strong community. PlantRight Project Manager, Greg Richardson, joined an illustrious cast of speakers at the event, presenting "Are they still selling that?" – an overview of PlantRight's work to address horticultural invasive plant introductions across the nursery industry supply chain.
We also hosted an educational booth at the conference to provide participants with information about PlantRight's Ambassador program, continuing education module and hot-off-the-press 2015 plant list. The three-day event was action packed with several dozen presentations ranging from the very latest on native and rare plant research, horticultural trends, what makes for healthy pollinator gardens, policy and science, and more.
Check out some photos of the event and of Greg presenting on why PlantRight is promoting noninvasive plants for California and how you can all get involved.
For more information on PlantRight, visit www.plantright.org.