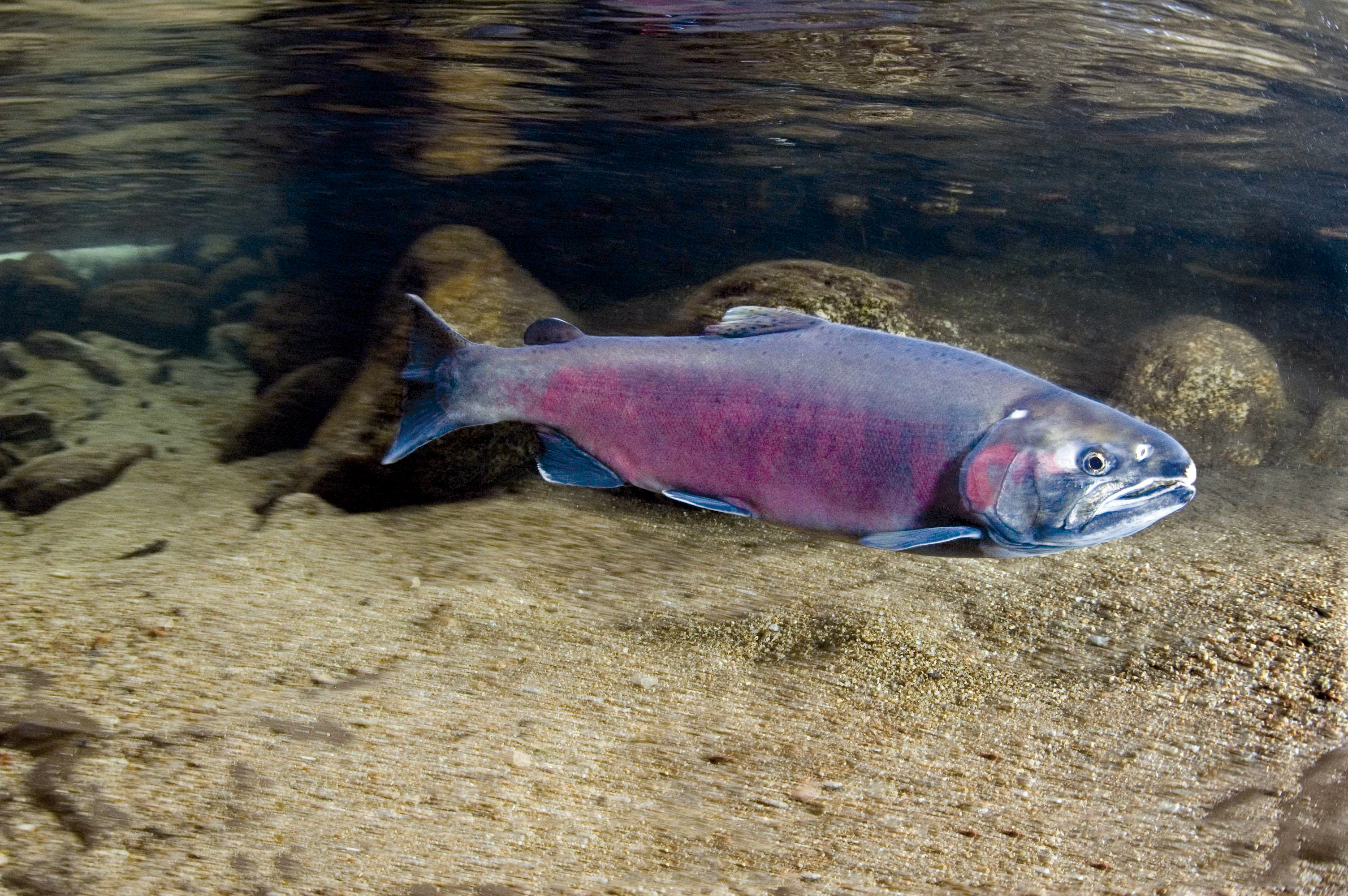 Salmon photo courtesy of the National Marine Fisheries Service/Southwest Fisheries Science Center; Salmon Ecology Team.
Right now, it's more important than ever to celebrate environmental successes. This month, we'd like to spotlight how a coalition of restorationists in Marin County is bringing a holistic, watershed-level approach to salmonid habitat in Lagunitas Creek – and how a Sustainable Conservation-sponsored permitting program helped them get the job done.
A Habitat Once Lost …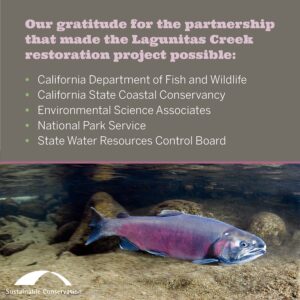 Lagunitas Creek winds through stunning scenery and communities for 22 miles, from Mt. Tamalpais to Tomales Bay. It's the largest drainage in Marin County – spanning over 103 square miles – and boasts one of the most significant and stable populations of Coho salmon on California's Central Coast. The watershed also historically provided key habitat for a Central Coast-distinct population of Steelhead, as well as Chinook. Over time, reservoir dams and towns like Tocaloma and Jewell cut off access to nearly half the watershed. The soil hauled in to build the towns made its way into the creek and impaired the health of the waterway, cutting off access to side channels, floodplains and other salmonid pit stops along their journeys to the ocean.
As you might recall, young salmon make their way to the ocean before returning to their upstream spawning grounds. It's an evolutionary imperative and a perilous journey made all the more difficult by streams that have been artificially modified, high flows, drought conditions and rising water temperatures. If the fish can't access areas like floodplains and side channels to stop, rest, feed and grow, their chances of survival drop dramatically.
"With several of California's salmonid species listed as critically endangered, and dwindling each year, the need for restoration across the state is vital. And the need for permitting programs that help regulators and restorationists save time and money, and get restoration projects shovel-ready more quickly, has never been greater." – Ashley Boren, Chief Executive Officer.
… Restored, and Renewed
Enter Turtle Island Restoration Network's Salmon Protection Watershed Network (SPAWN), and the Lagunitas Creek Floodplain and Riparian Restoration Project.
In partnership with the Marin Municipal Water District and others, SPAWN has worked for years to clear debris from the historic floodplain, install large wood in the stream, create side channels for salmonid habitat and restore the riparian corridor by removing invasive plants and planting natives in their place. This most recent project removed 20 million pounds of soil from now-abandoned Tocaloma to re-create floodplains, with bonus habitat efforts for endangered California freshwater shrimp and migratory birds threatened by habitat destruction. Restoring floodplains also protects downstream communities from flooding, as the creek can spread out and slow down during storm events and allows sediment to settle, improving water quality.  Projects like this that serve both the environment and people have recently been termed "multi-benefit."
 The first phase of the project began in 2016, and the second in August of last year. The results were almost immediate, with juvenile salmon spotted resting in the woody debris and in the side channels, and the work continues. Congratulations to SPAWN and partners for a successful restoration effort!
Programmatic Permits Speed Species Recovery
The project used the National Oceanic Atmospheric Administration's Programmatic Biological Opinion for Restoration on the Central Coast – originally developed in 2006 as a result of Sustainable Conservation's efforts and renewed by the NOAA Restoration Center in 2016. Currently, we're hard at work on multiple permitting initiatives to make sure restoration proponents in our Golden State maximize their time, funding and efforts on what matters most: the projects themselves.
"SPAWN works every day to restore critical habitat for endangered Coho salmon, and programmatic permits help us receive regulatory coverage for permits that can be very difficult to obtain for a non-profit. Restoration is a critical tool in species recovery, that's why it's important it be done right to create the most benefit to our watersheds and wildlife." – Preston Brown, SPAWN Watershed Conservation Director.
The problem is clear. If fish can't survive in their historic habitats, other creatures can't survive, either. Food chains are disrupted, invasive plants take hold and biodiversity is lost. Restoration centers human effort where it's needed most.
With your support, Sustainable Conservation's expedited permitting programs help lead the way toward species recovery and healthy waterways. Join us today to help restore California!
We believe in the power of relationships to reveal creative strategies that protect the natural resources on which we all depend. Let's explore new ways to stick together in support of a healthy California. Connect with us!