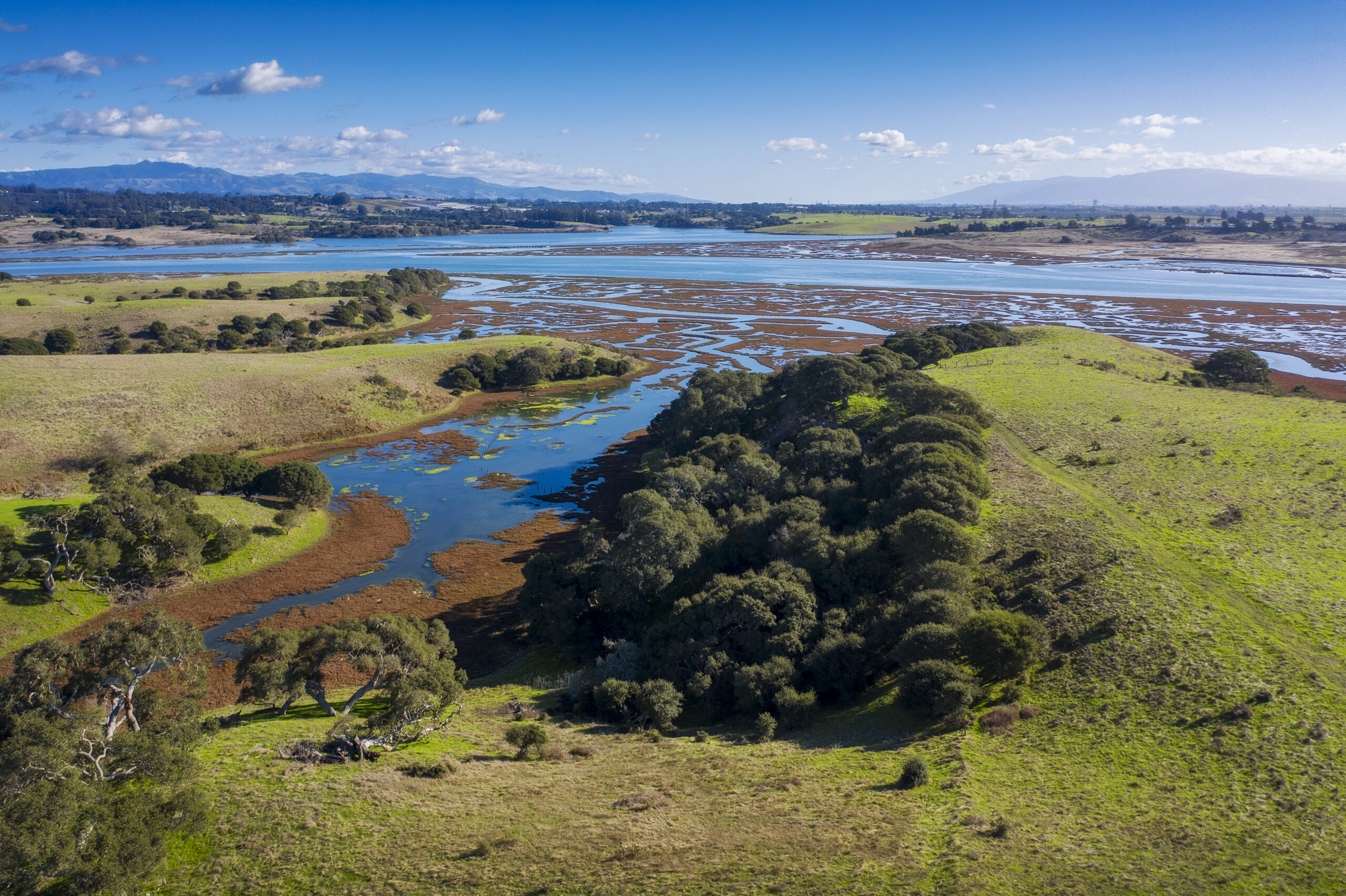 Sustainable Conservation has worked in California for almost 30 years to craft collaborative, enduring solutions to our state's unique and pressing environmental problems.
As we plan for a future that's resilient to climate change, I'm taking a moment to reflect on our origin and impact on California's Central Coast.
Like all paths, ours wasn't an easy or linear one. What we learned from our earliest efforts forms the bedrock of our values and our theory of change: trusted partnerships, innovative solutions, continuous learning, and perseverance are the only way to achieve our goals.
Meeting a Conservation Challenge
Sustainable Conservation was born on the Central Coast, in the Elkhorn Slough Watershed. Our founders knew the conservation movement needed to diversify beyond buying land to preserve biodiversity and habitat. They also knew that setting aside land does not necessarily protect it, because that land is affected by what happens on and around it – including human activity.
Our founders' tenure within other environmental NGOs and the real-estate development sector inspired ideas of "conservation-based real estate," or combining limited development with easements on the land next to valuable natural areas.

Sustainable Conservation partner Sacha Lozano and colleague with soil moisture sensors in strawberry field.
Habitat and Human Development
In the early 1990s, my father Frank Boren, founding Board member Dan Emmett, and Sustainable Conservation's first Executive Director Tina Quinn bought 40 acres bordering the Elkhorn Slough. This critical conservation area is one of California's rare remaining salt marshes, and it provides vital habitat for hundreds of species. They developed three one-acre home sites and put an easement on the remaining 37 acres in partnership with the Elkhorn Slough Foundation.
The idea was that once the parcels sold, the capital could secure additional developable lands in and around the Slough that would reduce density and protect habitat health in the area.
The effort ran into the dramatic down-turn in the 1990s market when the project was ready for sale. The investors lost capital, but those 40 acres of restored habitat were the seeds of a conservation ethos that drives our collaborative, problem-solving approach today.
Proof of Concept
I recently spoke with Mark Silberstein, the longtime Executive Director of the Elkhorn Slough Foundation, to see what he thought of the project 30 years later. Silberstein noted that when the group first purchased the property, the land was severely degraded, and had been "grazed witless."
From a purely ecological perspective, these properties are, outside of the building envelope, greatly improved. They harbor native bunchgrasses, oaks, and riparian trees thanks to the restoration efforts there.
While Sustainable Conservation didn't continue with other conservation-based real estate projects, our founders and their partners' initial work set us on our path.
A Restoration Journey
We dug deeper. When we learned that landowners had to go to 7 different government agencies to get permits for voluntary restoration projects, we developed our first Partners in Restoration program in the Elkhorn Slough Watershed – under the leadership of Sustainable Conservation co-founder Laura Hattendorf and program lead Lynn Dwyer, and in partnership with then-Natural Resources Conservation Service staff person Daniel Mountjoy. The program worked on pre-approved permits for beneficial restoration projects that saved willing landowners time and money, and built positive relationships between agency staff and local restorationists. Partners in Restoration grew into 10 additional watersheds and counties along California's coast, and eventually became our award-winning, statewide Accelerating Restoration Program.
From a single, 40-acre project to multi-agency statewide permits that activate holistic, watershed-level restoration, our work has grown exponentially in three decades. Hundreds of organizations and landowners have used the permits we've helped put in place to restore miles of critical riparian habitat, revitalize our rivers, protect iconic species, and reconnect our surface and groundwater resources.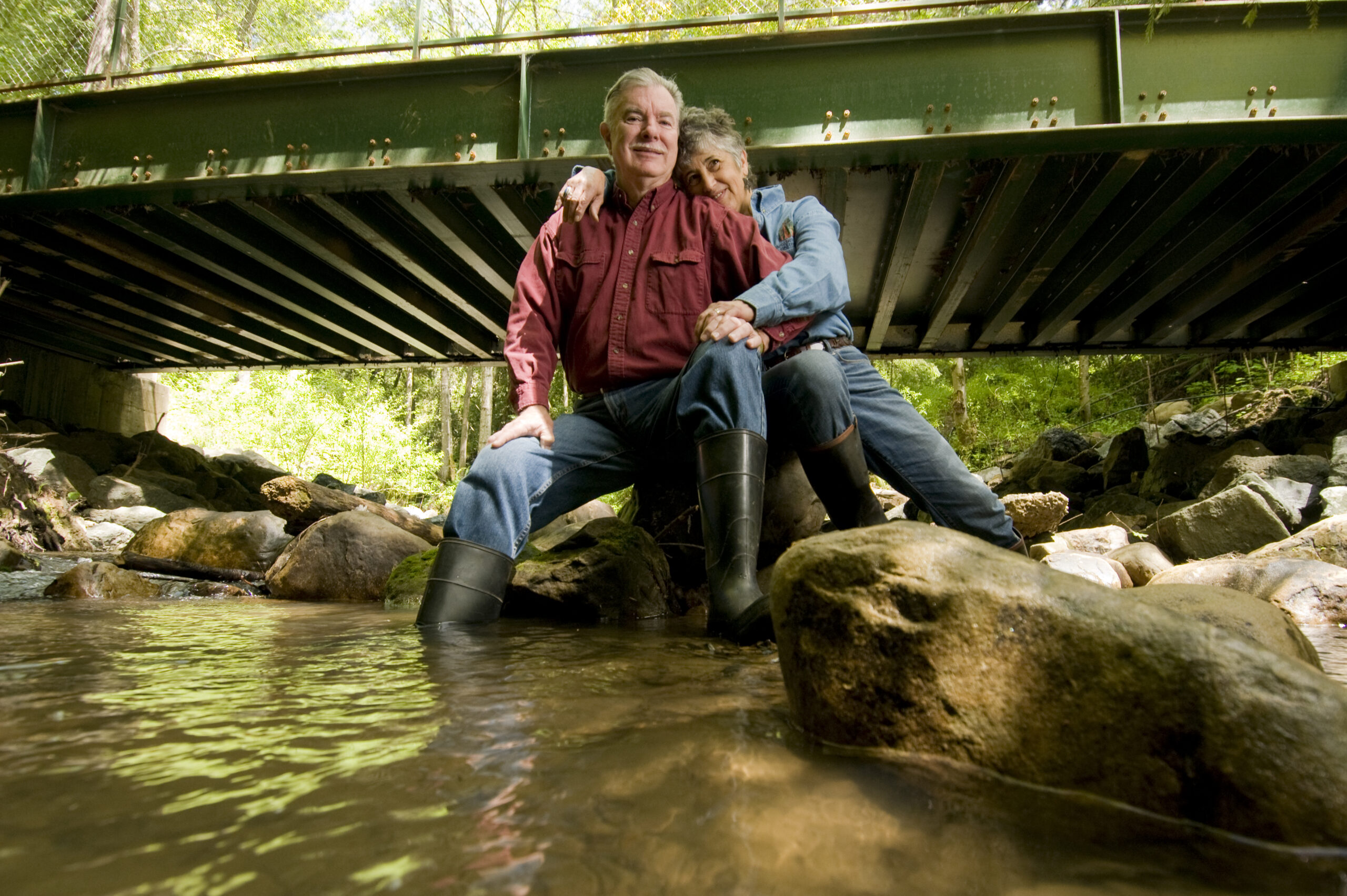 Tom and Manuela Bird pose in front of a new bridge installed with help from Partners in Restoration. The bridge gives threatened steelhead trout unrestricted passage to their historic spawning grounds.
Our Mission and Purpose
We do what we do to restore California and protect our precious water by building coalitions – of the willing, at first, and then by meeting stakeholders where they are. We listen to people's needs, constraints, and concerns, and we think creatively to drive solutions that everyone can get behind.
For now, and for future generations.
2022 won't be without its challenges, but I'm confident in Sustainable Conservation's time-tested approach, and humbled by the people we work with every day to build a brighter future.
Best,