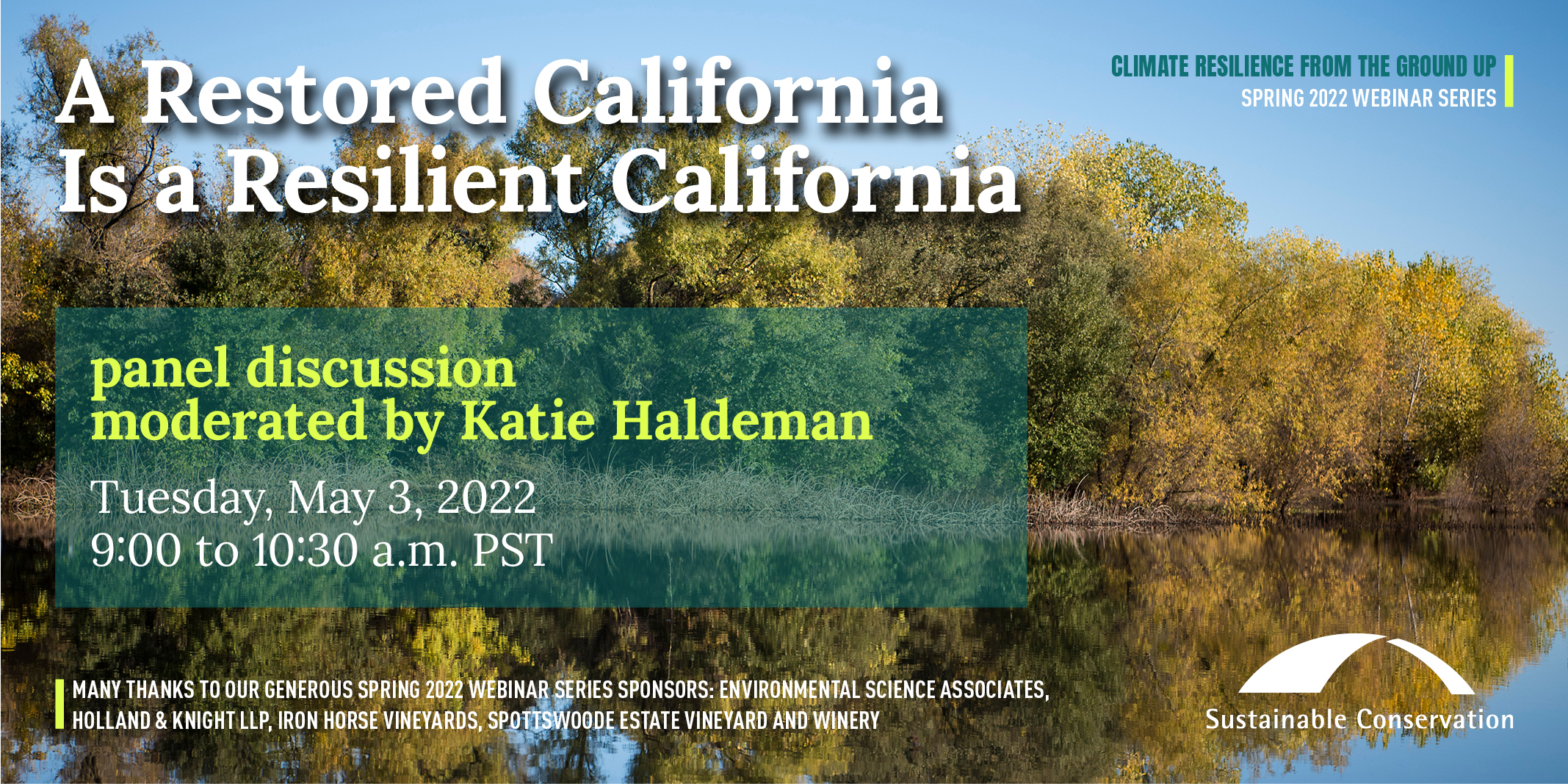 Missed the second webinar in our Climate Resilience from the Ground Up series? We've got you covered with a recap of the event – and you can watch the full recording, too! Thanks to our generous webinar series sponsors ESA, Holland & Knight, Iron Horse Vineyards and Spottswoode Estate Vineyard and Winery.
Restoration for Climate Resilience
Accelerating Restoration Senior Project Manager Katie Haldeman moderated an excellent panel of restoration professionals, including Trina Cunningham, Executive Director of the Maidu Summit Consortium, Jessica Law, Chief Deputy Executive Officer of the Water Forum, and Evyan Sloane, Deputy Regional Manager of the Coastal Conservancy's Bay Program.
From our mountain meadows to our critical rivers and our struggling coasts, California's ecosystems need our help. Decades of human alterations to our waterways and dependent habitats mean we face unprecedented drought, flood and wildfire risks.
The need is clear: more functional and resilient habitats and ecosystems that benefit nature and people. Sustainable Conservation helps expedite restoration permitting processes so more restoration can get done more quickly across California. Our partner organizations, landowners, Tribal members, species advocates and conservation-minded citizens are the people whose on-the-ground efforts and big-picture vision help make the work real, for the health of all.
"Gathering Together to Gather Together"
Trina Cunningham joined us to talk about why members of the Mountain Maidu Tribe formed the Maidu Summit Consortium, and their work on process-based restoration.
The Tribal families joined together in 2001 to protect their Sierra homeland, preserve their sacred sites, and perpetuate their culture. When PG&E filed for bankruptcy and divested lands in 2003, they applied to be a recipient. Up until just last year, the Consortium received parcels totaling 3,000 acres – and they're focusing on conservation, restoration and stewardship for the future.
"How are we as human beings today, and how are we going to continue to be with each other? Part of our human history is reflective of the degradation to our environment right now […] We love to gather together, and one of the ways we can do that is to be present next to these fields, and understand the water cycles and nutrients." – Trina Cunningham
Cunningham noted that the Mountain Maidu have always been a part of these lands, and existed on them, and there's an opportunity now to build robust restoration practices together that honor each Tribal family's sacred sites and balance the human and non-human needs of their watershed. Maidu process-based restoration includes knowing their lands: their seasonality, their water, their biodiversity, and the beings who exist there.

Cunningham shared her own photos to detail the seasonality and vibrance of the watershed, and why a keen understanding of and responsibility to nature in all seasons matters when we look to restore natural functions. Photos: Trina Cunningham.
Cunningham also provided great practical context for why rural communities matter: over 27 million Californians rely on the water that comes from the Upper Feather River Watershed, and the people who live there are responsible for managing it. Without sustained support, funding, and partnerships with agencies, academia, and water managers, that management impacts not just the local community, but our entire state.
We are all connected, from our headwaters to our oceans, and we thrive – or struggle – together.
Interest-Based Negotiation
Jessica Law covered three of the Water Forum's interests and program areas for our audience: flows and operations, habitat enhancement, and the Water Forum 2.0. The Water Forum developed a flows standard that was published in 2017 and adopted into the Biological Opinions for Folsom Reservoir operation in 2019. Law detailed the challenges in our three-year drought landscape and our new climate normal, but the flow standard helps balance local diversions, reservoir operations, and fisheries needs downstream.
"What keeps me and our members coming back to the Water Forum is a group of individuals and organizations who're invested in protecting resources, balancing competing interests, and committing to the region's future and sustainability." – Jessica Law
Law cited the Forum's annual Lower American River habitat restoration projects as "tremendous, fun work" that helps them engage and educate community members and restore habitat for our struggling salmonids.
Law wrapped with a quick look at the Forum's "secret sauce" of interest-based negotiation, which includes four principles: 1) separating people from the problem, 2) focusing on interests rather than positions, 3) generating a variety of options before settling on an agreement, and 40insisting that the agreement be based on objective criteria. Now that they're two years into the Water Forum 2.0 planning process and deep in listening and learning about things like groundwater, conjunctive use possibilities, equity and environmental justice, these principles keep Law engaged and passionate in her work.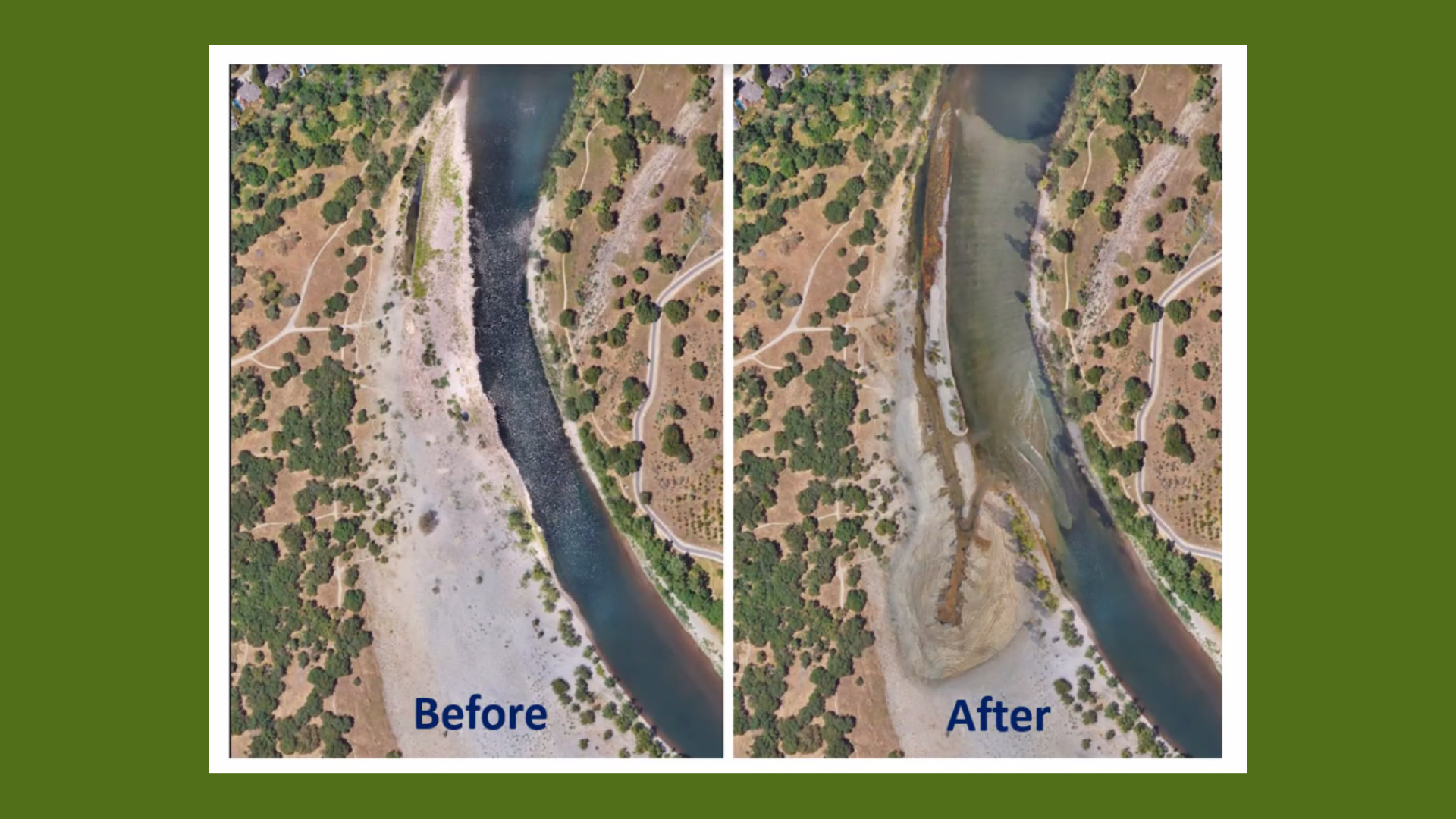 Before and after photos of the Water Forum's latest river restoration project, which expanded spawning areas and created a side channel for salmon. Steelhead returned quickly, and redds were spotted that same season! Photos: Water Forum.
Living Shorelines
Sloane joined us to talk about the concept of "Living Shorelines," and to detail some of the projects the Coastal Conservancy's undertaken in the past decades. Siting restoration work in an urgent timeframe, Sloane made the reasoning and the stakes clear: restoration projects at scale on the coast take at least 10-20 years to implement, and decades to become functional and flourishing ecosystems.
To meet our climate policy goals – and to weather practical extremes – we need to restore California now.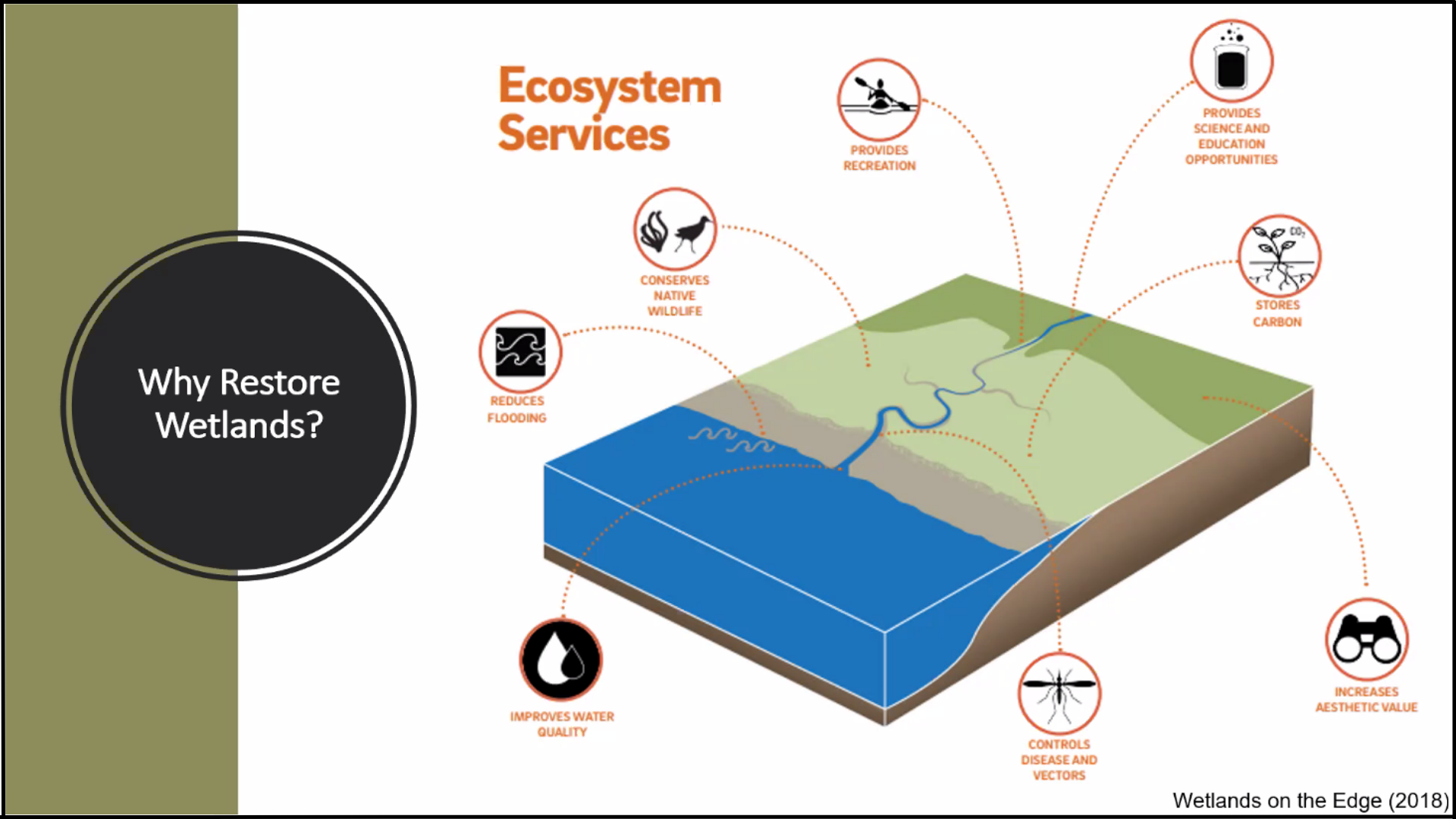 Wetlands are a critical part of our climate resilience. Living Shorelines, or nature-based adaptation solutions, include design considerations for sea-level rise, erosion, and a host of other concerns brough about by climate change. Healthy wetlands help protect against sea level rise, provide habitat for plants and animals, and generate recreation and public access for humans. Sloane walked us through the Giant Marsh Living Shoreline Project in the San Francisco Bay Area, the Cardiff Beach project in Southern California, and the South San Francisco Bay Phase I project to show the many ways we can restore our coastlines and keep doing so with community health and equity top of mind.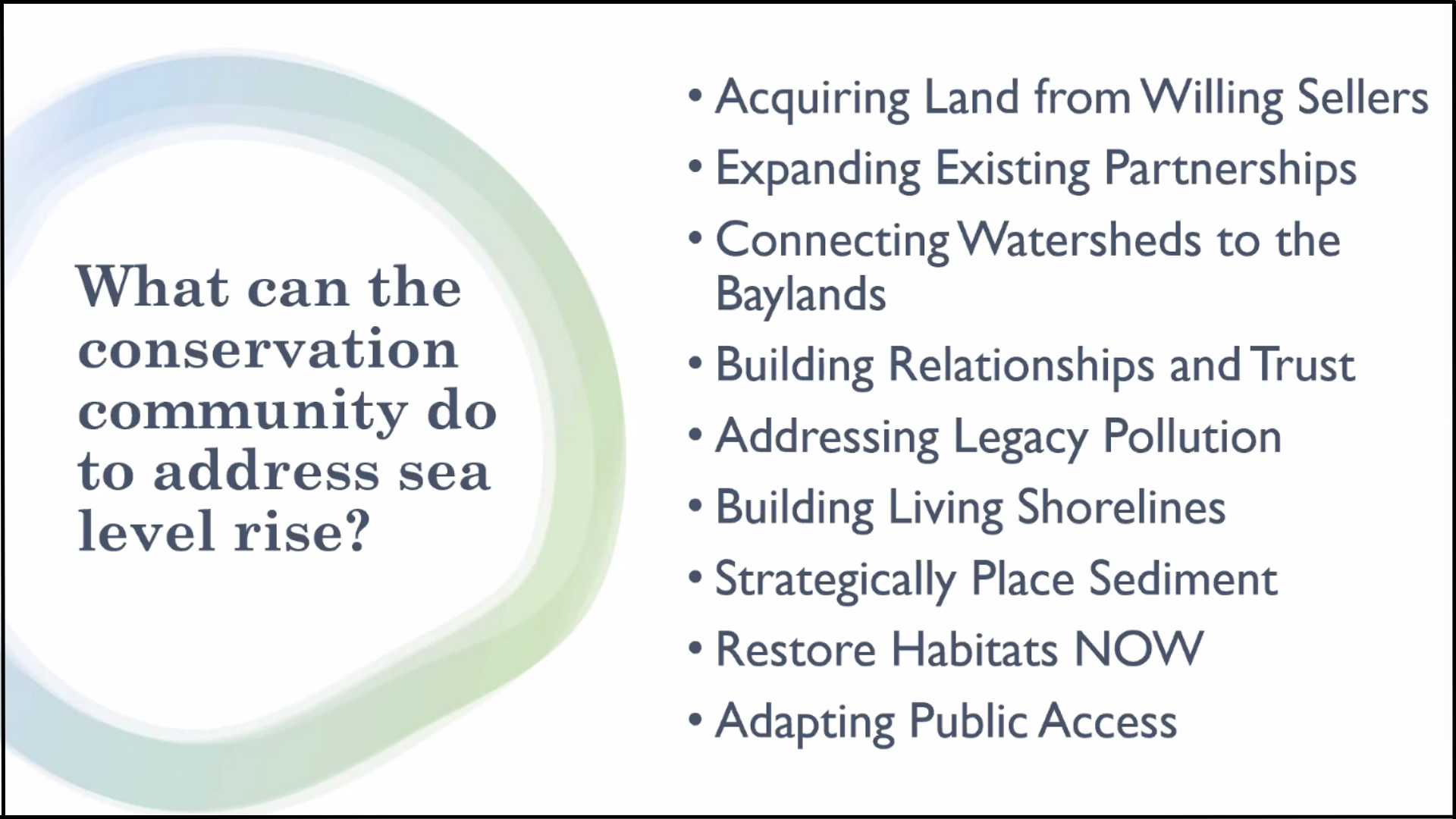 "Long-Haul Work"
After a great Q&A session, we wrapped with final reflections from Cunningham, Law and Sloane on what keeps them at work and in hope.
For Sloane, going to see these projects on the ground and working with wonderful, like-minded people with a shared goal gives her energy. The best advice Law ever received in her former work on the Delta is "point your toes in the right direction and keep walking." And, Cunningham spoke to seeing creatures come back to rivers after 100 years of absence, watching meadows blossom because the water table can support them, listening to a Native person speak to plants in their own "language of place," and seeing the plants, trees and water respond.
What's Next?
Stick with us! Bringing people together is what we do, and we encourage you to visit our Check In & Connect page for access to all of our event recordings, and so you can catch up on any webinars you've missed. You can also check out our Twitter coverage of this event.
The Maidu Summit Consortium is currently recruiting folks to assist with wildfire recovery, and you can donate to their work here. Follow along with the Water Forum's restoration efforts and advocacy here. And, you can contribute ideas to the Coastal Conservancy's strategic planning efforts here.