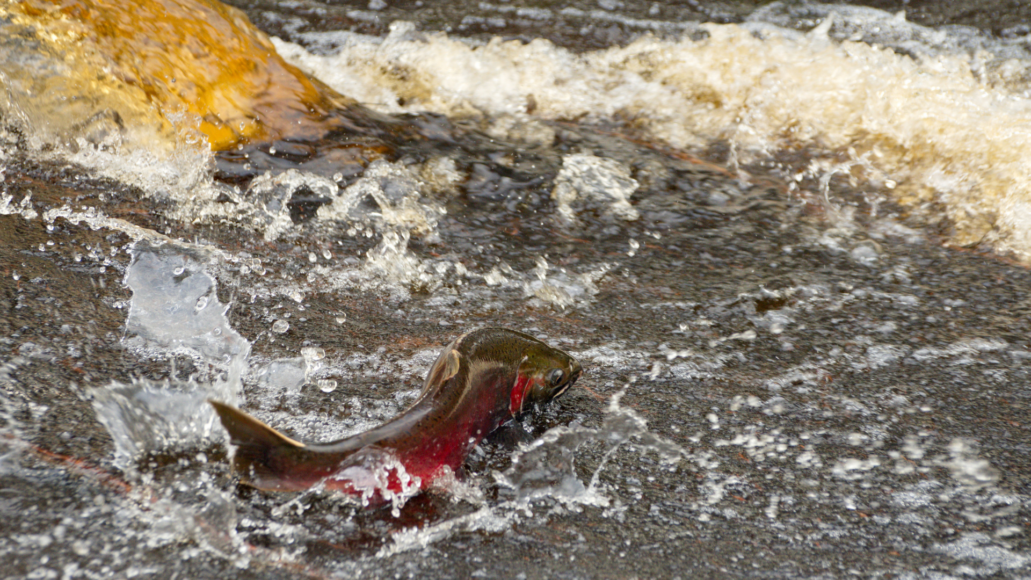 Photo: K. King/FWS
California faces many challenges this year. Climate change has spurred the worst wildfires our Golden State has ever seen. Over a million acres of wildlife habitat have burned in 2020 alone, and our "fire season" stretches on. Thanks to the hard work of our firefighters and community members, California's resilience capacity is clear, but we need to do more. Our wildlife and watersheds were already in trouble, and our changing climate and compounding disasters mean more species loss and habitat decline if we don't act now.
As the smoke clears, we'll rebuild our communities and bolster our watersheds to help people and species flourish. The good news is that many restorationists are working hard to plan and execute essential restoration projects, often at a watershed scale and with multiple benefits to our imperiled species and human communities. To make the most impact, we'll need more tools and better processes in place to help do this important, rejuvenating work.
Accelerating Restoration
Sustainable Conservation catalyzes restoration work by creating policy and regulatory incentives to encourage landowners to do more restoration and to make sure projects can be done now, not years – or even decades – from now. Because the regulatory process can be so complex, creating more efficient permitting pathways is a vital area of our work, and has made a difference for restorationists all over California.
One pathway we developed is the Habitat Restoration and Enhancement Act (HRE Act), and 2020 marks the HRE Act's five-year anniversary. We're highlighting the essential restoration projects throughout California that have used the HRE Act to help revitalize critical habitat for fish and wildlife.
Learn the history of the coalition that came together to make the HRE Act a reality.
What is the HRE Act?
Sponsored by Sustainable Conservation and administered by the California Department of Fish and Wildlife (CDFW,) the HRE Act provides a novel approach to permitting small-scale (up to 5 acres,) environmentally beneficial restoration projects in California. The HRE Act created an expedited 30-to-60-day approval process, and put these projects on a separate permitting track from development projects. This track enables better collaboration between agencies and applicants to meet common restoration goals. The HRE Act is also coordinated with another key agency process through the State Water Boards.
This means restorationists who want to revitalize streams, remove barriers to fish passage, restore wetlands and replenish natural water supplies can partner with CDFW to get their projects approved more efficiently. More of the project funding can go toward construction, and agency staffers save administrative time so they can provide more technical assistance to applicants.
"I'm a huge fan of the HRE Act! You get a permit with everything aligned, including coverage for species listed under the California Endangered Species Act – which saves a lot of money. This tool helps us bring projects to life faster."– Betsy Stapleton, Scott River Watershed Council Board Chair

"Trimming time off the permitting process means a lot when we're up against funding deadlines and encroaching winter weather to get these projects in the ground. The restoration community needs help to recover these fish, and we're grateful for the HRE Act's insightful support." – Tim Robinson, Cachuma Operation and Maintenance Board
The Impact 
Over the past five years California Tribes, state and federal agencies, non-profit organizations, cities, private landowners, Resource Conservation Districts and others have successfully implemented over 70 projects using the HRE Act, and we expect this number to grow.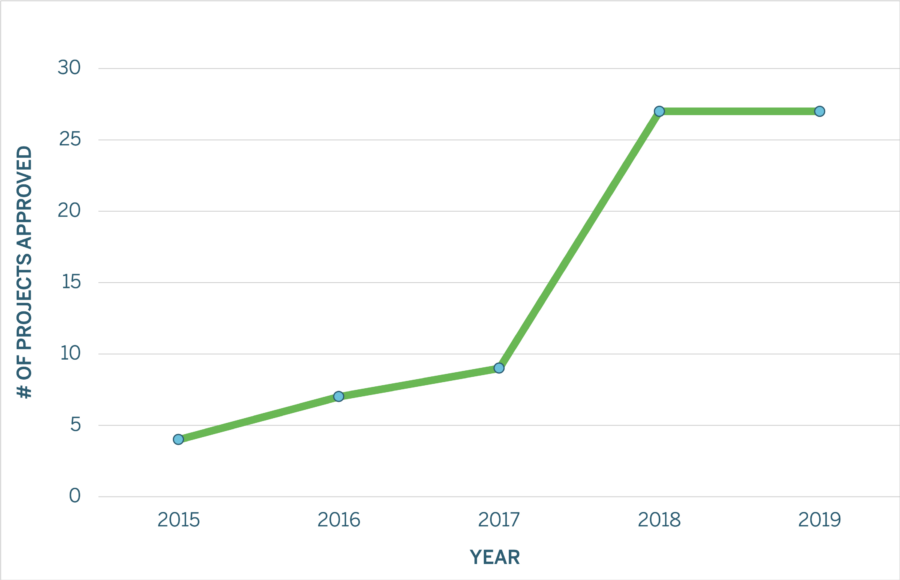 Use of the HRE Act continues to grow, as shown over the last five years.
California needs many types of restoration to address the different ways habitat and waterways have been altered over time. The HRE Act has supported a plethora of habitat-boosting activities, including ones that help species adapt to climate change and expand vegetated ecosystems that sequester carbon to reduce greenhouse gasses. These include:
– Removing barriers to fish passage, including some small dams, to open up miles of critical habitat so fish can access their historic spawning grounds. Fish passage barrier removal projects can also sometimes improve access for river recreation or create paths other than trafficked roads for terrestrial species like California red-legged frogs to cross waterways safely.
– Adding "large woody debris" to streams to slow water flows and increase habitat complexity, and create deep pools for salmon to rest, hide from predators and find refuge from higher winter flows, or even low summer flows.
– Adding gravel for spawning habitat and creating pools so salmon can continue their life cycle and better adapt to climate change.
– Planting trees and vegetation along riverbanks and removing invasive plants to encourage biodiversity, cool water temperatures for salmon, stabilize stream banks, reduce sedimentation, and capture carbon.
– Reconnecting side channels and floodplains to rivers so fish have additional habitat for spawning and rearing, and can take refuge from high flows in winter. In some cases, these projects can slow runoff flow to recharge groundwater and sustain streamflow during the dry season.
– Mimicking beaver dams to encourage nature's architects to take over and manage the structures.
– Creating off-channel water for livestock to improve grassland habitat for the California tiger salamander, California red-legged frog, and Alameda whipsnake. Species can move more easily across the grassland, and sensitive riparian habitat is protected from over-grazing.
– Removing abandoned vehicles and other human-made debris from streams to improve water quality, wildlife habitat, and native plant cover.
– Improving rural roads to disconnect them from stream crossings, which means less erosion and sedimentation into waterways that support salmonid habitat.
There's been a lot of work accomplished through this program to increase the pace and scale of restoration. It's an impressive slate of accomplishments over five years when we consider what goes into planning, siting, building, and maintaining just a single project – not to mention over 70.
"The Habitat Restoration and Enhancement Act has increased the pace and scale of instream, wetland and riparian habitat restoration projects. The HRE Act improves the regulatory process by aligning the cooperative review process between the North Coast Regional Water Quality Control Board and the California Department of Fish and Wildlife for voluntary restoration actions. The HREA's regulatory and practitioner partnership yields restoration projects with better design, improved best management practices, and adherence to strict measures to protect species at risk." – Jonathan Warmerdam, North Coast Regional Water Quality Control Board
The HRE Act enables this diverse and creative toolbox of beneficial restoration all over California. We expect the number of projects to grow as more practitioners learn how to best use this approach, and collaborations to address species and habitat recovery expand in our changing climate.
See how Trout Unlimited's North Coast Coho Program has transformed Mendocino watersheds thanks to the HRE Act.
Partnering with CDFW
We thank CDFW for their partnership with Sustainable Conservation and project proponents to help create an efficient pathway to permit these important restoration projects in California. The HRE Act is a tool in the toolbox that complements CDFW's Fisheries Restoration Grant Program and other agency funding programs, and leads to lasting and tangible ecological benefits.

The transformation from human-impacted, impassable stream to a thriving waterway that connects salmonids to their upstream habitat in Carpinteria Creek (Southern California,) made possible by the HRE Act. Left/Center: South Coast Habitat Restoration. Right: Chuck Gardner.
The work that goes into administering processes like these is significant, and we hope that more resources will be available to CDFW and other agencies to help maintain progressive programs that bolster a green economy and meet environmental goals. In fact, a 2015 study showed that ecological restoration is a nationwide, $9.5 billion industry employing about 126,000 people directly. It creates more local jobs than the coal, steel, or timber industries. Advancing these win-win projects will help sustain both our local watersheds and economies, and it's more important than ever given our current national challenges.
A Brighter Future
Restoration doesn't happen in a vacuum, and our most imperiled species need more help than ever. Agencies like CDFW help make this critical work possible through mechanisms like the HRE Act, and individuals and organizations help transform struggling streams, wetlands, creeks, and rivers for the benefit of our finned, four-legged, and two-legged community members alike.
For our part, we're partnering with state and federal regulatory agencies and restorationists to create innovative solutions to accelerate the pace and scale of environmentally beneficial work throughout California. The Act also complements Sustainable Conservation's previous efforts with agencies like the National Marine Fisheries Service and the California Coastal Commission to build separate permitting tracks for restoration.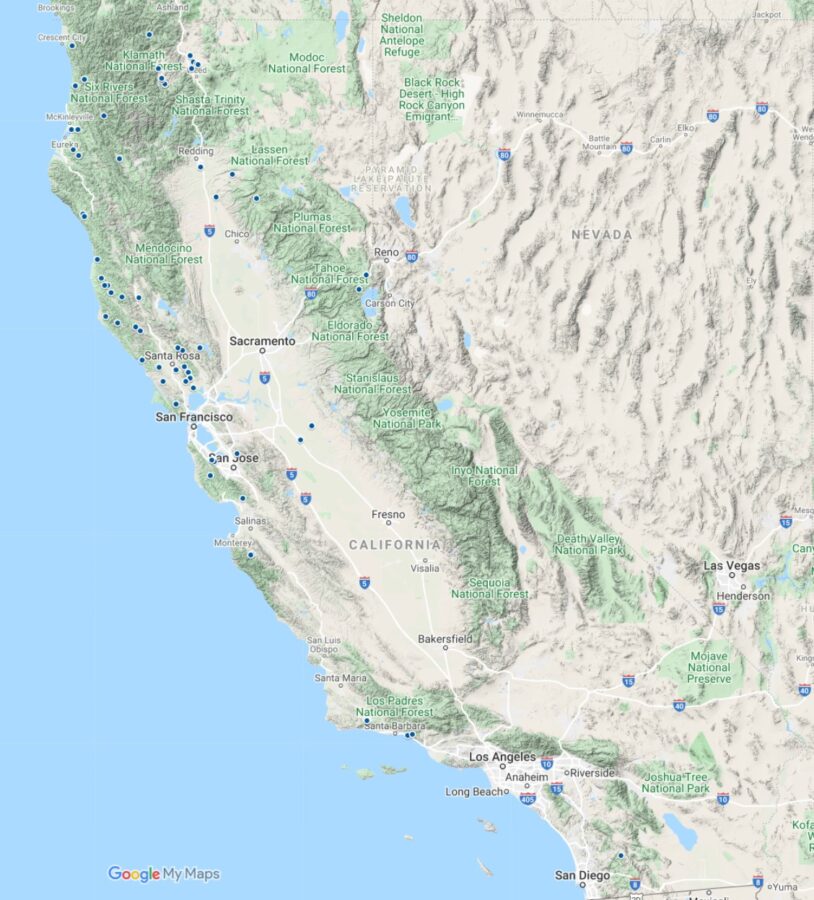 To date, the HRE Act has enabled over 70 projects all across our Golden State.
We believe that putting restoration on a separate track from development, with critical environmental protections in place, prioritizes restoration where it's needed most to bring our habitats and species back from the brink before it's too late. Efficient programmatic pathways to improve our ecosystems empower individual Californians, communities and organizations to do this work. Our climate will only become more variable, and supporting programs like the HRE Act will help us build systemic ecosystem resilience so California can recover, and better meet challenges to come.
The good will, experience, and willingness is already here. We need a paradigm shift to succeed, and Sustainable Conservation is working hard to make long-term funding and statewide, coordinated restoration approaches a reality in California. You can learn more about Sustainable Conservation's big-picture strategy to accelerate restoration through expanded funding, coordinated restoration approaches, incentives, and more here. You can browse our resources and contact our restoration team for technical assistance here.
We look forward to sharing more project highlights – and the people and organizations behind them – on our blog this fall and winter. Make sure to follow us on Twitter, Facebook and LinkedIn for restoration-focused updates.
We believe in the power of relationships to reveal creative strategies that protect the natural resources on which we all depend. Let's explore new ways to stick together in support of a healthy California. Connect with us!