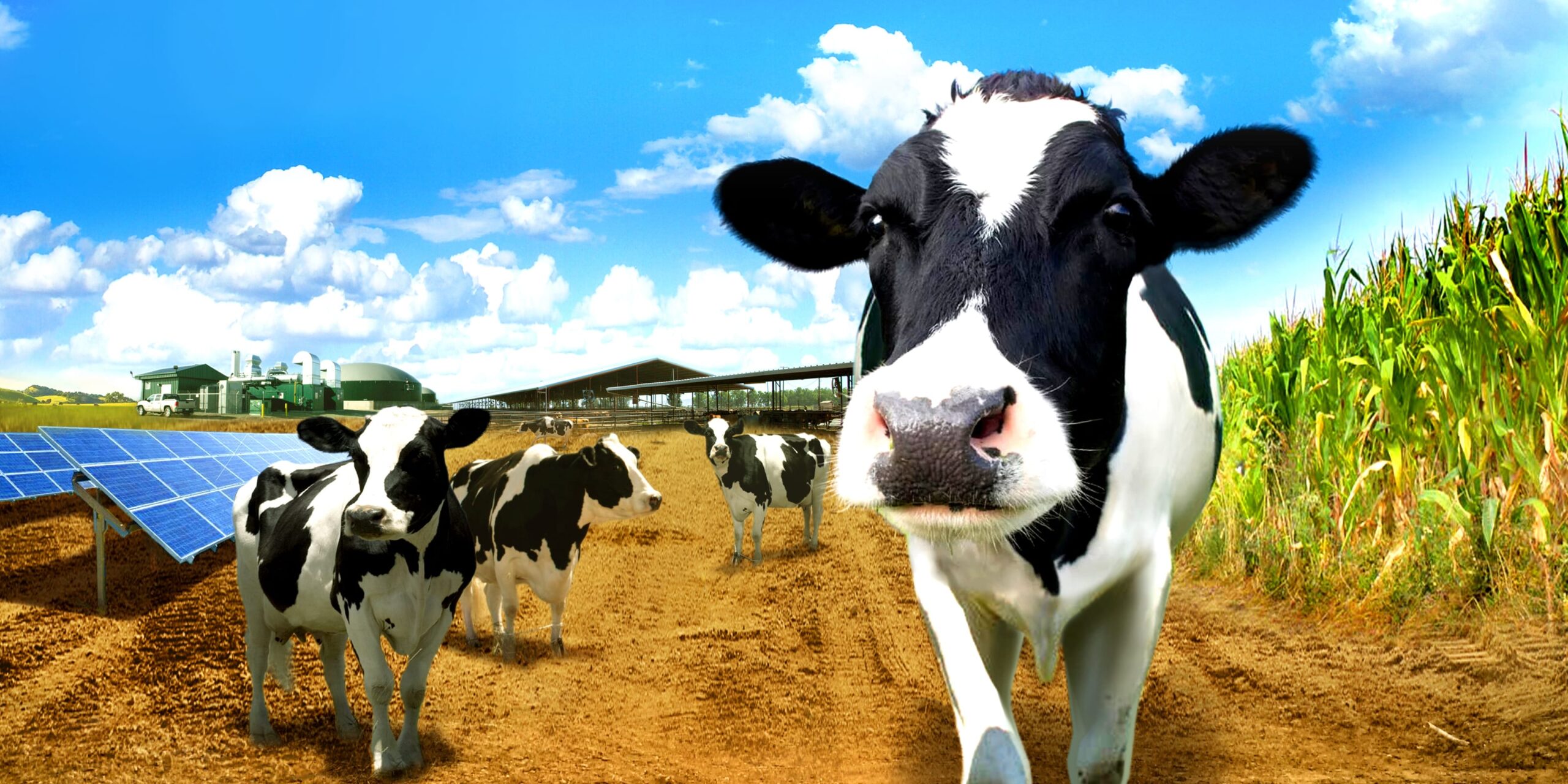 Last week, the fifth annual California Dairy Sustainability Summit showcased the dairy industry's efforts to build a more efficient, sustainable dairy sector in partnership with organizations like Sustainable Conservation. We've been working with the California dairy industry to reduce greenhouse gas emissions, improve air quality, and protect our critical water resources for over 20 years, with a finely honed and transparent ethos of balancing agricultural sustainability and environmental stewardship.
CEO Ashley Boren and Director of Business Partnerships Ryan Flaherty joined two panels to discuss how we're moving the needle on water conservation and quality. Boren featured on the Planet-Smart Dairy Showcase and spoke about how we've taken our award-winning, innovative manure drip irrigation system from a ground-tested pilot to a nationwide, cost-share-funded technology for dairy producers – and others – to conserve water, protect local aquifers, and sustain their cows on crops grown with on-farm nutrients.
"I'm a collaborator in my DNA, so in addition to being open to these new, sustainable technologies, [we all should] be open to partnerships with organizations like Sustainable Conservation and others in the conservation community. They're powerful, and we can get a lot done together." – Ashley Boren
Boren was joined by Emily Rooney, Steve Shehady, and Michael Boccadoro as moderator, and the quartet chatted about what individual dairy farmers are doing to conserve and protect our natural resources, and environmental and equity efforts like the Alternative Manure Management Program and Governor Newsom's drinking water initiatives going on at the state level.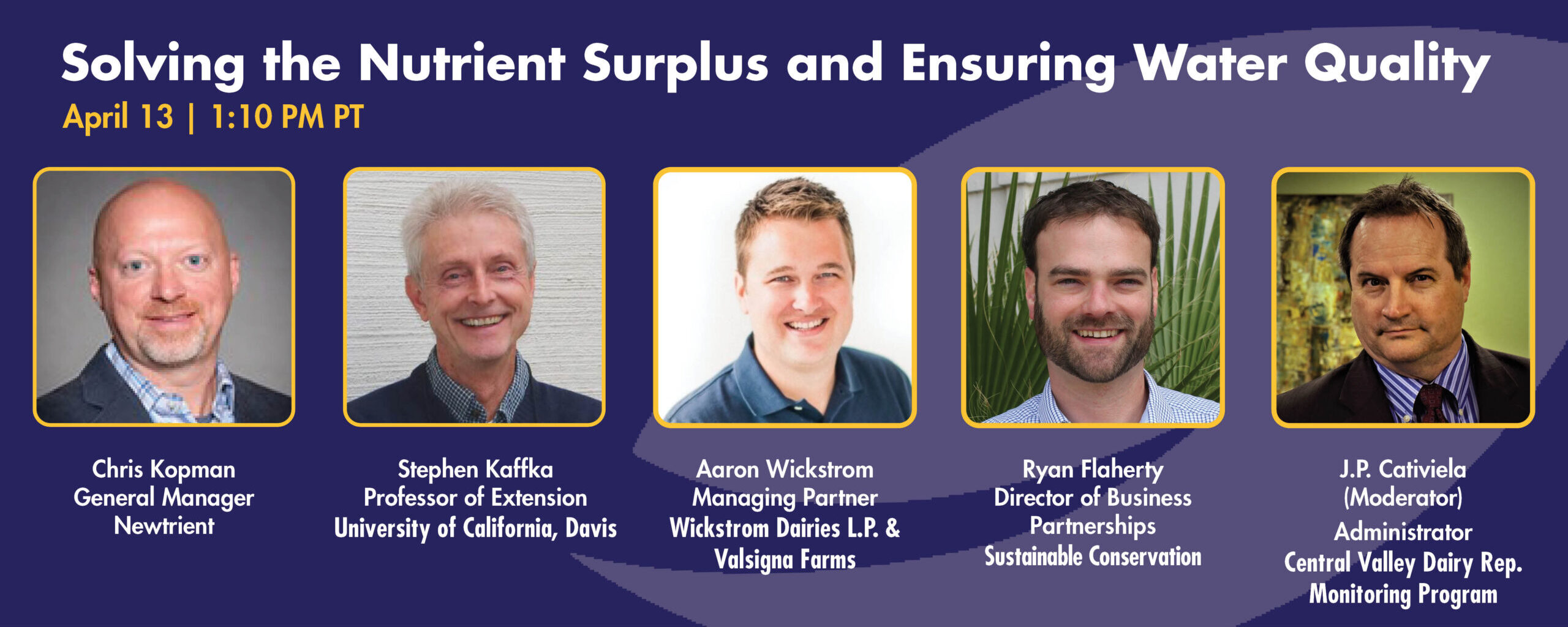 Flaherty joined the Solving the Nutrient Surplus and Ensuring Water Quality panel with J.P. Cativiela, Chris Kopman, Dr. Stephen Kaffka, and Aaron Wickstrom to frame why water quality is such a key concern for Sustainable Conservation and dairies, and to talk about a task force he co-chairs to identify concrete first steps for dairies to address their manure resources.
California Department of Food and Agriculture Secretary Karen Ross convened the task force to tackle how dairies can better manage their manure resources, because no two dairies are the same. Available acreage, herd size, manure volume, and current practices vary widely, and a solutions toolbox needs to be on the table so we can meet and sustain our shared environmental goals.
Namely, clean and secure drinking water for local communities. Flaherty's raising a family in the San Joaquin Valley, and this work is personal – on top of a keen conservation lens that he uses to help Sustainable Conservation shape thoughtful partnerships and a three-decade track record of sustainable wins for all Californians.
"Too many of our neighbors are dependent on nitrate-contaminated groundwater – and it's expected to get worse before it gets better." – Ryan Flaherty
The panel wrapped by detailing the task force's careful considerations. Using composting dairy manure for export as an example, Flaherty talked through how the group is looking at the potential trade-offs. Compost changes manure emissions on a dairy farm but transporting that compost to other areas increases other air pollution potentials. But, composting dairy manure with woody biomass that would otherwise be disposed of by burning can reduce those emissions. It's a fine balance, and an approach we need to avoid further impacts to local communities, and our environment.
For more on environmental sustainability and dairies, check out our Feeding the Future panel from last year featuring Laurel Firestone, Diana Giacomini Hagan, Dr. Frank Mitloehner and Aaron Wickstrom. And, you can follow us on Twitter to keep up with some exciting developments coming later this year!