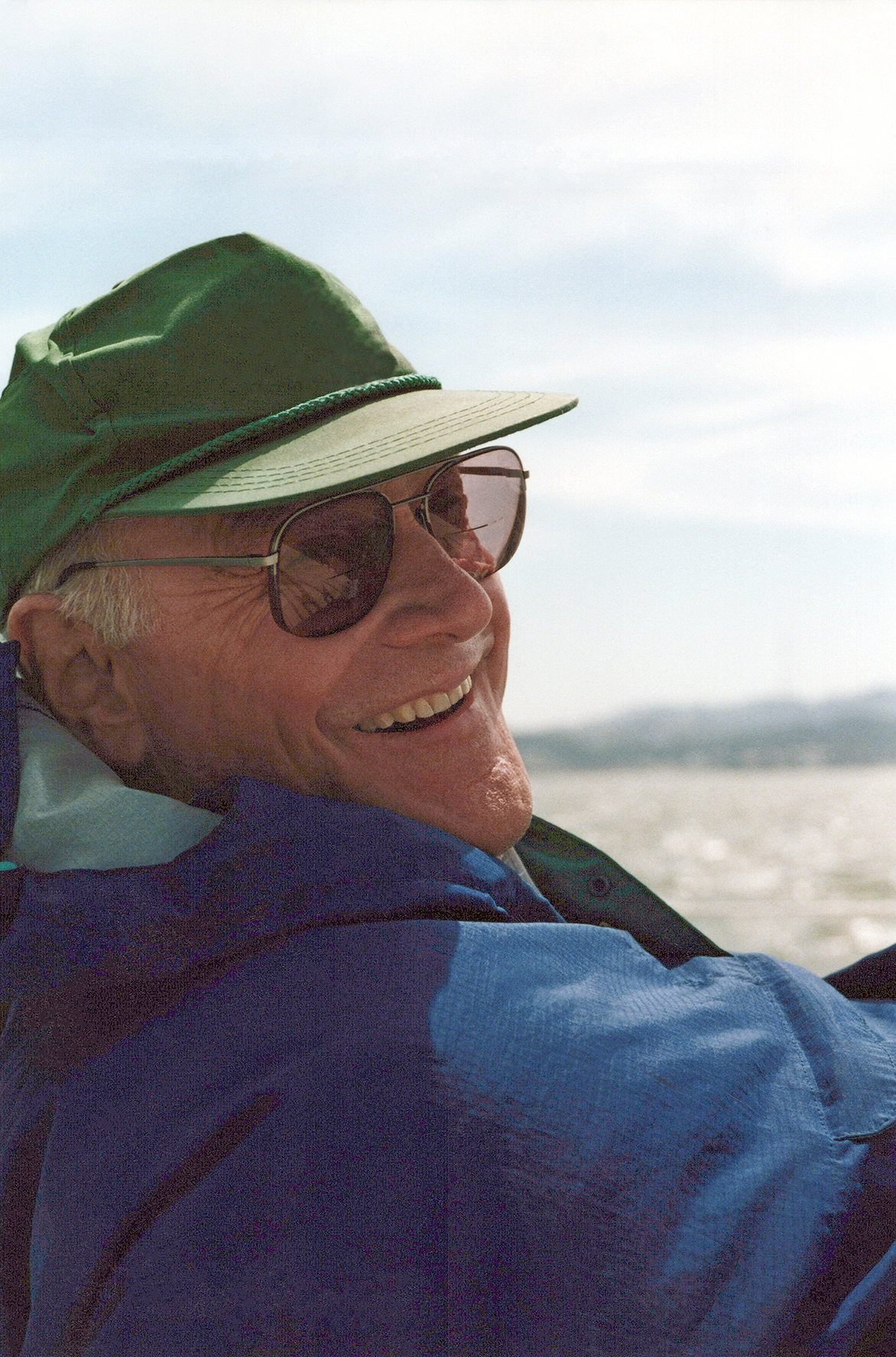 Frank Boren, Sustainable Conservation co-founder and my dad, passed away on May 25, 2022.
While it is impossible to summarize a whole life on the page, I would like to share his obituary with you to celebrate one of the enlivening forces behind Sustainable Conservation's ethic for environmental problem-solving. As far back as the 1970s, Frank asserted that we must collectively protect the planet or collectively we will lose it.
My father instilled a love of the natural world and a responsibility to care for it in me, and it has been a true honor these past 25 years to advance the organization he, Laura Hattendorf, and Tina Quinn co-founded, with Dan Emmett as an early investor and Board member, in the early 90's. Dan, Laura, and Tina have contributed their kind remembrances here. Frank had special relationships with each of them. Their bonds and mutual conviction that protecting the environment could also be good for business grounded the organization that has evolved into the Sustainable Conservation you know today.
[You can read more about Sustainable Conservation's 1993 founding here.]
Frank was a lifelong learner, and especially loved learning about people – the singular collections of experiences and values that make each of us tick, and how listening to the stories of others can shift behavior in profound ways. Frank believed in the power of relationships to drive lasting environmental change with far-ranging benefits for California's nature and people.
And so I offer a glimpse of the unique particulars and people who nourished Frank's life – a life that impacted so many, including all of us in the Sustainable Conservation community.
Thank you for reading,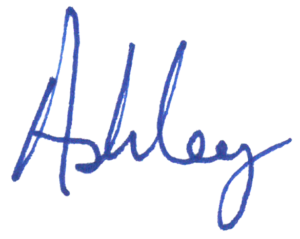 Ashley Boren
Chief Executive Officer
Sustainable Conservation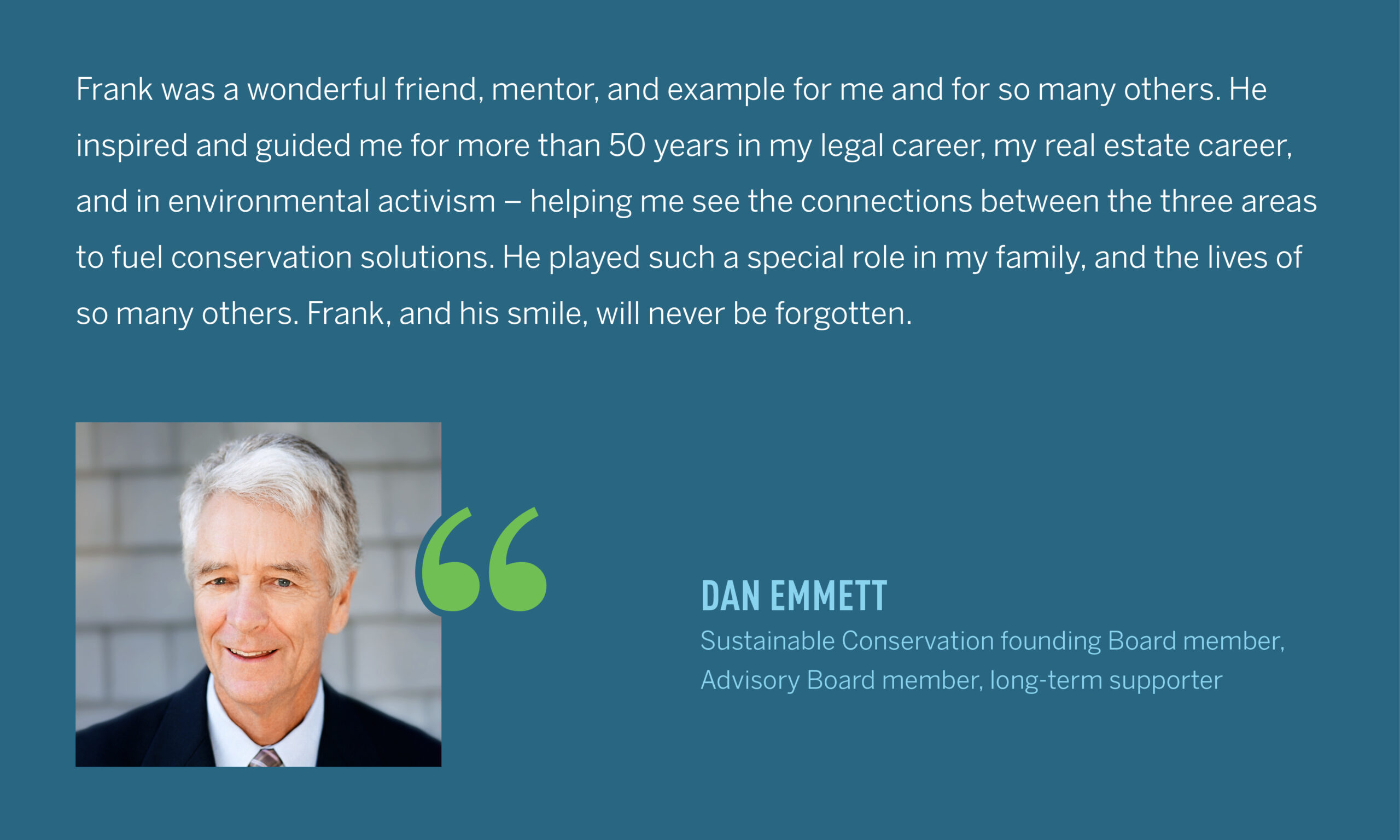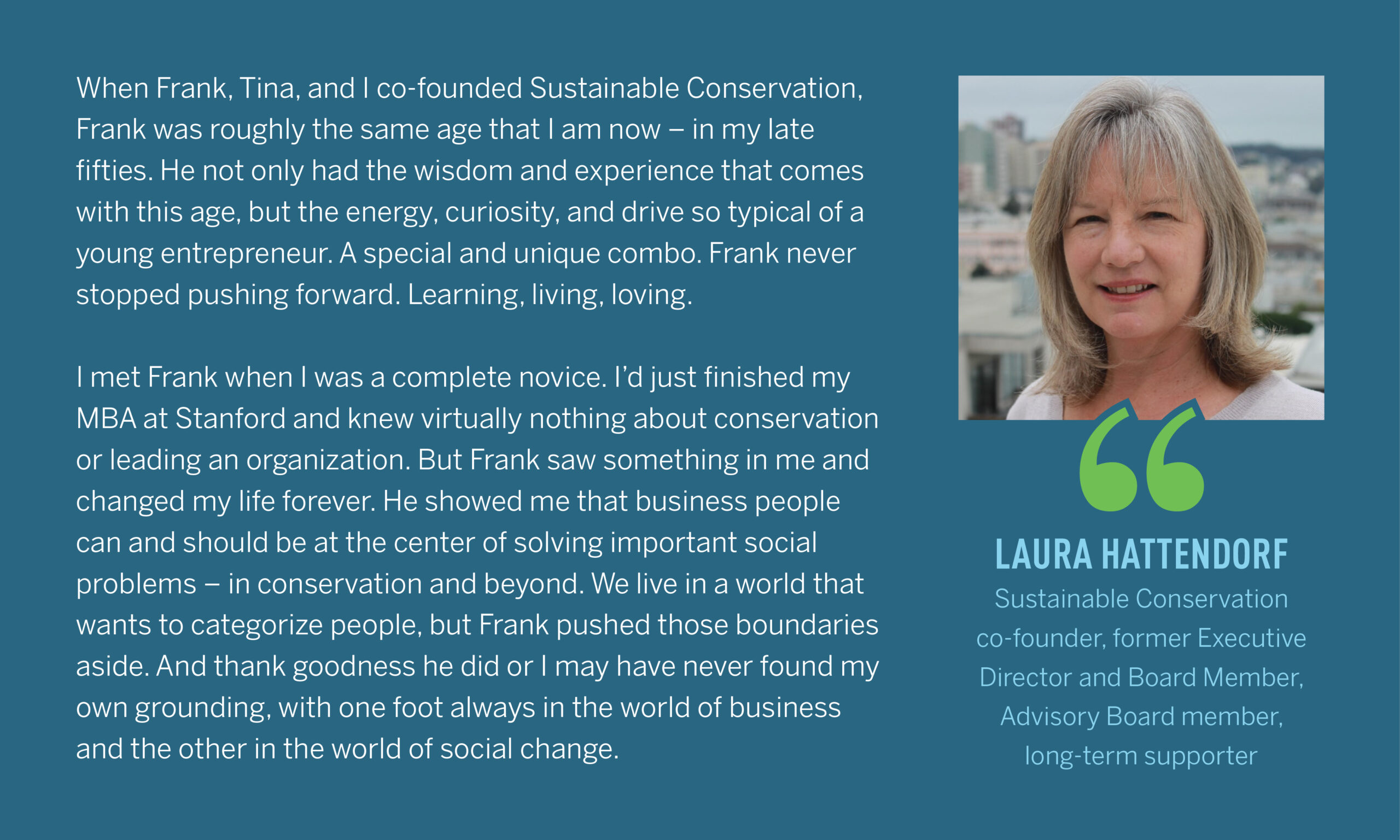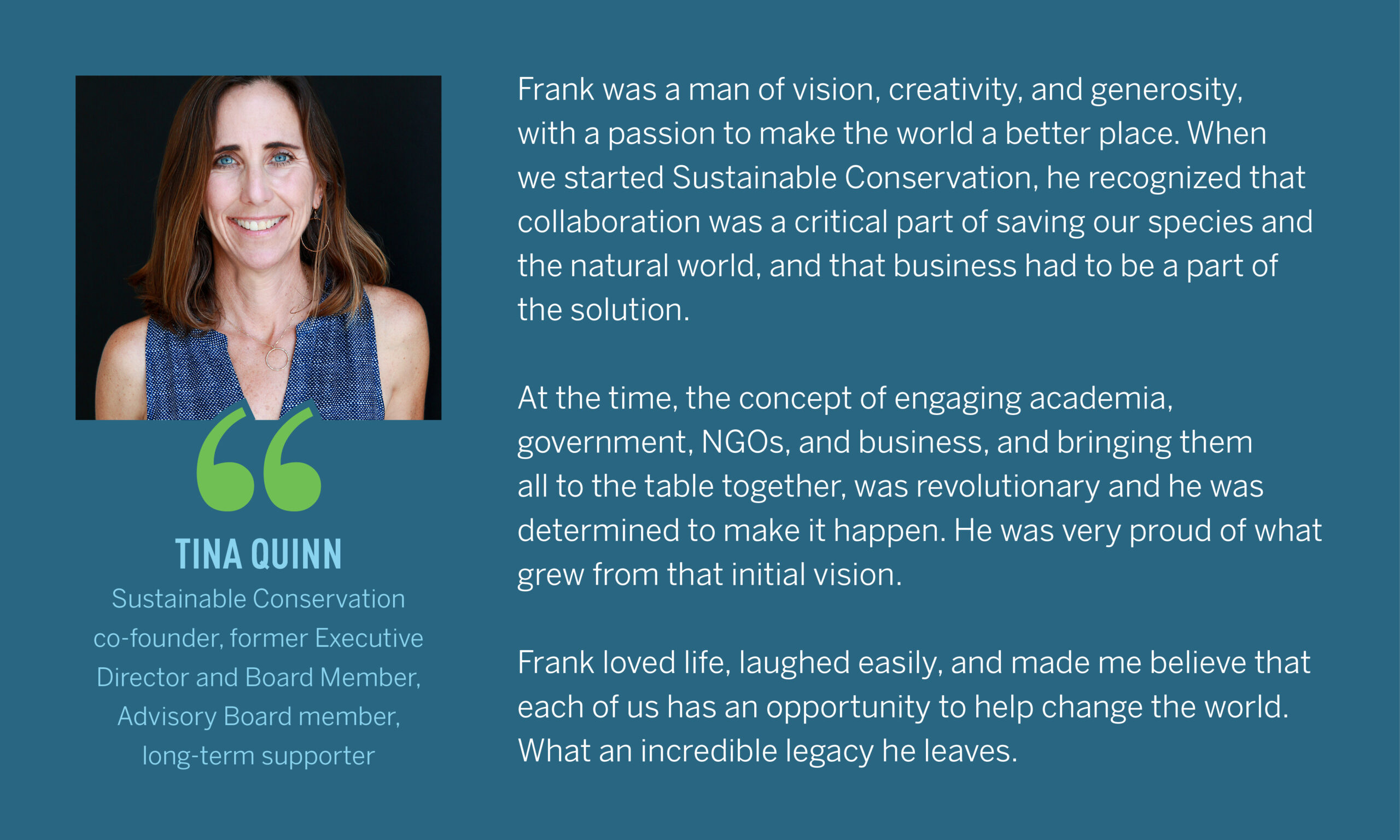 * * *
Frank Dennis Boren
May 9, 1934 – May 25, 2022
Frank Dennis Boren, a businessman and ardent conservationist, died at home peacefully with his daughters at his side. He was 88.
Frank loved people, nature, and ideas. Known for his kindness, generosity, and caring camaraderie, he was a mentor to many and a friend to many more. His enthusiasm for both the big and small moments of life was contagious. Frank loved creating change and relished change itself because it created new learning opportunities. He was a spirited leader who felt an urgency to make things better and had an optimism about what could be accomplished.
Frank had a full life with many chapters. Born in Los Angeles to Charles and Gwen Boren and raised there along with his sister Gail, Frank went to University Elementary School, Emerson Junior High, and University High School. He got his BA in Economics and his JD at Stanford University. After graduating from law school, Frank married Ann Franks. He served in the U.S. Air Force, first in Oklahoma, then Japan, and finally in Hawaii. Frank returned to Los Angeles and became the 9th attorney at Paul Hastings Janofsky and Walker. After twenty years with the firm, he became a real estate developer with business colleagues and friends. He loved the risk and creativity involved in structuring deals and had both successes and failures.
Frank's true love was the natural world. Beginning with camping trips with his parents and advancing to backpacking and river rafting with his first wife Ann, he and his family spent vacations exploring California's amazing variety of natural areas, from the Sierra Nevada to the desert and coastlines. He joined the Board of the Southern California Chapter of The Nature Conservancy in the early 1970s, helped the Northern and Southern California chapters merge, and became the first Chair of The Nature Conservancy of California's State Board. The California Nature Conservancy made numerous major acquisitions during his tenure on its Board, and Frank was instrumental to perhaps the most notable – the purchase of Santa Cruz Island, which ultimately became part of Channel Islands National Park. Frank moved from the California Board to The Nature Conservancy's (TNC) Board of Governors, where he served as Chair from 1979-1981.
In 1986 Frank decided to make conservation his day job, first as TNC's Western Regional Director and then as TNC's President, a position he served in from 1987-1989. During Frank's three-year tenure as TNC President, membership doubled and over 1 million acres of high priority conservation lands were protected.
Frank left TNC in 1989 and returned to California, where he continued his conservation work. He served on the California Fish and Game Commission (1991-1999) and on the Board of ARCO, where he used his conservation experience to move the company to more environmentally sensitive ways to produce oil. He also drew on his business and conservation experience to create Sustainable Conservation, a California nonprofit dedicated to working collaboratively to find environmental solutions that are just and make economic sense.
In 1998, Frank and his second wife Gail Simpson moved to the San Juan Islands where they lived for seven years appreciating the natural beauty and becoming avid gardeners. They moved to Blaine, Washington before relocating to Sedona, Arizona, where Frank cherished his hikes through the red-orange rocks, and eventually settled in Carmel Valley in 2011.
After Gail passed, Frank moved to Pacific Grove and with Jean Wells enjoyed meeting the local artists and traveling to Nova Scotia, New Zealand, Tasmania, and Russia. He became a docent at Point Lobos State Park and continued to enjoy walking and reading every day.
Frank was always curious about life and driven to make the world a better place. For the past decade, he explored his inner world through the spiritual teachings of Mooji, Steve Taylor, Eckart Tolle, and Michael Singer. He meditated every day, embraced listening deeply to others, and had a newfound love of life exactly as it is.
Frank was a role model in dying as he was in living. When he finally needed to make the decision to succumb to his prostate cancer, he did so with strength and grace and profound gratitude for the life lived. He cherished all the moments he had until his death, and he brought extraordinary grace to everyone around him.
Frank loved his family. He took great pride in his three daughters: Ashley, Dana, and Sarah; his three son-in-laws: Dan Purtell, Jeff Swisher, and Geoff Selhorst; his seven grandchildren: Joe and Ben Purtell; Henry, Peter, and Kate Swisher; and Ripley and Kensey Selhorst; his step-daughter Suzie Forsyth; his step son-in-law David Forsyth; and his four step-grandchildren: Alex, Keith, Tom (spouse Alison and son Gideon), and MaKensie; and his nephew Tom Stanton.
Frank did not want anything done to memorialize him. He suggested instead that donations in lieu of flowers be sent to one of his three daughters' environmental efforts: Sustainable Conservation (Ashley); Corte Madera Native Plant Habitat Restoration (Dana); and U.S. Green Building Council (Sarah).