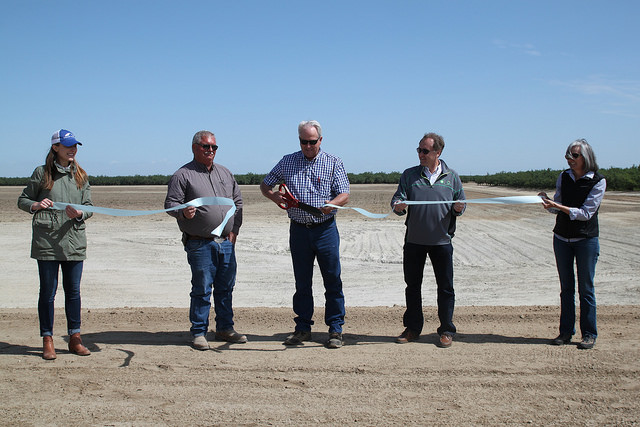 Despite significant but uneven rainfall and snowfall from El Niño this winter, California's severe drought is now in its fifth year. As of mid-May, Drought Monitor reports that 63% of the state continues to face severe-to-exceptional drought and that 5.5% is now drought-free – an improvement of 4.3% as compared to two weeks ago. And while short-term solutions have increased conservation and reduced waste, the need for long-term solutions has become increasingly apparent. A sustainable water future for California ultimately rests in looking into the future and saving water for those not-so-rainy days.
Industry, Conservation Leaders Team Up
"We think about how to do recharge in different ways," said Sustainable Conservation Senior Project Manager, Kelli McCune, during an interview with ABC News 30. "How do you use fallow land, and even crop land, to spread water when you do get flood flows?"
In 2013, as the drought continued to aggravate California's water woes, public, private and nonprofit leaders joined forces in an effort to offer relief for future dry years and improve the San Joaquin Valley's water resiliency. Now, nearly two years after the project's conception, the California Department of Water Resources, Laguna Irrigation District, Kings Basin Water Authority, and Sustainable Conservation – with financial support from Coca-Cola – are celebrating the completion of a groundwater replenishment project in the heart of the San Joaquin Valley.
Together, this unique alliance embarked on a project that involved transforming more than 50 acres of former farmland near Fresno into a giant dirt bathtub, called a recharge basin. In future wet years, floodwater from the nearby Kings River will be redirected to fill the basin where it will then seep into the ground and raise water levels in the aquifer below. Additional groundwater can be used immediately or stored for dry years.
"The joint project obviously won't solve California's groundwater problem single handedly, just like the disappointing El Niño year we had certainly won't end the drought," said Ashley Boren, Executive Director of Sustainable Conservation, "But, expanding the power of public-private partnerships like ours is critical to a vibrant future for a changing California."
Refilling Aquifers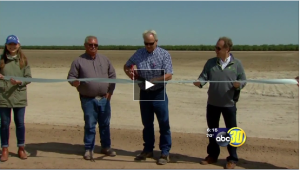 At a May ribbon cutting ceremony in Fresno County, Bruce Karas (right) , Vice President of Environment and Sustainability for Coca-Cola, shared: "This was a great connection by Sustainable Conservation with an area that needs water – an area that's really sensitive to water, and it can do something good for the community."
The Kings River basin serves the largely agricultural communities of Fresno and Kings counties, which is home to one of the nation's most productive farming areas. On average, farms and communities in the Kings River basin are extracting more groundwater annually than can be captured from rain or snow. Luckily, project partners anticipate that during wet years the newly constructed basin will recharge the aquifer with approximately 2,600 acre feet, or nearly 850 million gallons, of water per year. That's enough water to irrigate around 1,300 acres of crops like grapes or tomatoes.
"The Laguna Irrigation District recharge project is a significant groundwater management asset for the Kings River region as we work to bring our aquifer into balance," said Cristel Tufenkjian, Program Coordinator with the Kings Basin Water Authority.
The potential for more groundwater is welcome news for thousands of families, many living near or below the poverty line, who depend solely on the area's groundwater for drinking, cooking and bathing. These families have seen their residential wells run dry in recent years and been forced to purchase bottled water on very limited budgets.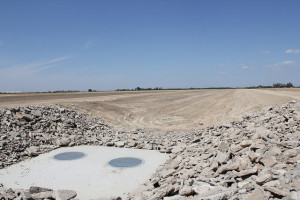 Scott Sills, General Manager of the Laguna Irrigation District, which oversaw construction of the recharge basin, and will oversee its operation and maintenance, further elaborated on the project, saying, "Drought conditions and the additional groundwater pumping needed to sustain the local farming industry are a source of concern … The joint recharge project will bring a new opportunity to replenish groundwater supplies for local landowners and neighboring towns – and has the added benefit of reducing the risk of costly flooding to our downstream communities during flood events by putting those waters to beneficial use."
"At Coca-Cola, we know that water is critical to the health, wellness and economic prosperity of local communities," said Bruce Karas, Vice President of Environment and Sustainability for Coca-Cola. "That's why we have committed to work with partners towards our goal of replenishing an amount of water equivalent to what we use in our finished beverages. The Kings River recharge basin is a great example of the work we can do together with our community partners to help steward water resources."
In the News
ABC News 30 – $1.5 Million Recharge Basin in Fresno County Unveiled
Fresno Bee – Recharge basin in Fresno County made to renew groundwater supplies
Modesto Bee – Berkeley lab joins groundwater recharge study
Hanford Sentinel – Local groundwater recharge project finished
Central Valley Business Times – Ground water slowly being restored with new project