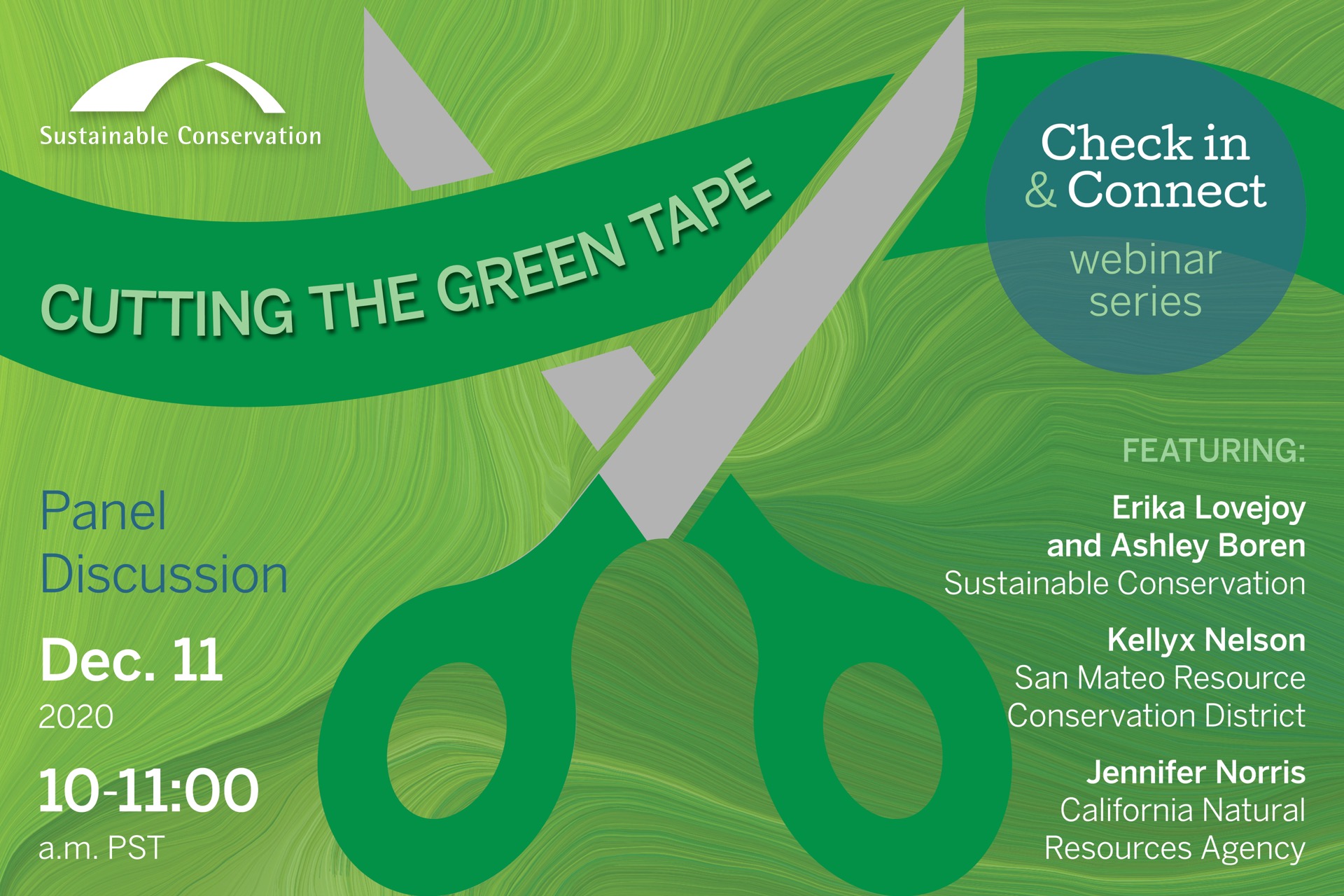 Missed our latest webinar? We've got you covered! We sat down with a panel of experts to talk about the California Natural Resources Agency's Cutting Green Tape recommendations to learn about what this initiative is, why it's needed, and how it will help accelerate restoration and protect our natural resources and ecological systems.
Meet the Experts
Our panel included Jennifer Norris, Deputy Secretary for Biodiversity and Habitat at the California Natural Resources Agency, Kellyx Nelson, Executive Director of the San Mateo Resource Conservation District and the California Landscape Stewardship Network (CLSN) Representative and Erika Lovejoy, Sustainable Conservation's Accelerating Restoration initiative Program Director. Erika guides our work to put expedited permitting pathways in place so more critical restoration can be done now – not years from now. The panel was moderated by Ashley Boren, Sustainable Conservation's Chief Executive Officer.
Missed the live event? Watch the recording now!
How We Got Here
Following Governor Newsom's Executive Order pledging that California will conserve 30% of the state's land and coastal water by 2030 to boost species populations and ecosystem resilience, Secretary Wade Crowfoot launched the Cutting Green Tape initiative with CLSN. CLSN convened over 150 experts – including Sustainable Conservation – to form recommendations to help get more beneficial restoration projects implemented more quickly and cost effectively. The final recommendations were released this month, and we gathered last week to talk about the recommendations and what they mean for restoration in California.
Working together to Restore California
As Deputy Secretary Norris, the self-described "ombudswoman" for the Cutting Green Tape recommendations, set the stage for the discussion, she noted that "restoration has to happen faster, at a larger scale, and in a more integrated way that has better monitoring, and better coordination across the landscape."
To that end, Kellyx Nelson dug into how a "coalition of the willing" – representing environmental stewardship across more than 40% of the state – formed the recommendations based on decades of expertise in implementing critical restoration projects, and helping expedite the restoration permitting process. Nelson noted how the final 14 recommendations intentionally span different scales. Some can be implemented right away, some call for clarifications, some for legislative or programmatic solutions, and some for how we can all work together more efficiently and effectively. The recommendations' key underlying principle is to empower agency staff to own these solutions. The panel then dug into several of the recommendations, and answered specific project- and initiative-focused questions during a robust Q&A.
During the event, Lovejoy expressed Sustainable Conservation's support of the Cutting Green Tape recommendations and covered a bit of our Accelerating Restoration program history. We began by crafting county-by-county permits but quickly realized that the time, cost and redundancy of these efforts necessitated a broader, statewide approach. To that end, Sustainable Conservation's helped put permit processes in place with the National Oceanic and Atmospheric Administration (NOAA,) the California Coastal Commission and the California Department of Fish & Wildlife. We're now working with the U.S. Fish & Wildlife Service, the Army Corps, NOAA Restoration Center and the State Water Resources Control Board on two statewide, coordinated authorizations for environmentally beneficial restoration.
Want to hear more? You can read a play-by-play on Twitter, or watch the recording in its entirety here – including the great Q&A! Restorationists can check out our Technical Resources page, and contact our team for permitting assistance.
Thanks so much to our panelists for spending time with us, and stay tuned for our events suite in 2021.
You Keep us Working
We're hard at work protecting what matters most in California, and that means helping the people who bring critical habitat back from the brink for our most imperiled species. With your support, we can restore California for all in ways that are just, resilient and make economic sense.
We believe in the power of relationships to reveal creative strategies that protect the natural resources on which we all depend. Let's explore new ways to stick together in support of a healthy California. Connect with us!