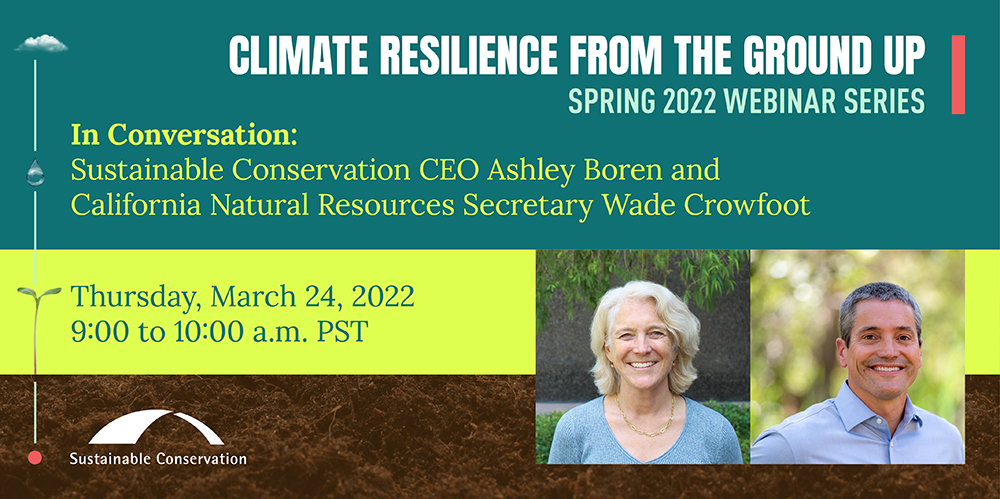 Missed the first webinar in our Climate Resilience from the Ground Up series? We've got you covered with a recap of the event – and you can watch the full recording, too! Thanks to our generous webinar series sponsors ESA, Holland & Knight, Iron Horse Vineyards and Spottswoode Estate Vineyard and Winery.
Sustainable Conservation CEO Ashley Boren and California Natural Resources Agency Secretary Wade Crowfoot sat down together to discuss the variable climate challenges we face in California today, and what we're doing about them now and for the future.
California's a special place – we're one of 36 biodiversity hotspots worldwide, and our Mediterranean climate bolsters an agricultural powerhouse economy. Whether it's wildfire, flood, drought, or sea-level rise, California's no stranger to dry and wet times. As these events intensify – and often compound each other – we need adaptable strategies to manage our precious water resources.
What is Resilience?
Climate resilience is a concept we hear a lot. It's in the news and in a lot of our work, but what does it mean exactly?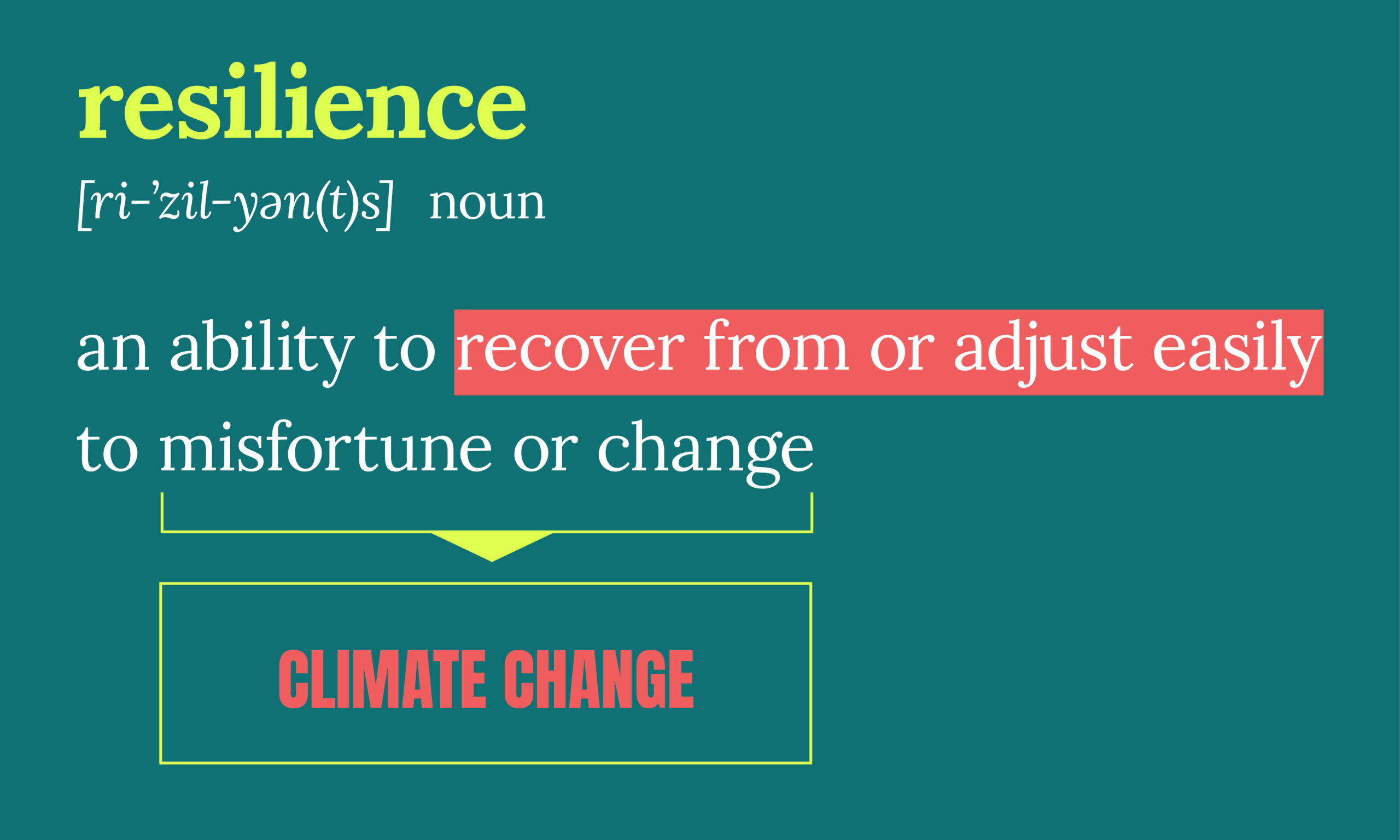 When we focus on resilience through a climate lens, we start to get at the enormous challenge of preparing for our future – and, on the bright side, what we can do together.
For Sustainable Conservation, climate resilience is the ability to respond to events and trends related to climate change. With California's intense, year-round fire season, a dwindling snowpack, and a third year of drought gripping our communities, the stakes are high for our ecosystems, our communities, and our collective well-being.
A Paradigm-Shifting Future?
Secretary Crowfoot joined us to dig into how our state is responding to compounding climate threats.
Drought conditions are nothing new for California, as dry periods and deluge are part of our natural cycle. Multi-year, potential "megadroughts" are something we need to consider in the longer term, especially as we depend on our snowpack for a sustained water supply in hotter, drier months.
Last year, Lake Oroville received about 25% of its anticipated run-off. Why? Thirstier soils and hotter temperatures mean more water soaks into the ground or evaporates, and doesn't make it into our streams, rivers, and reservoirs. When we get less surface water, we also depend on groundwater – for up to 2/3 of our water supply when drought hits our state.
Secretary Crowfoot also touched on State preparations for wildfires, floods, and sea-level rise. With over 100 million acres of California's land prone to fire, there are no "quick-fix" solutions. With flooding, changes in our precipitation and levied rivers can spell disaster for downstream communities. And, with city residents across the state living in coastal zones, sea-level rise is a real threat to our safety and way of life.
Are We Ready?
Coastal wetlands. Multi-benefit floodplains. Groundwater recharge.
Thinking of solutions to our many-pronged problems in California might seem difficult, but Secretary Crowfoot detailed how the State is approaching our new climate future by looking for projects that can protect human settlements, replenish our critical drinking water supplies, create habitat, and provide a host of other benefits for humans and nature.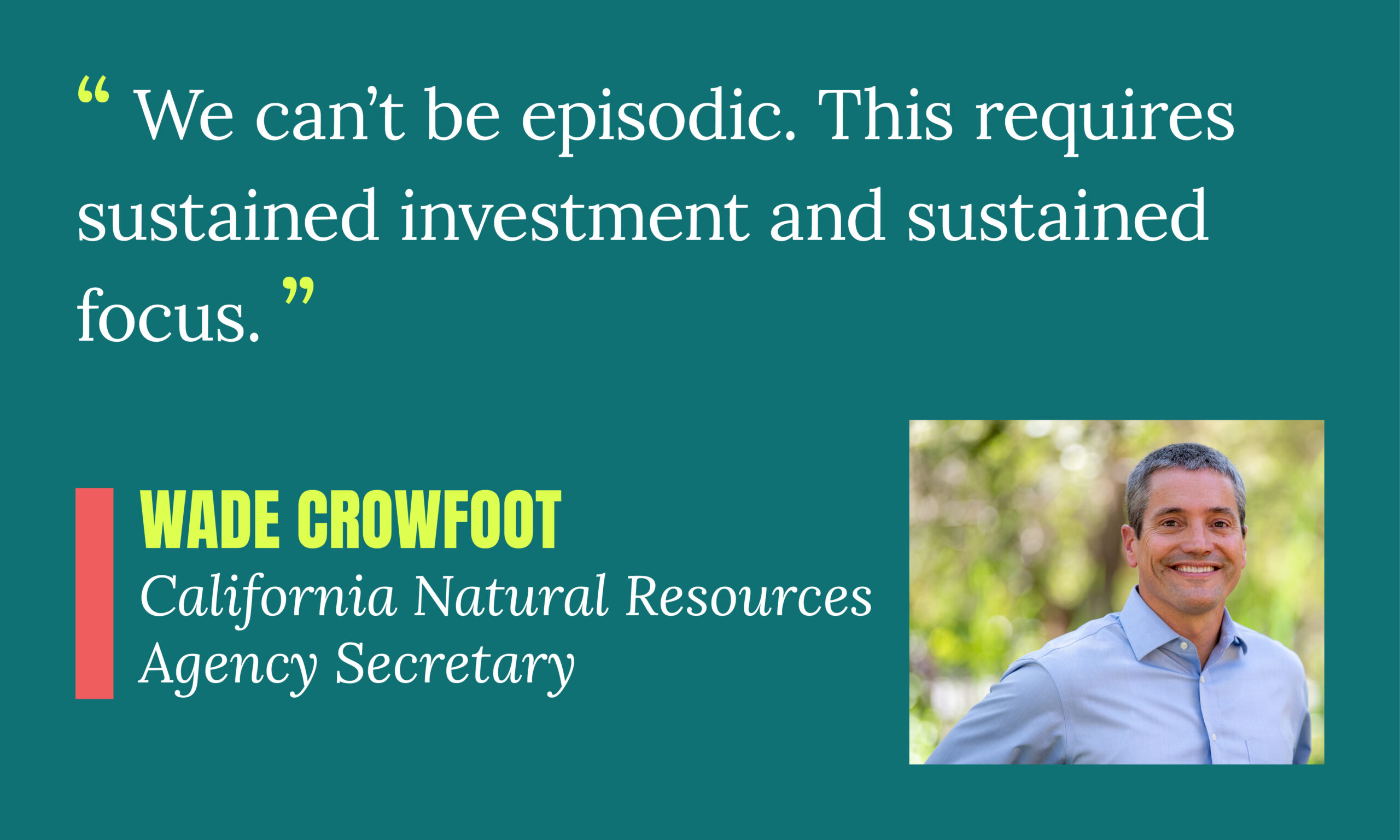 California is home to over 40 million people, and one of the world's richest varieties of flora and fauna. We have to move further and faster than ever before to protect human and wildlife communities alike, making sure we have not just disaster responses, but a head start on long-reaching strategies for resilience in the short-term – and for many years to come.
What's Next?
Stick with us! Bringing people together is what we do, and we encourage you to visit our Check In & Connect page for access to all of our event recordings, and so you can catch up on any webinars you've missed. You can also check out our Twitter coverage of this event.