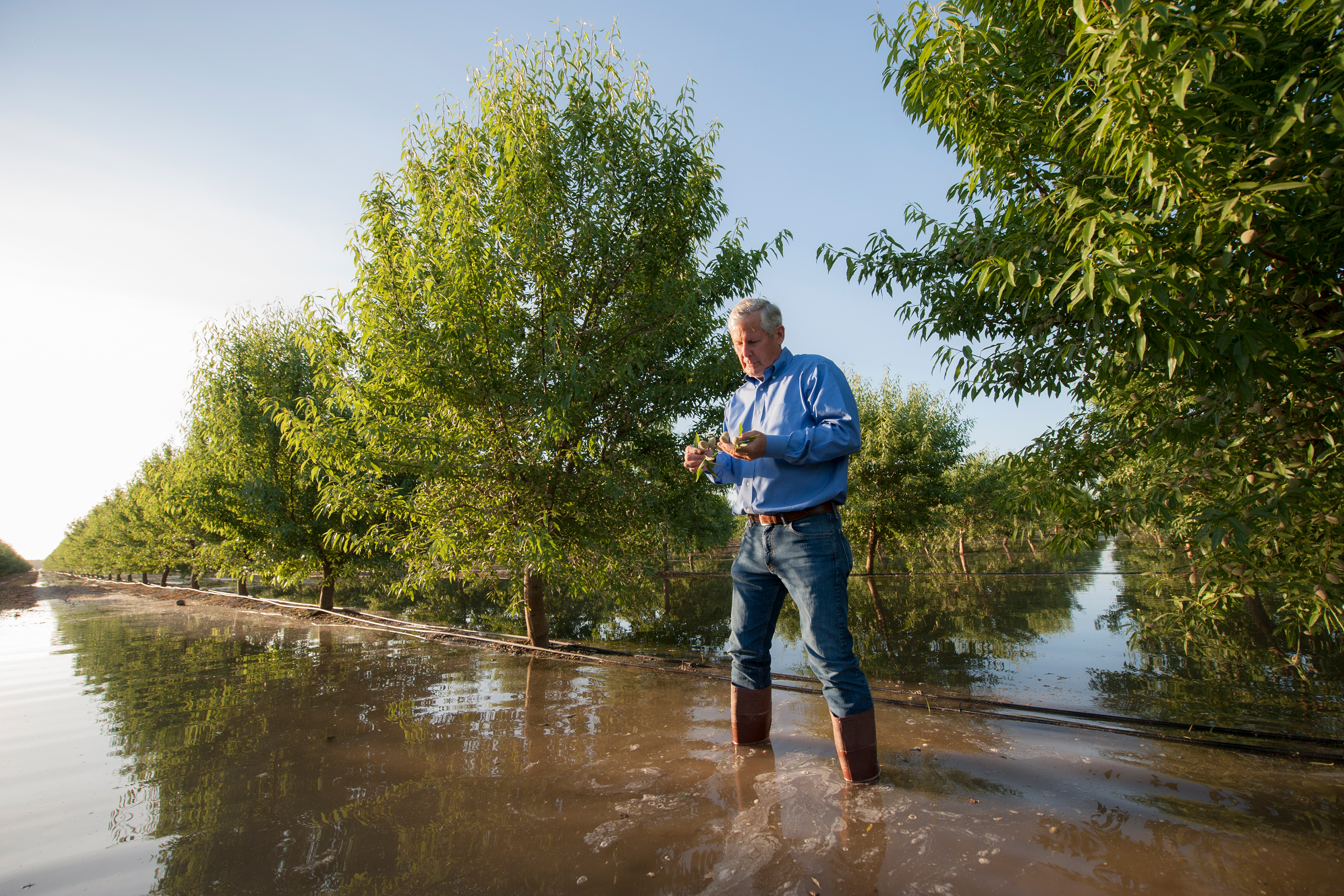 Don Cameron examines his almond orchard during a recharge event at Terranova Ranch. Photo: Paolo Vescia
In case you missed it, this excellent story on how groundwater recharge can help balance our underground savings accounts features partners like Don Cameron, Aaron Fukuda, and U.C. Davis researchers.
It's also a testament to the hard work and resilience of all the folks who have spent a decade-plus researching, testing, siting, and promoting this particular kind of replenishment – from individual water districts to statewide coalitions of researchers, advocates, and experts.
"In the past, California relied on precipitation arriving as snow in the Sierra Nevada mountains. The high-altitude snowpack acted as a giant reservoir, releasing water into rivers slowly as it melted. In the future, more of that water will arrive as rain, flooding quickly into rivers. The biggest reservoir available to store it may turn out to be underground, in the aquifer that California's farmers have drained for most of the past century," Dan Charles, NPR
Our climate is changing. We have to capture water during more extreme flood events for replenishment. Bonus: taking high flows off the river also takes the edge off of potentially catastrophic consequences for downstream communities. And, we can even recharge water in ways that are protective of water quality so communities who rely on our underground water stores have safe water to drink.
As California changes its approach to managing our water for competing needs, groundwater recharge has to be part of the toolkit available to local farmers and water managers. We're proud of the great partnerships we and others have built across the state to ensure recharge is top-of-mind, and that it can be done right to bolster our water supplies and help meet our safe drinking water goals, too.
We believe in the power of relationships to reveal creative strategies that protect the natural resources on which we all depend. Let's explore new ways to stick together in support of a healthy California. Connect with us!