Despite 2021's many curveballs, we've shared a year of hard-won progress toward thriving California communities, farms, and wildlife. From the water pumped up from our aquifers that sustains us during droughts to the families who grow the food we eat, and the habitat that nourishes our plant and animal neighbors – our health depends on so much that is interconnected. Thank you for joining us and celebrating the milestones made even sweeter in a time of hopelessness for so many.
Our collective momentum depends on diverse perspectives and efforts – including partnerships, practices, and policies – to build California's resilience. Thank you for taking action with us for the enduring benefit of nature and people.
What We Make Possible Together
We celebrated some of our most exciting accomplishments in 2021, including restoration wins, growing our talented staff, and celebrating a decade of aquifer recharge work.
From individual fields to statewide networks, we've helped site, test, and prove out recharge as a critical piece of California's water resilience puzzle.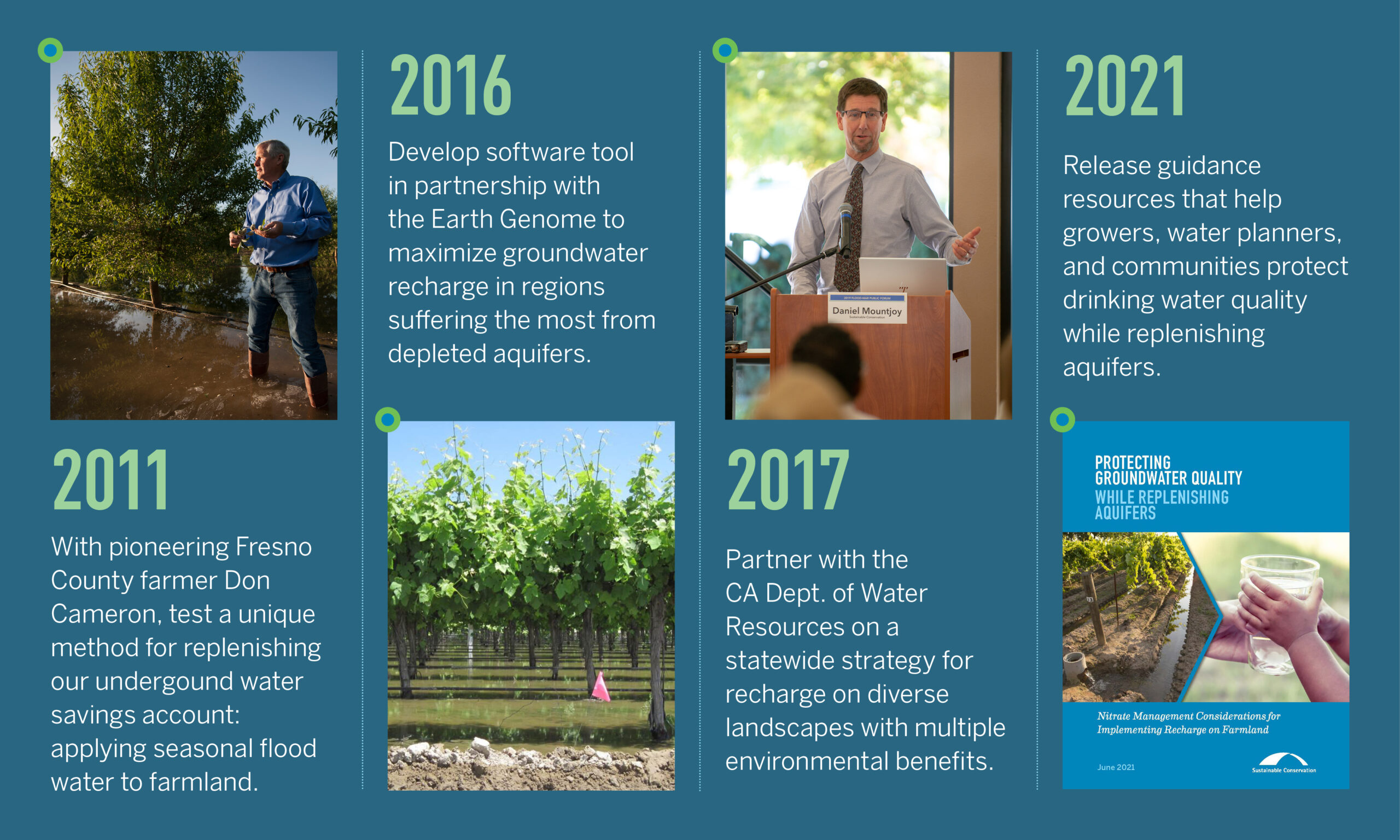 Connecting and Learning
We also celebrated our amazing events series, Feeding the Future and Water in a Warming World (sponsored by Iron Horse Vineyards and Spotteswoode Estate Vineyard and Winery.)
Together, we explored the complexities of California's role in the nation's vast and vital food system, and what California can do to boost our climate resilience and provide clean, abundant water for all of our communities.
Your incisive questions and keen attention to our most pressing challenges as Californians meant we were able to dive into these topics. We learned a lot together, not the least of which is that no matter who we are or where we live, we're all connected by water. 

You attended eight webinars packed with environmental and industry experts, community advocates, authors, innovators and scientists to learn all about how we grow our food, and how we manage our water.
Looking Ahead
As we set our sights on what we can accomplish together this year, we're conscious of building on Sustainable Conservation's legacy of partnerships, steady progress, and your consistent and generous support. We're powered by you, and we couldn't be more thankful for your wisdom and collaboration.
Stick with us as we bring you new event offerings, exciting watershed work updates, and new forays into sustainable practices for the planet and people in 2022.
We believe in the power of relationships to reveal creative strategies that protect the natural resources on which we all depend. Let's explore new ways to stick together in support of a healthy California. Connect with us!