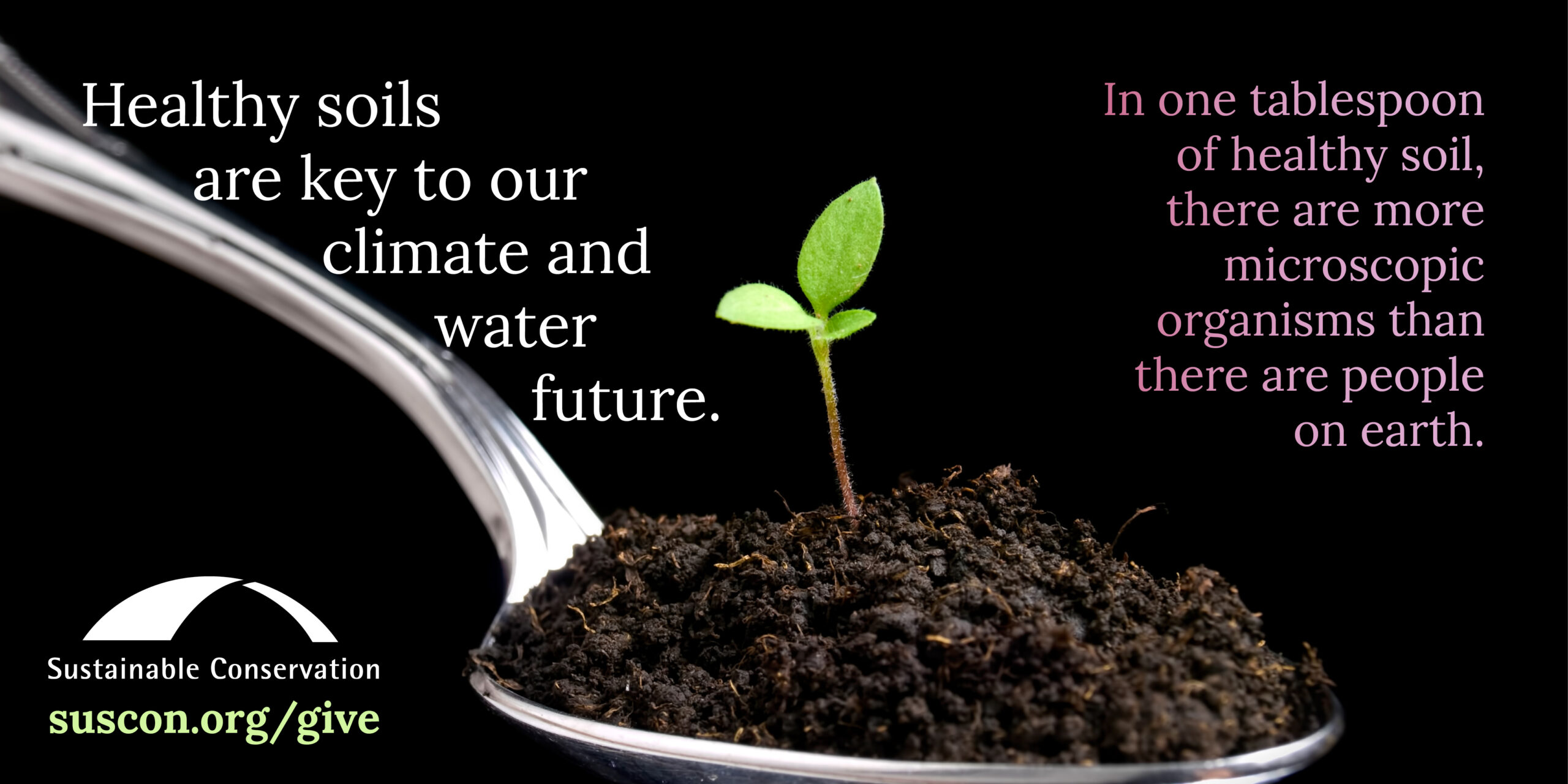 Thank you for trusting us to build positive outcomes for California's people, nature, and economy. For 30 years, your support has empowered Sustainable Conservation to test and scale solutions to some of California's most challenging environmental problems.
It's official! We're launching our next exciting initiative: Solutions in Our Soil.
Healthy soils are the foundation of productive farmland and a critical tool for addressing California's water challenges in the face of climate change. We're all connected by land, air, and water, and understanding how we can improve soil health will help us co-create a more sustainable California.
In 2023, we'll address key opportunities in the San Joaquin Valley and the Central Coast – the state's most productive agricultural regions – with the greatest impacts to their water systems and watersheds.
Regenerative soil health practices like cover cropping and high-carbon soil amendments can make a real difference in how our soils store water and nutrients, and even improve the quality and quantity of water that's returned to our aquifers and waterways.
We're launching this work to enhance Sustainable Conservation's award-winning programs that you already support: accelerating the pace and scale of habitat restoration, capturing and infiltrating water to boost our drought-critical groundwater supplies, and finding ways for dairy producers to protect water quality while using the manure their cows produce. Soils connect everything we do.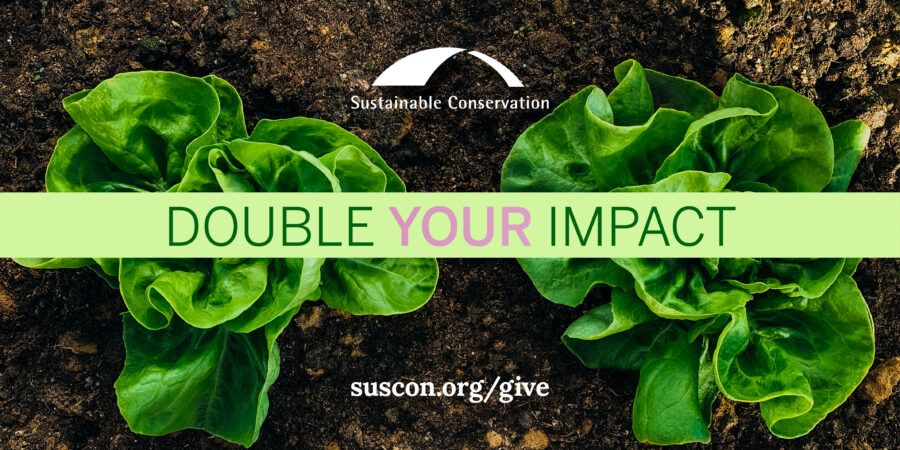 Your gift will advance healthy soil solutions that enhance environmental and economic conditions on farms, improve water quality and conservation, and reduce greenhouse gases. All new and increased gifts will be matched, dollar for dollar, by the Emmett Family Foundation.
Every inch of our farmland works from the soil up – be it a single organic vegetable field or a thousand-acre conventional operation.
But only 5% of farmers participate in soil health farming practices across the state.
While there are barriers, there's a real need for Sustainable Conservation to intervene and do what we do best: address knowledge gaps, convene allies to test new strategies, and create inclusive solutions that last. We must address these barriers to improve climate resilience on our state's farmland – upon which we all depend for nutrition, and jobs.
On the Central Coast, we netted a big win with a new regulatory incentive for growers to try cover crops and improve their nitrogen use, but the need for multi-lingual resources and equitable technical assistance remains. There's also lots of potential for high-carbon soil amendments to boost the soil microbial community so more nitrogen can be stored and stay there, protecting our precious drinking water in the aquifers below.
In the San Joaquin Valley, cover crops could play a big role in how farmers and water managers strategize to meet their sustainable groundwater goals – but just how big is still unknown. Our soil health expert convenings aim to help growers understand what this practice can do to improve how much water infiltrates their soil, how much the soil can retain for plant use, and even how much water can make it into the aquifers below. Compost can also build up soil microbes and nourish food crops, and we're working to make the link between dairy producers and farmers to promote a truly circular economy.
California farming is as diverse as the microbes in our soil, and it requires flexible solutions to boost soil health.
With your support, we can champion practices that conserve water, grow nutritious food, and improve human health. Farmers need time and resources to investigate available technologies, shift their management practices, and experiment with new ways to boost organic soil content, reduce nutrient leaching to groundwater, and improve water retention on their farms.
Consider joining our visionary leadership funders: Sally Liu, The #NoRegrets Initiative, Driscoll's, the Ida and Robert Gordon Foundation, and General Mills.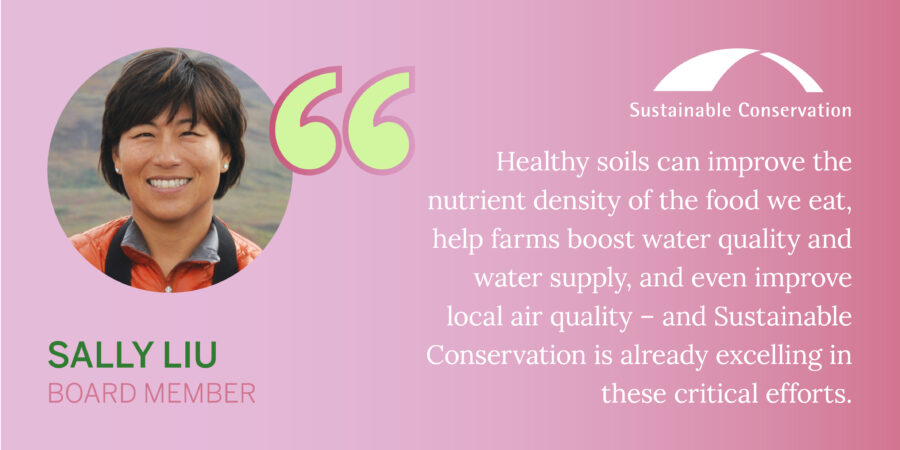 Sustainable Conservation is positioning itself for a long-term role in stewarding California's soil health. With your support, we can seize this opportunity and ensure that soil health practices are at the front of farmers' minds.
We are grateful for all the ways you've helped Sustainable Conservation tackle environmental problems in ways that are just and make economic sense. We hope you will join us on our journey to find Solutions in our Soil.